Event Details
Select a media type above to begin uploading photos and videos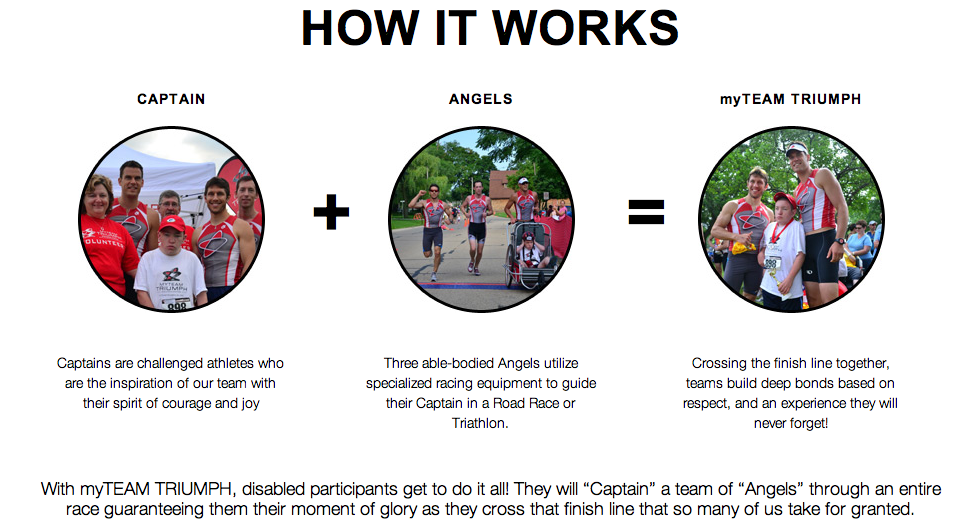 Thank you for your interest in joining myTEAM TRIUMPH!  You're about to be part of something very special and life changing!
Before you sign up, please carefully read the information on this page and click on the link at the bottom of the page!
Becoming a Captain:  Individuals with disabilities with a desire to TRIUMPH!
The heart of the team!  You're the leader of your team!  You and your Angel(s) will train, compete and redefine achieve!
After you sign up...Angels will be assigned to your team page !
Becoming an Angel:  Do you have what it takes?
Team Angel: Participate as team of Angels taking turns guiding your Captain to the finish line!  3-5 Angels make up a team.   Fundraising a minimum of $100 – $250 per person, per event (depending on event expenses). This fundraising supports:

Race entry for Angels as well as for your Captain. We provide free opportunities for Captains
Team shirt / jersey for Angel and Captain
Race day hospitality
Our continued mission
Volunteers:  We need you!  Help support set up, check in, transferring Captains, etc!
Team Volunteer: 

You'll receive a Volunteer T Shirt
You will also have a fundraising page when you sign up.  Fundraising is not required but definitely appreciated!
---
If you looking for more information about how getting involved with mTT works, click the links below...
---
Team Resources:
Fundraisers