12 Ways to Jazz Up Your Nonprofit's Facebook Page
Reading Time:
6
minutes
With 936 million people logging onto Facebook daily, it's important that your organization keeps up a solid Facebook presence. This means that your nonprofit Facebook page needs to be in tiptop shape to maximize engagement. Changing a page setting, switching out your cover photo, or uploading new types of content can make a big difference when it comes to catching the attention of your supporters.
To give you ideas on how you can refresh and enliven your Facebook page, we've rounded up five nonprofits that are knocking it out of the park, all the way from their page setup to their content.
Team Rubicon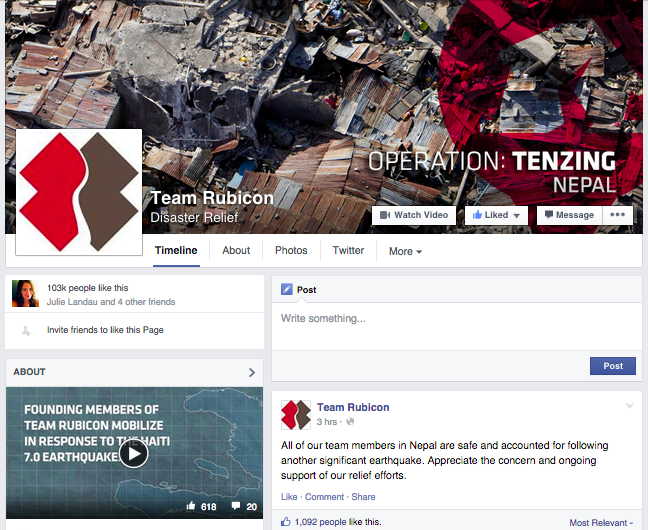 1. Update Your Cover Photo for New Initiatives
Your cover photo is the first thing people see when they hit your page, so leverage this real estate to spotlight your newest campaign. That's exactly what Team Rubicon, a disaster relief organization, does here. They quickly switched out their header to bring attention to their recent relief efforts in Nepal. Also consider adding a description for your cover photo, where you can include a link back to your website or fundraising campaign.
2. Give Timely Mission-Related Updates
When it comes to their posts, the organization does a great job of keeping followers up to speed on their operations and initiatives. Here, Team Rubicon gives supporters a quick update about what's happening on the ground. If you're in the middle of a project, pull in your audience by broadcasting your efforts as they take place. Include high-quality photos or videos when possible to attract more eyeballs.
3. Use A Consistent Voice
It's also important to brand your social pages, and this extends beyond your graphics—it includes your voice, tone, and language. Team Rubicon does an awesome job of keeping their unique voice consistent throughout their Facebook page. From their posts, to their photo captions, to their "About" section, the organization's copy stays true to their unique personality. This video description is just one example of how their copy reflects their brand.
Pat Tillman Foundation
4. Allow Posts by Supporters
An excellent way to increase engagement is allowing followers to post directly to your Facebook page. Take note from the Pat Tillman Foundation, an organization that provides academic scholarships to empower military veterans and their spouses. By approving this page setting, you give supporters the ability to contribute their own personal stories, questions, and feedback. Not only can this encourage people to interact with your organization, but it also leverages social proof by showing others the community already standing behind your brand.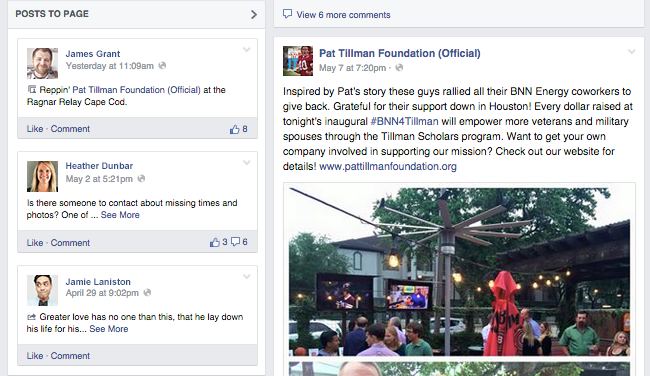 5. Enable an Email Signup Option
Because of its many integrations, Facebook can be a great place to display and cross-promote your other communication channels, like your newsletter or email updates. The foundation takes advantage of this opportunity by adding an email signup option to their page. By connecting your subscribe form to your page, you make it easy for people to sign up without having to exit Facebook. This way supporters may be more inclined to opt into your offer.
Liberty in North Korea
6. Create Custom Tab Images for Your Applications
Liberty in North Korea (LiNK) are savvy experts at branding their various communications, and it shows in the details of their Facebook page. These custom tab images, for instance, are an excellent touch. Add branded tab images for your applications, like Instagram, YouTube, or your online shop to reinforce your brand identity. Details like these can help make your brand more memorable and recognizable to users.
7. Announce Your New Campaign Through A Featured Video
Along with compelling photos, you definitely want to upload videos to your Facebook profile as well. Consider uploading one to launch a new campaign or initiative. That's what LiNK does here. Set as the Featured Video, this production also shows up in the sidebar of the organization's profile, getting viewers' attention right when they land on the Facebook page. Note how LiNK also gives directions on how people can take action in the video description, so they know exactly what to do.
8. Upload Special Video Playlists
If you're uploading videos to your Facebook page regularly, consider setting some apart by putting them into a unique playlist. Facebook displays your playlist above the rest of your videos, so you can make sure it stand out to viewers. LiNK's video playlist features special filmed messages from their beneficiaries. These videos, which deliver personal messages of thanks, help bridge the gap between supporters and the people they impact. A playlist like this can help prioritize your nonprofit's most powerful videos.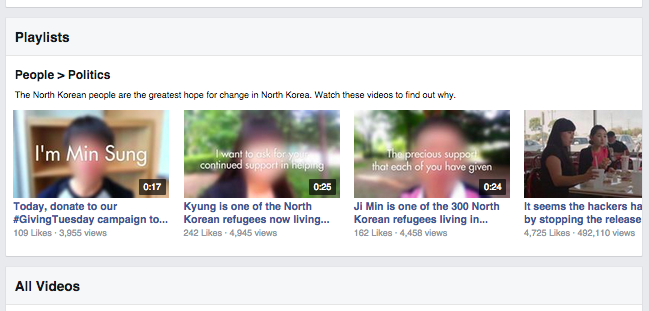 Pencils of Promise
9. Use Your Cover Photo to Promote Your Recurring Giving Campaign
While it's a good idea to update your nonprofit's Facebook cover photo to highlight your newest campaign, you can also use it to promote one that can increase overall donor lifetime value—namely, your recurring giving campaign. Pencils of Promise promotes Passport, their monthly giving program, front and center on their page. Note how they include the URL right on the image for easy viewing.
10. Announce Upcoming Events
Have any upcoming events? Be sure to announce them on your Facebook page. And, like Pencils of Promise does here, change your page settings to feature events on your profile sidebar. The "subscribe" option allows viewers to easily sign up for notifications about upcoming events. When someone joins your Facebook event, it's also added to their own Facebook calendar so they can be reminded to attend.
Special Olympics World Games Los Angeles 2015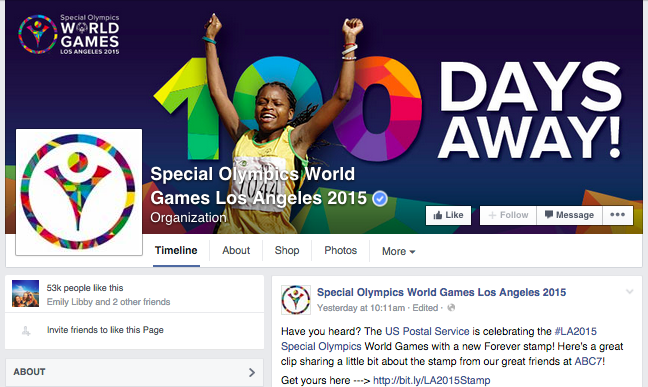 11. Do a Cover Photo Countdown
The World Games is the milestone event of Special Olympics, a leading movement to empower people with intellectual disabilities. To drum up excitement for the flagship event, the organization put a creative spin on their Facebook cover photo: they're using it to count down the days until the event. Consider updating your header image periodically to mark the days until your next event or campaign launch. You don't have to do it everyday, but counting down by certain chunks of time can keep your event top of mind for supporters.
12. Try Out Interactive Activities like Polls and Contest
Consider adding interactive tools to your nonprofit's Facebook page to increase engagement. For instance, Special Olympics has a few polls asking supporters what they're most excited about for the event. Launching a photo contest is another great way to draw involvement from your followers, and it allows you to crowdsource awesome user content for your own feeds.
Your nonprofit's Facebook page has the potential to spark supporter interest and activity. By changing a few settings, paying attention to your graphics, and posting high-quality, interesting content, you can turn your page into a stellar source of engagement.
The BIG Guide to Social Media for Nonprofits
Subscribe to the Classy Blog
Get the latest fundraising tips, trends, and ideas in your inbox.
Thank you for subscribing
You signed up for emails from Classy
The email you subscribed is