14 Organizations That Honor Our Honorable
Reading Time:
14
minutes
On the 11th hour, of the 11th day, of the 11th month in 1918, an armistice went into effect between the allied nations and Germany. Nearly 100 years later, our nation continues to honor all veterans on November 11th who have served in war and in peace.
As of 2014, there are 21.8 million veterans living in the United States. These veterans face a myriad of challenges as they transition into civilian life after their service. Many feel a lack of purpose, overwhelmed, out of touch, and suffer from both physical and mental aliments, such a post traumatic stress.
To help illustrate the gravity of the challenges our nation's veterans face, the Bob Woodruff Foundation provides these statistics.
More than 2.8 million service members have deployed since 2001.
Around 1.5 million have returned home, with a million more yet to return.
More service members commit suicide than are killed in combat.
One of every 50 service members deployed have endured physical injury.
90% of today's service members are surviving their injuries.
In honor of Veterans Day, we have compiled a list of 14 Classy clients that work every day to honor our honorable. As the challenges veterans face are multifaceted, so too are the organizations that support them. Learn how each of these organizations provides veterans with rehabilitation, family support, job training, scholarship, and physical and mental health services.
1. Team Rubicon
When I finally left the Marine Corp in 2009 I was worried that I would never do anything that meaningful ever again." —Co-Founder and CEO Jake Wood
Team Rubicon gives veterans three things they often lose after leaving the military: a sense of purpose, community, and self worth. How? By combining the expertise of military veterans with first responders and deploying response teams following emergencies. In this way, Team Rubicon bridges the gap between active duty and civilian life for veterans. Through readiness training, service projects, and deployments, veterans can continue to serve communities in need across the globe.
In 2013 alone, Team Rubicon responded to 19 emergencies and collectively worked 87,282 volunteer hours. Most recently, Team Rubicon deployed Region 6 to Bastrop, Texas, to respond to the Hidden Pines Fire. The deployment is still active and has already rallied 38 volunteers, assisted with 3 work orders, logged 280 hours, and saved $13,218.
We're proud Team Rubicon has been with Classy since our early days. Learn more about their initiatives and how they use Classy in this new video.
2. Homes for our Troops
Homes for Troops serves severely injured post 9/11 veterans by building mortgage-free and specially adapted homes. Of the veterans severely injured in combat, many suffer from limb amputations, partial or full paralysis, or brain injuries. These life changing injuries require considerable support. Mortgage-free homes allow veterans to spend more time creating their new normal, and focus on their own recovery and moving forward in their lives.
Since their creation, Homes for our Troops has built more than 190 homes. At this time, 52 home building projects are underway across the country. Homes for our Troops proudly reports that 90 cents for every dollar is spent on veteran support.
Learn more about how Homes for our Troops is helping veterans rebuild their lives and how you can get involved.
3. The Green Beret Foundation
Green Berets, also known as members of the United States Army Special Forces, are the Army's "most specialized experts in unconventional warfare." The Green Beret Foundation provides Green Berets with a variety of immediate and long-term support services in addition to assisting their families.
Their programs include:
Casualty Care: This program provides Green Berets with funds for a temporary hospital stay in the event of an injury.
Extended Care: Supplementary assistance for those in the community who are in need of a long-term health care plan.
Family Care: A Green Beret's family undergoes their own form of significant stress. This program offers support and scholarship opportunities for family members.
Next Ridgeline: The Next Ridgeline gives Green Berets and families access to a network of resources for a successful transition into civilian life.
The Green Beret Foundation has spent over $4 million serving their community, providing more than 500 Green Berets with financial support, and assisting hundreds of families.
Learn more about how you can get involved and stay connected with The Green Beret Foundation.
4. Travis Manion Foundation
The Travis Manion Foundation empowers veterans and families of the fallen to move forward in their new lives and inspire our future leaders. They believe the most meaningful way to pay tribute to our fallen heroes is to challenge the living. Their moto, "If Not Me, Then Who…" are the words of Travis himself, spoken before he left for his final deployment. This question, embodied by the Travis Manion Foundation, has inspired a movement among young adults to serve their country in honor of those gone before them.
The words "If Not Me, Then Who" really resonate throughout the foundation because they represent everything that we do as a whole. It's really about putting the needs of others before yourself. Travis was killed by an enemy sniper protecting his fellow marines and he really exemplified it in that last action. For us it's about trying to work directly with veterans, families of the fallen, and the next generation of leaders to instill that same value of serving others and really putting the needs of others before your own.

– Manager of Marketing & Communications Derrick Morgan
To honor the fallen, the Travis Manion foundation inspires and challenges survivors and the next generation of leaders. Their Character Does Matter Program uses presentations, leadership courses, and service projects to help young adults realize their potential as future leaders and motivate them to act in memory of a fallen solider.
Apart from their events, corporations, foundations, and program services, the foundation also raises money through their volunteer fundraisers on the Classy platform. In 2014, individual contributors were responsible for 30 percent of the Travis Manion Foundation's revenue.
To date, the Travis Manion Foundation…
Has supported 18,000 veterans and survivors in 41 different communities
Hosted more than 50,000 participants in the 9/11 Heroes Runs
Inspired over 30,000 youth to serve their communities
Rallied 4,345 volunteers behind the "If Not Me, Then Who?" movement
Because we are a veterans service organization, the week of Veterans Day, we do something called National Service Week where we've organized 20 plus volunteer service events all across the country that are taking place all to honor veterans. It's a national campaign to pull together veterans, future leaders, students and the general public.

– Derrick Morgan
Learn how you can become a part of the "If Not Me, Then Who?" movement.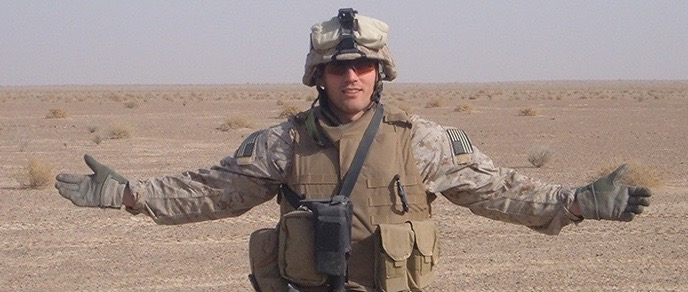 5. The Mission Continues
The Mission Continues inspires and empowers veterans to continue to serve their communities. In order to combat the challenges faced in the transition from active duty to civilian life, The Mission Continues provides veterans with physical opportunities to use their leadership skills in new ways.
Through joining platoons, veterans are united in service with active duty members, guardsmen, and reservists. As each platoon has their own mission based on the individual challenges of their local communities, the types of volunteer services vary. For example, the San Diego First Service Platoon's mission centers around urban agriculture, while the Miami First Service Platoon's focuses on education and youth mentorship.
The Mission Continues also provides opportunities for civilians to work alongside platoons in service missions. Each mission addresses a specific community need, such as building a safe playground, or renovating a hazardous area. To date, The Mission Continues consists of more than 4,500 veterans who have provided 600 different communities with $12 million in volunteer service.
As part of their work to help veterans make the transition from active duty to civilian life, The Mission Continues also conducts a fellowship program for post 9/11 veterans. For 20 hours a week, veterans work with a local nonprofit organization that speaks to their passions. After completion of the fellowship, 93 percent of veterans are employed, in school, or retired.
Learn more about how veterans and communities both are benefitting from The Mission Continues.
6. Bob Woodruff Foundation
When ABC's news anchor Bob Woodruff was hit by a roadside bomb while on assignment in Iraq, he was nearly killed by a traumatic brain injury. His incredible recovery inspired the creation of the Bob Woodruff Foundation. Their mission became to provide post 9/11 veterans and their family members, caregivers, and communities high level support and resources for as long as they need it.
To provide veterans with this support the foundation navigates the thousands of nonprofits that serve veterans to locate programs to fund in three areas: education and employment; rehabilitation and recovery; and quality of life.
To date they have invested $30 million, developed 275 local and national program partners, and reached more than two million service members, veterans, and their families. They proudly report that 86 cents of every dollar goes directly to their funded programs.
The Bob Woodruff Foundation recently joined forces with Walking With The Wounded to support the Walk of Britain. This 1,000-mile trek generates awareness as injured British and American veterans walk across the country.
Learn more about how you can "help heroes on the homefront."
7. Operation Supply Drop
Operation Supply Drop is a support organization that delivers video game themed care packages to deployed veterans. They also send packages to hospitals and military installations all over the world.
Operation Supply Drop was founded to 'Make Fun Where There is None.' For veterans, that is normally when they are called upon to serve their countries in far away locations away from friends and family. Gaming helps take your mind away from your current situation and allows vets to have a taste of home no matter where they are located. Almost all our donors know someone that has served in the military. We believe that many understand the relationship of gaming and how it provides normalcy to a veteran in situations where nothing is really normal.

– COO Ray Whitaker
In addition, Operation Supply Drop also organizes Thank You Deployments. These deployments pair a veteran with a civilian supporter and send the pair to VIP events around the world such as a major sporting or gaming event. These trips not only serve as an opportunity to thank veterans for all they have done, but give the paired civilian and veteran the opportunity to learn each other's story. This shared experience allows civilians to honor veterans and veterans to connect with civilian life. Since the program started in 2014, Operation Supply Drop has had 12 successful Thank You Deployments.
After recognizing the desire for supporters to come together as a community, Operation Supply Drop created the Teams program. Through this program, civilians meet with local military to bond over their shared interests in "all things geek." Each team meets at least once a month in person for fun activities such as paintball, sporting events, game nights, or even coffee.
Year round, fundraisers support Operation Supply Drop by creating pages on the Classy platform for the 8-Bit Salute. In order to participate, fundraisers play any game on any platform for any period of time and ask their friends and family to sponsor their play. This year alone fundraisers have already raised over $400,000.
Overall, Operation Supply Drop has affected more than 30,000 veterans and raised in excess of $8 million dollars to support veterans inside of our three programs. We have completed over 120 Supply Drops to veterans deployed, in hospitals and bases around the world. At present we are currently conducting 12 Supply Drops a month with at least two Thank You Deployments per quarter. In 2016, we are expanding these programs to 24 supply drops per month and one Thank You Deployment per month.

– Ray Whitaker 
Learn more about Operation Supply Drop and how you can support their programs.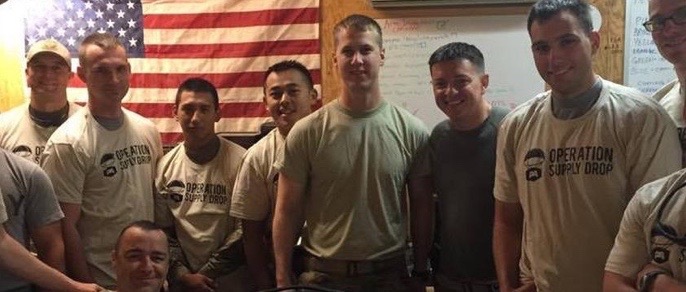 8. Pat Tillman Foundation
When NFL football star, Pat Tillman, put his career on hold to enlist in the U.S. Army, it inspired the nation. During his commitment his unit was ambushed, resulting in his untimely death. His life principles and legacy inspired the creation of the Pat Tillman Foundation. Their goal is to provide veterans and spouses who share his same vigor the tools they need to become the greatest leaders possible.
The Pat Tillman Foundation works to provide academic scholarships to military veterans and their spouses. Recipients of these scholarships are dedicated to positively contributing to their respective fields.
As part of their fundraising model, the foundation hosts their annual signature event, Pat's Run. In 2014 this event had 35,000 participants and raised $1.4 million for their scholar program. In order to expand the fundraising potential of this event, the foundation asks donors to create their own fundraising pages using Classy's platform.
Their impact has been substantial. The foundation has awarded 406 scholarships to date, translating to $8 million in support and 108 universities attended.
Learn more about how Pat Tillman's legacy lives on and how you can get involved.
9. SoldierStrong
SoldierStrong started out delivering much-needed essentials—such as socks—to soldiers overseas. Over the years, however, as their organization's goals grew and soldiers returned home, they recognized the need at home to help get veterans back on their feet, literally.
SoldierStrong helps veterans who suffer from severe injuries sustained in combat. They work to provide veterans with next-generation medical devices to improve their quality of life post injury. Through bionic eksoskeleton suits and robotic prosthetics, they help veterans with spinal cord and limb injuries work through rehabilitation and enhance their physical lives.
Additionally, SoldierStrong is dedicated to providing support in the form of academic scholarships to soldiers returning from service. They hope to fill tuition gaps and provide veterans with the opportunities education provides for success in their civilian lives.
Their impact thus far is impressive:
Learn more about SoldierStrong and how you can help get veterans back on their feet.
10.Three Wise Men Foundation
After the attacks on September 11th, all three Wise brothers were members of our nation's military service. Jeremy Wise was a Navy Seal, Ben Wise, a Green Beret, and Beau Wise, a member of the Marine Corps Infantry. Brothers Jeremy and Ben were killed in Afghanistan, and Beau remains an active duty member of the United States Marine Corps.
In their honor, the Three Wise Men Foundation launched and leads a national movement to unite communities on Veterans Day. They hope to both honor veterans who have fallen and those who have come home and are finding the transition to civilian life difficult. The foundation seeks to raise awareness for the challenges veterans face and fund programs to provide this help.
The Three Wise Men Veterans Day Tribute is an important part of their initiative and asks participants to complete a workout at their local gym in honor of the three brothers. The tribute consists of three workouts named after each brother. Gyms are encouraged to join the cause and sign up. Individuals can also purchase tickets to watch world-class athletes complete a tribute workout on the USS Midway in San Diego.
Learn more about The Three Wise Men Foundation and how you can help honor our veterans.
11. White Heart
White Heart directly connects donors with veterans in need of support. These "White Heart Warriors" are featured on the organization's website, where people can directly support an individual veteran's campaign or become a fundraiser.
Currently, the site features four campaigns for four different heroes and has two additional campaigns coming soon. Over $100,000 has already been raised for the four active campaigns collectively.
As part of their fundraising initiatives, White Heart runs an annual costal motorcycle ride. With the help of partner Jared Allen's Homes for Wounded Warriors, funds are being used to create a smart home for Corporal Kyle Moser, one of their campaign recipients. Corporal Moser sustained extensive injuries from an Improvised Explosive Device (IED) that resulted in double above the knee amputations.
White Heart also has a strong relationship with the Action TrackChair company. These high tech chairs are extremely versatile and help to restore the mobility of wounded warriors. Individuals who would like to purchase a TrackChair for a wounded warrior are able to do so through White Heart.
Learn more about The White Heart Foundation and how you can support a warrior in need.
12. Gary Sinise Foundation
The Gary Sinise Foundation created and supports several programs to serve their mission of honoring the nation's "defenders, veterans, first responders, their families, and those in need." These programs aim to build and strengthen communities while serving as sources of entertainment and education. The Gary Sinise Foundation believes in the uniting powers of the arts. And while several of their programs provide more tangible forms of aid to defenders, such as meals and smart homes, others provide defenders with pieces of culture, such as concerts, theatrical shows, or tours of the national WWII museum.
A great example of one of their programs that is both educational and entertaining is Gary Sinise and the Lt. Dan Band. The 12-member band covers hits at military bases around the world to boost morale and hosts concerts across the country to raise awareness. The band has performed more than 315 concerts around the world in support of our defenders and their families.
Learn more about how you can help the Gary Sinise Foundation.
13. The Honor Foundation
The Honor Foundation's transition institute helps members of the U.S. Special Operations Forces make the transition from the military to a career in the private sector. The Honor Foundation works with partner institutes to provide an elite education to students in four months. Alongside their education, the foundation then helps these students find career matches with companies in the private sector such as Facebook, J.P. Morgan, G.E., and Airbnb. Their accelerated program is tailored to the specific skill sets of Special Operations Forces members, allowing them to identify transferable skills.
We have a very proactive approach and not a reactive approach to transition. We actively recruit inside of the Special Operations community 12 to 24 months into their active duty service. We embed ourselves into the different Special Operations communities and we try to recruit these guys 12 to 24 months into their active duty service. We're getting them long before the struggle even begins.

In 2012 into 2013, I interviewed 215 SEALS in seven states in six months and they all were within five years of exiting their specialized communities. What I found was that they spent 12 to 18 months underemployed, unemployed, or unhappy in their first role. This is our nation's top one percent of all veterans. We can't find a better talent pool to be brought into the private sector. I took that 12 to 18 months and shifted it into their active duty time.

– Founder and CEO Joe Musselman
In order to further the conversation and raise awareness, the Honor Foundation also hosts the annual NEXT Speaker Series.
This talk series features conversations on four innovative subjects:
Elite military
Global business
Top tier education
Social entrepreneurs
These talks seek to create a dialogue about how corporate America and higher education intersects with military experience and how to best support new professionals moving into these fields.
In 2013 The Honor Foundation served eight percent of the SEAL transitioning population. This grew to 18 percent in 2014, and 27 percent in 2015. By 2019, their goal is to reach 100 percent of the population.
Learn more about the Honor Foundation and how you can join the conversation.
14. Save a Warrior™
Save a Warrior™ addresses the serious suicide epidemic among active duty military, veterans, and first responders. Another Warrior is lost every 65 minutes to suicide. Today, over 800,000 Iraq and Afghanistan veterans are suffering from post-traumatic stress (PTS).
To address these frightening statistics, Save a Warrior™ created an evidenced-based healing experience specifically for those suffering from post-traumatic stress. The week-long residential "war detox" program exposes warriors to different processes proven to help heal the brain and work through PTS. This process includes meditation, ceremonies, and spiritual activities, and also focuses on the initiation of long-term behavioral changes that will help warriors live more fulfilling lives by focusing on serving others.
In order to apply to the program, applicants need only be ready to start the healing process and willing to help others struggling to do the same.
Learn how you can help save a warrior.
We feel honored to have connections with many organizations working to improve the lives of our nation's active duty, veterans, first responders, and their families. Their vast array of programs and services speak to the need for different types of support and heightened awareness.
As this Veterans Day passes, let us all remember Elmer Davis' famous words, "This nation will remain the land of the free so long as it is the home of the brave."
Honor the men and women who bravely fight and have fought for our country by learning about the many organizations who stand up to help them and share their stories. Together, and with the help of our networks, we can change the lives of our heroes for the better.
---
Turn New Donors Into Lifelong Supporters
---
Subscribe to the Classy Blog
Get the latest fundraising tips, trends, and ideas in your inbox.
Thank you for subscribing
You signed up for emails from Classy