The most important thing you'll ever do to steward your donors is say thank you.
Just about every nonprofit leader or fundraiser knows the importance of thanking donors—not just as an expression of gratitude and good manners, but as a way of building relationships. When done well, recognition can even encourage future gifts and continued involvement, whether through volunteering or being an ambassador for the organization. It also helps encourage gifts from other networks. When people see their friends and family members are passionate about a cause, they might consider supporting as well.
When it comes to giving thanks, small and medium-size organizations may not have the resources or opportunities for lavish gifts or swanky appreciation events. However, with a little creativity, leaders and fundraisers at any size organization can acknowledge donors without an increase in staff time or expenditures. The old adage "less is more" can hold true.
We've compiled 15 meaningful ways to say thank you to your donors and continue to grow your relationships with your supporters.
1. Website Appreciation
Your website is the perfect place to show public appreciation of your supporters. Develop a stewardship section on your website which can appeal to both one-time donors and recurring donors. Posting a message on your website that promotes thankfulness to a broad audience shows you appreciate their time and efforts, and the impact they've made on the organization. It's a personal connection that will boost engagement and loyalty. For your bigger donors, call them out in a clear, meaningful way like Food Bank Santa Barbara County does.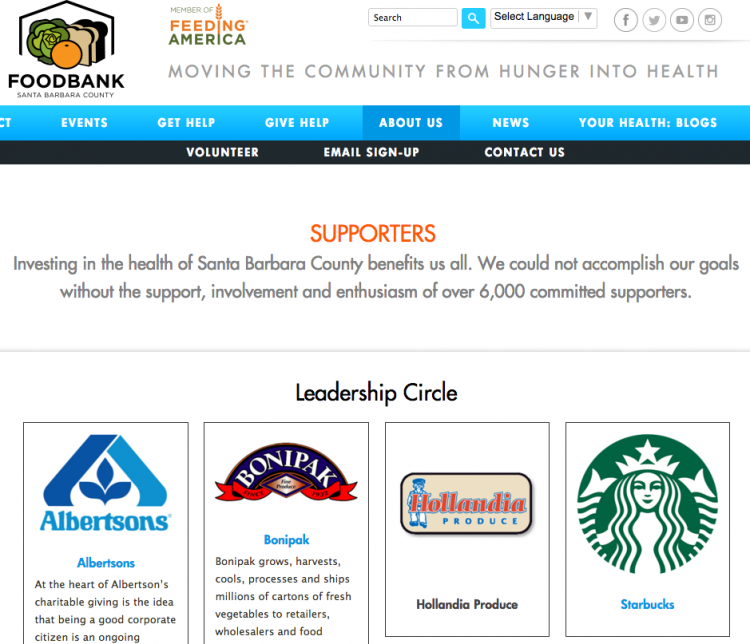 2. Welcome Package
A welcome package is an effective way to educate new donors on your organization. The surest way to tell your donors you care is to thank them—which means mailing a welcome package no later than two weeks after they donate for the first time. Typically, a welcome package goes beyond just a thank you letter, and may include items such as photographs, surveys, even a small gift such as a bookmark. The package should not rattle off a series of facts and figures about your organization, but rather show the difference your organization has made. Tell a story about who you served and the impact made.
3. Profile Donors
Shout out your top donors in important communications, such as your annual report. An annual report allows nonprofits to show how many people were served, with what services, how effective those services were, and who helped contribute to making these services possible. This is the perfect opportunity to list your top-contributing donors by name and recognize their efforts. Your donors can also be profiled in a section of your website, in newsletters, and in PR/marketing materials. Leroux Miller, president of EscoScribe Communications and keeper of the Nonprofit Marketing Guide web site, recommends asking the following questions when selecting donors to profile:
Why this person?
Why now?
What's the point from a marketing perspective?
What are you trying to achieve by telling this story about this person?
4. Video
A good thank you video doesn't have to be reserved for your year-end campaign. Acknowledge your donors' gifts with a clear and simple thank you video any time of year. A 2 to 5 minute "thank you" video will not only engage your donors but it is also a way to publicly recognize them through social media and promote your organization to other potential supporters. The Nature Conservancy's thank you video is a perfect example of a quick, meaningful way to effectively say thank you. They do so by having people impacted by those donations deliver the message.
5. Cultivation Event
Imagine an event where you don't sell tickets and you don't ask for donations but rather give your top-tier prospects an experience to remember. A cultivation event does just that, creates an opportunity to involve "cold prospects" who may have never heard of your organization in a way that sparks their interest and often, desire to adopt your mission. Throw a cultivation event to bring people closer to your organization and engage donors with face-to-face conversations. Some tips for planning the best cultivation opportunity possible include:
Turn Your Event Into a Party
Conversing a fun, relaxed environment is paramount to your donors. Inviting them to an exclusive party can create intrigue and if done right, is a great way to breathe life into your donor list. Keep in mind this is a social occasion—conversations and the overall experience shouldn't be too serious or heavy. Avoid hard asks and instead engage in conversations regarding their interests while sprinkling in tidbits about your organization, success stories, and impact.
Triage Your Guest List
Some attendees at your events may have deeper pockets, be long-term donors, or may be people you are cultivating for an immediate gift. Take a look at the guest list and split your list, making note of these attendees as the most important guests. Make a plan for them; know who is coming, why they are coming and how you might move your relationship forward at the end. Think of questions you might want to ask them—such as how they heard about your event along with more personal questions you can refer to later in follow-up conversations.
Create a Comfortable Atmosphere
The more relaxed your guests are, the easier it will be to have a meaningful conversation it them. Try hosting a cookout, house party, or beach picnic instead of a lavish event. Not only will you save money, but these types of casual events also allow for more opportunities to engage in deeper conversations.
6. Stewardship Matrix
Create a stewardship matrix to show what you'll do for donors who give at various levels, for instance, $1 to $99, $100 to $499, $500 to $1,000. That way, staff members will be more consistent when it comes to communication and stewardship strategies with each type of donor. Kindred Image's shows their donors thanks based on giving level. For example:
Donors who give $25 or more per month receive a handwritten thank you note from Kindred Image's development director.
Donors who give $100 or more per month receive a letter opener.
Donors who give $250 or more receive a letter from Pastor Lee and a customized print.
7. Thank You Letter
The simplest way to thank your donors is to send a thank you letter. Send out a donation letter and receipt as soon as you receive a donation. In fact, Nonprofit Hub recommends sending a thank you letter within two days. Speed matters because the longer you wait, the less sincere your thank you will come across.
8. Be Thoughtful
Whether your donor is new or recurring, each interaction you have with them is an opportunity for a lifetime of support. Make your thank you impactful, meaningful, and memorable. One way to do this is to remember the personal details you hear in conversations with your donors. Did Bob tell you that he is going golfing with his son on Saturday? Ask how their day on the green was the next time you talk to him. People always appreciate knowing they were heard.
Download Now: The Donor Retention Handbook
9. Handwritten Notes
Aside from sending a thank you letter after the first donation, a great way to show your donors continued thanks is to send them handwritten notes. The personalization and customization will make the message seem more meaningful. Some ideal times to send a handwritten note include:
When they make a second donation
When they attend an event
On the anniversary of their first donation
Around the holiday season
Include a short handwritten note that references their reason for giving in each letter. Did they give because of their friend's peer to peer campaign? Did they attend your event? Did they respond to an appeal? In cases where you don't know why they gave, include a short handwritten note that talks about the importance of their gift. To conclude, have a board member personally sign the letter.
10. Resolve Complaints Quickly
Resolve donor complaints and issues within 24 hours. If you don't know how to respond to their complaint initially, a simple three-pronged "aware, working, and update" response is sufficient. It shows you are aware of the situation, working on the problem, and will update the donor as soon as you know more information. If you cover these three bases, donors will feel not only appreciated, but also valued by your nonprofit.
11. Anniversary Cards
Send a personalized anniversary card to recognize donor loyalty a year after they make their first donation. To further show your gratitude, have the card signed by the chair of the board or your executive director. Not only should their first year be celebrated but you should also send anniversary cards for 5, 10, 15, and 20 years of recurring giving.
12. Social Media
As a nonprofit organization, Facebook and Twitter are powerful tools for simple shout-outs and thank yous. Just as you feel a jolt of excitement when you log on and see a notification symbol, your donors feel the same knowing they've been included in some kind of social media post. This is a great way to say thank you to donors, both large and small. Not only does it let them know you've received their donation and you're grateful for it, it also tells the world of their commitment to your organization.
To ensure you have your donors' correct social media information, add a field on your donation form to collect their Twitter handles.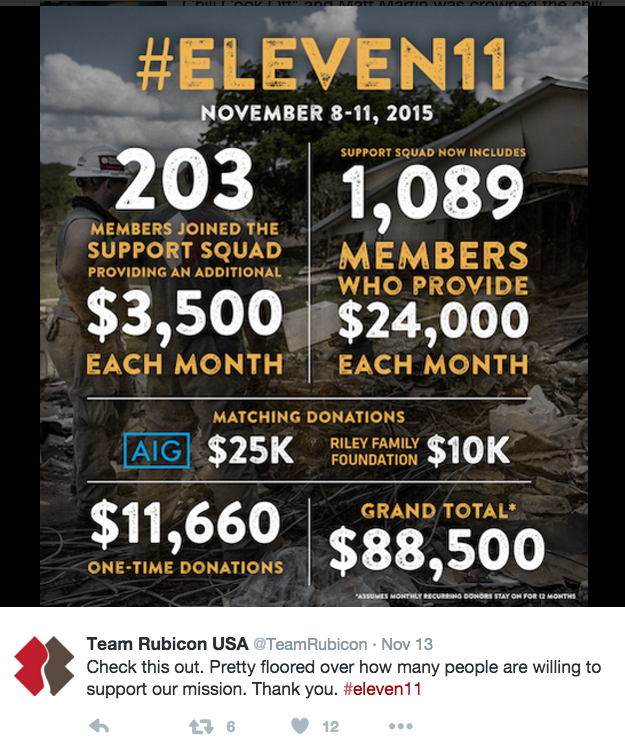 13. Schedule Phone Calls
One of the most personal forms of communication is a phone call. Hearing a voice on the other end of the line not only builds authenticity, but it also builds trust. Help your donors put a voice to a name by scheduling times on your team's calendar each month to thank your donors over the phone. Make it a commitment to call at least one major donor each month and genuinely make an effort to get to know them.
14. Photo Book
At the completion of a project or campaign, provide your biggest donors with a small photo book that showcases the project from inception to completion. A photo book is tangible evidence of how their dollars were spent and serves as a constant reminder of your organization.
When creating your photo book, be certain to select results-oriented pictures that are tied to your cause and show the impact your organization makes.
15. Tour
It is important for your donors to connect physically with your organization and to see the work behind the cause. By giving your donors sensory experiences like volunteer opportunities, tours of your facility, and small group meetings with your staff and other donors, you are cementing the relationships you have with your supporters. Keep your donors excited about your work by letting them touch and see the good you are doing, that they are funding.
Conclusion
Saying thank you to your supporters is a necessity. Fundraising boils down to landing donations from two sources: new and existing donors. And a good thank you is one of the most effective ways to keep new donors coming back. All donors should have a relationship with your nonprofit organization, and if you treat them well, they'll treat you well in return, hopefully for years to come.