Thanks to Think with Google, marketers have access to more industry trends than ever. Aimed at shedding light on current "consumer insights, industry trends, and creative inspiration," Think with Google's Marketer's Almanac has become a valuable resource for marketers in the for profit world as they work to be relevant and interesting in the eyes of their target consumers. With a quick glance through the almanac it's easy to see how many searches are driven by national holidays and large events. However, a few popular searches may surprise you.
While this is useful information for the for profit world, it's also information nonprofit organizations can use to inspire unique fundraising ideas. To maximize your potential donations, it's important to understand your donor and what's going on in their day to day life–what are they talking about online, and what questions are they trying to answer in July as opposed to September? In a world of media saturation, the best way to get your donors' attention is to show them your organization understands what gets them excited.
Keep a pulse on your donors with Google search trends and make your campaigns and communications informed, relevant, and fun. Below, we've outlined 16 topics that trend throughout the course of the year. Underneath each identified trend are some tips for applying these insights to your organization in ways that will excite and engage current and potential donors.
September
Search Trend: National Football League (NFL) Fans
American football has more fans than ever. With female and hispanic fans on the rise, it's now America's favorite sport with 65 percent higher interest than the National Basketball Association and 152 percent higher interest than Major League Baseball.
This growth can be attributed to new growing fan bases. Women now make up 46 percent of fans according to AdWeek. And in August 2014 "futbol americano" searches were 39 percent higher than the year before, indicating American football's growing popularity in the hispanic community.
Luckily, the football season spans from September to February, so there's plenty of time to create a campaign or event related to this trend.
How to apply this fundraising idea:
Create a winner's pledge. Ask donors to pledge to donate a certain amount every time their NFL team wins a game.
If your organization raises funds to combat breast cancer, a campaign in October is essential. You can connect your National Breast Cancer Awareness month campaign to the NFL by encouraging fans to dress in pink on game days and throw viewing parties where the host collects donations from attendees.
Get fans out on the field for a good cause and host a football tournament. Special Olympics New Jersey's annual Snow Bowl gives participants an opportunity to play on a professional field. Proceeds are generated through registration, donations, and peer-to-peer fundraisers.
October
Search Trend: Halloween Makeup
In October, searches for makeup hit their annual high thanks to Halloween. YouTube video tutorials in particular are on the rise, with 2014 seeing a 36 percent rise from 2013.
How to apply this fundraising idea:
Hold a Halloween party with face painting. Charge for entry and serve food and drinks. Request a suggested donation for participating in activities like face painting and bobbing for apples. Be sure to incorporate your organization's name or logo in the face painting. Promote the event by making a preview video on YouTube and share teasers for some of the face painting designs.
November
Search Trend: Thanksgiving Recipes
November is the recipe search pinnacle of the year. Perhaps not surprisingly, the search for dessert recipes outpaced the search for turkey recipes threefold. An increasing number of chefs are looking up these recipes on their phones. On Thanksgiving day in 2013, 44 percent of all recipe searches were made on a mobile device according to Google.
How to apply this fundraising idea:
Host a holiday bake off. Participants can register to compete in the event. After they register, ask if they'd like to fundraise on behalf of your organization. Offer prizes for the top fundraisers and winners of the taste test.
Hold a turkey trot and serve favorite holiday pies to the runners post race. The Center for Educational Advancement (CEA) annual turkey trot gives runners the option to "fundraise only" and credit the registration fee to their fundraising page. This promotes the peer-to-peer element of their event and helps CEA reach even more attendees and supporters.
December
Search Trend: Online Holiday Shopping
Forty percent of holiday shopping took place online last year and 53 percent of holiday shopping took place on a mobile device or tablet (up from 41 percent in 2013). It seems shoppers are fitting their research and purchases in whenever they can, and the best way to do that is on their mobile device.
Certain times of day see higher search volume than others. One third of shopping related Google searches happen between 10 p.m and 4 a.m. In the giving space, there was a huge spike in donations at lunch time, specifically on #GivingTuesday, according to Asha Curran, a director at one of the founding organizations of the initiative. She attributes this to the increase in the mobile trend.
How to apply this fundraising idea:
Schedule some of your posts to publish at lunch time and in the later hours of the evening, when potential donors are more available.
Use mobile responsive donation pages. An unresponsive page risks losing a potential donor by making the process too time consuming or confusing.
January
Search Trend: Fitness Resolutions
While searches for running are more popular in warmer months of the year, fitness resolution searches peak in January.
How to apply this fundraising idea:
Partner with a local gym and host a runathon away from the elements on treadmills. Individuals can sign up for time slots throughout the day of an event, or you can run the event as a relay and encourage one team to sign up per treadmill. Each team would have one representative from their team on the treadmill at all hours of the day. Still Easier Than Chemo holds a 24 hour challenge that gives runners the option to run at three different locations. They also encourage donors to sign up to participate virtually, expanding the reach of their campaign.

February
Search Trend: Super Bowl Commercial Viewing
January and early February see high search volume for NFL players and teams. This time of year also delivers the best and most competitive commercials. In 2014, Super Bowl commercials were watched more than 160 million times on YouTube, according to the Marketer's Almanac.
How to apply this fundraising idea:
Make your own "Super Bowl commercial." Create a funny marketing video for your cause or follow Budweiser's lead and create an emotional video that pulls at supporters' heartstrings. Share the commercial across your social networks to raise awareness for your cause. Keep in mind that openly supporting one NFL team will likely polarize your supporters. Your video can speak to an element of the football season and still remain neutral.
Search Trend: Valentine's Day Shopping
The amount of money spent on Valentine's Day gifts is on the rise. In 2013 couples spent $116 on average per person and that number rose to $134 in 2014. While we're spending more and more, it seems men have an easier time deciding what to purchase. Last year there were three times as many searches for "gifts for boyfriend" than "gifts for girlfriend."
How to apply this fundraising idea:
Make shopping for men easier and suggest gift givers make a donation to your cause in honor of their loved one.
Accept donations in exchange for an ecard. The World Wildlife Foundation sends cards such as this on behalf of donations made for Valentine's day.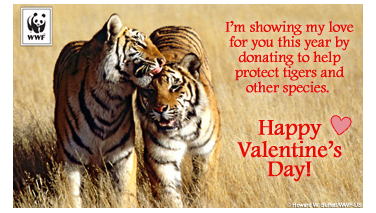 March
Search Trend: March Madness Brackets
Last year nearly 30 percent of Americans (90 million) filled out a March Madness bracket, according to a Google consumer survey. The tournament also had its highest ratings yet in 2015, with Nielsen estimating the total at 11.3 million.
How to apply this fundraising idea:
Nonprofit Hub suggests hosting a March Madness open house at your organization's offices during one of the competition's daytime games. For this unique fundraising idea, provide snacks and have flyers ready to inform fans about your organization and the work you do for your cause.
Search Trend: Oscar Viewing Parties
While the beloved Academy Awards took a 14 percent hit to viewership in 2015 according to deadline.com, the roughly 37 million individuals tuning in is no small potatoes. In 2014, the event saw the largest non sporting television audience since the Friends finale, with 43 million viewers. It has become increasingly popular for fans at home to get together to view the awards. From 2013 to 2014 there was a 10 percent growth in the search term "oscar party."
How to apply this fundraising idea:
With everyone's minds on the glitz and glamour of the red carpet, this is a great time of year to hold a luxurious cocktail event or gala. Prep for this unique fundraising idea by decorating with a red carpet or Academy Awards theme to drive interest in your event.
Host an Oscar pool screening, or Academy Awards viewing party. The Louisville Film Society hosts an annual Oscar Watch Party where they serve food and drinks and hold a silent auction and ballot competition.
Search Trend: Spring Break Planning
Google searches pertaining to spring break do not reach their peak until March. While this might seem a little last minute, students looking for deals and ideas could serve as a great target for potential volunteers.
How to apply this fundraising idea:
Start advertising alternative spring break trips or volunteer opportunities prior to and throughout the month of March to give college students who are eager to get involved an opportunity for a meaningful spring break experience. Nonprofit Hub recommends giving students the chance to participate as a group in order to appeal to friends looking to travel together.
Search Trend: SXSW YouTube Videos
While thousands physically attend the conference and festival, the number of viewers of SXSW-related YouTube content grew by 64 percent in 2014. It seems fans are looking for ways to participate beyond the physical event. In particular, fans use YouTube to discover new music artists.
How to apply this fundraising idea:
If you're attending the conference this year, this is a great chance to engage with your supporters on the steps you're taking to stay up on the latest trends. Your presence on social media during and after the conference is a great way to stay in touch with your audience. Share key takeaways in a YouTube video to make sure you're engaging in a channel that's relevant to the conference.
April
Search Trend: Spring Fashion Crazes
Tulle skirts, jogger pants, and the midi skirt were the hot spring 2015 trends according to Google search data. While jogger pants might not come as a surprise, a deeper dive into the data revealed that many women were looking for specific information on how to make their own tulle skirt, and how to wear a midi skirt.
How to apply this fundraising idea:
Use fashion insights to create a spring fashion show. Sell tickets to the event and partner with local boutique clothing lines. Ask for volunteer models and appeal to a local salon to donate their time for hair and makeup in exchange for their name on your event materials.
May
Search Trend: Mother's Day Shopping
In 2015, Millennial moms looked forward to Mother's Day as an opportunity to rest and older mothers wanted to share a meal with their family. Sons and daughters took to their phones for creative ideas for Mother's Day gifts—mobile searches for "best mother's day gift" grew 51 percent from 2013 to 2014.
How to apply this fundraising idea:
Funding Centre recommends hosting a high tea event for families looking to take mothers out for a meal and day of sophistication. Sell tickets, rent teaware, and serve sweets and finger sandwiches.
Celebrate Mother's day in your communications and offer ecards in exchange for donations made on behalf or in honor of mothers everywhere.
Given the high number of searches being made on mobile for "best mother's day gift" it's important to have mobile responsive donation pages so when a potential donor spots you on their device they can make a donation right then and there.
June
Search Trend: Gamers looking for E3 Information
Each year the Electronic Entertainment Expo (E3) takes place in June. As such, event searches related to E3 news peak the week of the industry event. This search activity drives other searches for related topics such as specific consoles and video games.
How to apply this fundraising idea:
For this unique fundraising idea, host a video game tournament the week of the expo to give gamers an opportunity to attend a physical event and celebrate any industry news revealed at the expo. Gamers for Giving is a great example. This event raises money for the Gamers Outreach Foundation. The event follows a 24 hour marathon theme where participants can compete in PC and console tournaments.
July
Search Trend: Summer Mobile Usage
Mobile devices are more likely to be used in the summer months than in any other season according to Google. While many individuals are researching travel and recipes, there's no reason your organization can't be a part of that mix.
How to apply this fundraising idea:
With the amount of time spent on mobile devices, more potential donors can access information about your organization right in the palm of their hands. Americans reportedly check social media apps on their mobile 17 times a day according to a recent study by Informate Mobile Intelligence. Remain active on various social platforms in order to make sure you're leveraging your supporters' networks and getting in front of donors on their mobile devices. Devise and launch a social media strategy specific to reaching more individuals during this mobile heavy time of year.
August
Search Trend: Back to School Shopping
Searches for back to school shopping grew 48 percent from 2013 to 2014 and continued to grow this year.
How to apply this fundraising idea:
Take advantage of this fundraising idea by hosting a back to school themed silent auction. Attendees can bid on baskets of school supplies or gift cards to popular apparel stores. Sell raffle tickets and award some larger items such as electronic devices.
No matter how you engage your donors, show them that you understand their mix of interests by keeping abreast of trending topics. When you connect your communications and campaigns to hot topics, it's easier to whip up unique fundraising ideas for your initiatives and improve the donor experience.
Where does your organization take inspiration for your campaigns? Let us know in the comments below.
---
Bring Your Campaign Idea to Life
---
Photo credit: Shutterstock.com, user: d8nn, Louisville Film Sociey, Gamers for Giving, World Wildlife Fund, Center for Educational Advancement, Virginia Commmonwealth University