Why Quick Fundraising Ideas?
Oftentimes, individuals and organizations alike need some quick fundraising ideas to get the ball rolling on a longer-term campaign, get through a mid-campaign hump, or for an emergency situation. The ideas also need to be engaging enough to get people involved, and quickly. That's why we've compiled a list of 25 quick fundraising ideas that are sure to rally people to raise money for your nonprofit and have fun while doing it.
Free Download: Build Your Annual Fundraising Calendar [WORKSHEET]
1. Channel Your Inner Master Chef
A nod to reality TV cooking shows, try rounding up supporters and foodies around a friendly culinary competition. Contestants create their best dishes with a specific ingredient or other criteria, and people pay to taste each dish and cast their votes. By giving your supporters the option to sign up as a chef or judge you're appealing to a large audience and providing a fun and unique experience that will help your donor associate your organization with a good time.
2. Yard Sale Fundraiser
Collect gently worn clothes, home goods, or collectibles and host a yard sale. If you have valuable items like first-edition books or signed collector's items, you can hold an auction for the top-tier items at the end of the day. In addition to opening up donations to your staff, supporters, and collective networks reach out to local celebrities or philanthropists for those high-ticket items.
To generate buzz around the event, take pictures of the items and post them on social media. You never know who could see a social post and you might just find your next corporate sponsor while drumming up excitement around the event.
3. Breakfast in Bed
Ask local businesses to donate breakfast staples like muffins, fruit, bagels, and coffee. Next, have supporters and their networks place orders and then enlist volunteers to deliver the goods. Create a menu that demonstrates impact so your supporters know what their donation provides. For example, a $20 donation gets you a bagel and coffee delivered and pays for a student's school lunch for a month.
Customize the event to your mission by including a thank you card with each order, bringing a rescue pet along for delivery, or even delivering meals to your beneficiaries instead of supporters.
4. Scavenger Hunt
Organize a scavenger hunt and send participants running all around town. You can stick to the classic scavenger hunt where people have to find and collect items or you could go digital and have individuals or teams simply take a picture of an item or location. Each person or team will need a camera, pen and paper (to write their names to prove they aren't using a fake photo), and a garbage bag.
Charge a registration fee in advance and offer a headstart or hints in exchange for donations on the day of the hunt. Assign bonus points for the individual or team who collects the most trash and recyclables as they explore your city.
5. Donate for Talent
Crowdsource entertainment with this quick fundraising idea and put on a talent show. This event can be as high-end or as lowkey as you'd like, so decide on your vibe right off the bat. Are you simply looking to provide supporters with a fun night while also expanding your reach? Get a permit and hold the talent show in a local park. If your organization wants to establish a cornerstone fundraising event then kick it up a notch. Hold auditions for the show, request that performers fundraise, and ask a local theater to host.
In addition to an entry fee, attendees can donate to cast votes. Ask local vendors to provide prizes and create different award categories for supporters to vote on.
6. Tie-Dye Party
T-shirts that promote your cause are a classic fundraising incentive, but you can take this nonprofit fundraising idea a step further and host a "create your own T-shirt" get-together. Charge an entrance fee, offer to tie-dye personal items for a donation, or enlist local artists to create custom pieces to sell.
Keep costs low by offering white T-shirts and tie-dye materials so that participants can create their own masterpiece on a budget. Since making T-shirts isn't a time-consuming activity so prepare some other family-friendly games, crafts, or activities for the event.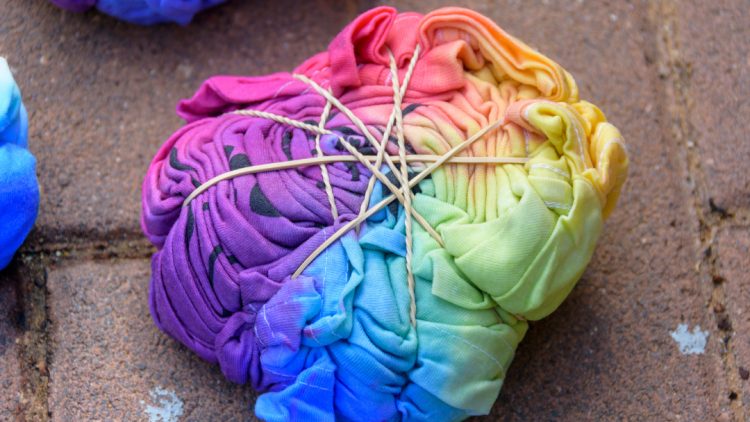 7. Give It Up
To demonstrate how the smallest donation can make a difference, ask fundraisers to give up a daily beverage or meal and donate the money they would have spent to a worthwhile cause instead. Provide supporters with data showcasing the impact of $5, $10, $20 donations. Then encourage them to share their activity on social media and ask their networks to take action too.
Intensify the appeal by asking supporters to participate for a certain number of days or encouraging them to meet a personal fundraising goal.
8. Bike Relay Race
Take a tried and true fundraising idea—the traditional bike race—and turn it into a team-oriented activity. Set up a relay style race with prizes for the teams that place.
Download Now: The Ultimate Campaign Planning Kit
9. Film Fundraising
Since everyone has a camera in their pocket and a platform to reach the masses, any moment can be captured on film and shared with the world. Host an amateur film festival and have participants enter their own productions. You can even turn it into a contest, where attendees can give $5 in order to cast votes for their favorite films. Leading up to the contest, create an email series with tips to show supporters how to create an impactful video.
10. Hairless Fundraisers
Participants pledge to shave their heads (or long-lasting beards) to raise money.
11. Trash Art Auction
This quick fundraising idea isn't just for eco-artists, but for all creative types. Enlist local artists to create some avant-garde masterpieces out of recyclables or other waste products, and auction off the pieces. You can also collect recyclable materials and hold a contest to see which attendee can make the most impressive creation.
12. Trivia Night
Anyone who has attended trivia night at a bar knows that the stakes are high when it comes to public quiz competitions. Ask a local restaurant or pub to host a trivia night and round up your supporters for a night out that supports a great cause.
Ask that participants form teams in advance and raise a minimum amount as their registration fee. Then charge an entrance fee for anyone not participating in the competition. Group people into different teams to see who can gain bragging rights and raise the most money.
If you can guarantee a crowd then the venue may agree to share a portion of their food and drink proceeds with your nonprofit. Nothing encourages business like being a socially responsible company.
13. Run the Race
Host a costumed race where people dress up in alignment with a pop culture phenomenon. Whether it's zombies, Star Wars, Harry Potter, Hunger Games, or another theme. With all the different options to choose from, this quick fundraising idea never gets old.
14. Roller Race
Or, how about switching up the usual 5K run/walk with a roller-skating marathon? In addition to fundraising for entry, participants can raise money for branded protective gear like helmets and kneepads.
15. Dance Marathon
Host a dance-a-thon and challenge participants to dance for as long as they can. This fun peer-to-peer event keeps participants and donors on their toes—literally. Have dancers create peer-to-peer campaigns and set a minimum goal for participation.
Fundraisers will tap into their networks to raise money before the event, but donations will flow until the last dancer standing receives a prize! Supporters can also request songs for $5—Spice Girls anyone?
Free Download: Anatomy of a Successful Peer-to-Peer Campaign
16. Dodgeball Tournament
Ask each team to fundraise a certain amount to participate and to come geared up for some serious dodging.
17. House Party
Invite supporters and their friends and family to your charitable house party. You can schedule the event around a cause awareness day, holiday, or pop culture event. Incentivize donations by offering prizes for different levels of sponsorship, like discounted tickets to your next event or other unique party favors.
Read Next: Anatomy of a Successful Crowdfunding Campaign
18. Gaming for Good
Gamers can raise money by participating in a video gaming marathon. Livestream the event to reach a larger audience, and viewers can donate in order to submit challenges or request other forms of entertainment. Check out Desert Bus for Hope for a real-life example.
19. Battle of the Bands
Gather local bands to put on a charity concert. Performers can fundraise for registration and attendees can purchase tickets. Invite influencers or local celebrities to judge to help spread the word and get people excited about your show.
Free Download: The Ticketed Event Cheat Sheet
20. Athletic Tournament
What do all sports events have in common? Competition, crowds, cheering, and a close-knit community of people who are all rallying around one goal: the home team bringing home a "W". What could be a better inspiration for your next fundraising event? This easy fundraising idea unites locals around a sports tournament to raise money, whether it's baseball, flag football, or bowling.
If you really want to level-up the fun factor you can even establish a theme or costume rule, requiring each team to come up with its own unique getup. "Punny" costumes or themes that involve a play on words are always a crowd favorite, so encourage your teams to dress up. Two ideas to get you started: the Chicago "Teddy Bears" and the Dallas Cowboys who don cowboy hats instead of traditional uniforms.
Read Next: 7 Fall Fundraising Ideas Inspired by Football
21. Craft Sales
If Pinterest has taught us anything, it's that the do-it-yourself aesthetic isn't going anywhere. Gather talented friends and family members to help create and sell your crafts, whether they are bracelets, buttons, keychains, or housewares.
22. Good Ol' Pub Crawl
Don't discount the potential of a fundraising event that is centered around bar hopping. In fact, this is the quick fundraising idea that started Classy! A pub (or restaurant) crawl can be a great way to put a philanthropic twist on a Saturday night. Charge a fee for people to participate in the crawl, get people to dress up, and have participants earn branded swag for each stop they make on the crawl.
23. Local Olympics
Put together an Olympics-style sporting event for locals and ask each participant to fundraise a minimum amount to help you reach a collective goal.
24. Recipe Books
As a tribute to the days before recipe phone apps, you can crowdsource recipes from different supporters, and even across your organization, to compile a charity cookbook. Ask supporters to include a dedication, doodle, or note with each recipe submission so that the book feels unique and personal to your organization. Reach out to local graphic designers or students to help design your cookbook.
25. Art Show
Local artists and supporters can pay a nominal registration fee to have their pieces showcased, and attendees can pay a registration fee to browse the collection. Afterward, artists can choose to auction off their pieces for charity.
For more inspiration, check out our other fundraising idea buckets:
---