With email, Twitter, blogging, and old-standbys like telephone and direct mail, nonprofits have more ways than ever to reach their supporters. This explosion of platforms, however, has left many people inundated with noise. Most of us automatically skim through our inbox, texts, and voicemails, trying to identify what is actually interesting or important. So nonprofits face the question: how do you avoid being tossed out with all the junk mail? And how do you communicate in a way that gets people to give?
It might help to go back to the reasons you are trying to communicate in the first place. As a nonprofit fundraiser, your primary goals are:
• To obtain donations
• To recruit fundraisers
It is your job to make people take action.
In this blog, we'll start by reviewing some of the platforms and mediums through which you can speak. Then we will discuss the donor engagement strategy of getting the audience's attention, getting them to engage with the message and, finally, to take action through donating or fundraising.
Your Tools
The exact number of communication channels will vary from one organization to another, but it is safe to say that most nonprofits take a multi-pronged approach to reaching their audience. These different channels, however, won't necessarily be reaching the same people.
Think of how you communicate with your personal social circle. Maybe you contact your grandmother by calling her on the phone, but you talk to your close friends through text messages and Facebook.
You use different channels to reach different people.
It works the same way with nonprofit communications. And because the people following you on Instagram may not be on your email list, it makes sense to cross-promote content. Don't be afraid to link your Twitter followers to your latest blog post.
Among nonprofits, some of the most popular means of communication are:
• Email
• Direct Mail
• Twitter
• Facebook
• Blogging
To create lasting interest and momentum, you need to be grabbing people's attention with compelling content on each channel. This report from Pew Research has some great information on the demographics of different social networking platforms, which might help you find out which ones are important to your audience.
• 84% of 18-29 year-olds are on Facebook, along with 79% of 30-49 year-olds. This is a great place to find younger donors who are ready to start participating in philanthropy.
• LinkedIn is most popular among online adults making $75,000 or more. LinkedIn users, therefore, may be better prospects for mid-sized and large gifts.
• Of online adults, 33% of women use Pinterest, but only 8% of men do. This platform may be better suited to reaching female supporters than males.
Getting From Attention to Action
All these forms of communication are aimed at getting people to engage with and act on your message. But in many cases, just one email or tweet won't convince someone to donate. To help you understand how communications across these mediums can lead to fundraising success, we've broken the process down into three steps. While the occasional donor might click through to your donation page after one appeal, many people will engage with the cause gradually before diving in.
1. Get Their Attention!
Your first step is simply getting your audience to notice you. It sounds simple but it is all too easy to get lost in the shuffle of emails and social media posts. There are a few methods, however, to make more people read and click through your messages.
• When it comes to email, your biggest hurdle might just be your subject line. One study found that 33% of people decide to open an email based solely on the subject line.
If your subject line doesn't interest readers, the rest of the content may not matter. For some helpful tips and data, check out this study by MailChimp http://kb.mailchimp.com/article/best-practices-in-writing-email-subject-lines
• While much of your communication will be through text, images can be a powerful way to attract eyeballs. Research from Buffer found that Tweets with images received more clicks, favorites, and retweets than those without. And Hubspot found that images also boosted engagement with Facebook posts. Adding a relevant picture is one way to make your message stand out from the crowd.
2. Offer More
This is the in-between stage. Your audience is aware of you, they've noticed your tweet or maybe opened your email. At this point, you want the viewer to take action, but they're probably not ready to donate yet. Instead, you can give them the chance to engage with the organization in other ways.
This step is about gaining the often-discussed "engagement" that social media managers track so closely. Now that they've noticed you, ask them to:
• Follow you on social media
• Retweet your post
• Leave a comment
• Watch a video
• Click through to your website
Make it as easy as possible for your audience to subscribe to your posts or share them with friends. You can embed social media icons on your blog and provide links to more content.
This blog from Love146 has distinct social sharing icons right below the article's title.
We are only a few #friends away from 7,000 on our FB. Click on over to https://t.co/2HOUqxpx33 and "like" us for daily newsfeed updates.

— The Mint Museum (@TheMintMuseum) August 5, 2014
TIP: You can use a service like bit.ly to shorten links and track their clicks, reach and performance.
3. Call to Action
Although you always want your audience to have the option to donate, they may spend a lot of time repeating steps one and two before they make it to step three. There could be several retweets and Facebook likes before the first donation.
Much like the engagement in step two, you'll want to make donating or creating a fundraising page a simple, straightforward process. This is where your visible Calls to Action come in. Your website should have CTA buttons that pop out and beg to be clicked. It's also a good idea to make your donation form fairly short and make sure the donor isn't distracted by site navigation.
Here is a great example from To Write Love on Her Arms: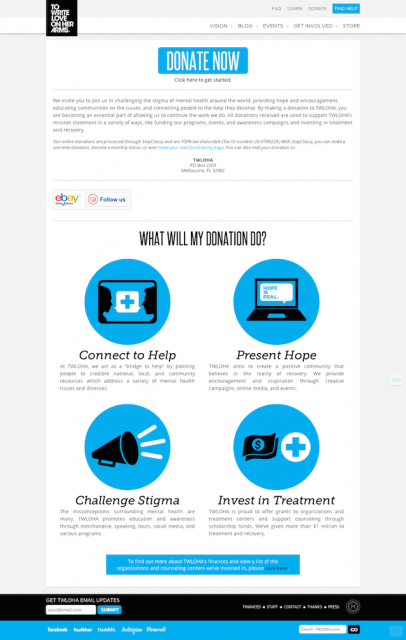 And their donation page keeps up the straightforward simplicity – they've removed the navigation bar and only ask for the information they need.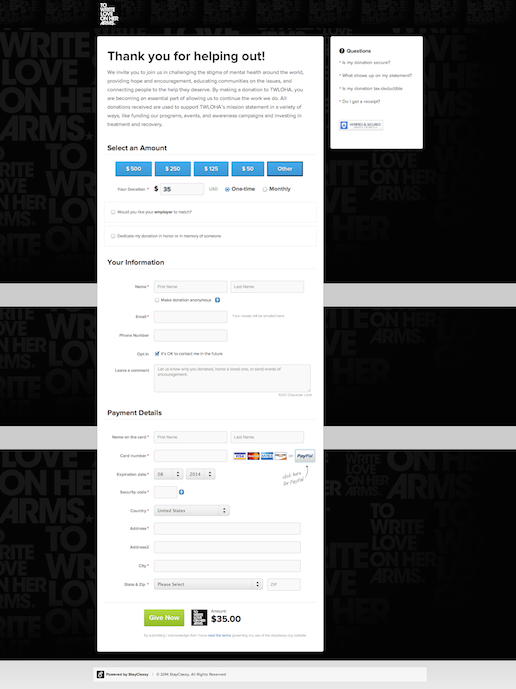 Keep In Touch
Just like with a friend or relative, you need to keep in touch to maintain a strong relationship with your donors. Your messages shouldn't only be appeals either. Email, social media, and even direct mail can be a great way to share success, impact stories, and inspiration with your supporters. The Trevor Project tweets frequently, but they are more likely to pay their followers a compliment than ask them to donate.
You are loved.

— The Trevor Project (@TrevorProject) August 5, 2014
This tweet isn't just a heart-warming message; it's a reminder of the life-saving support and resources the organization provides for LGBT youth. Showing off the amazing work your nonprofit does is one way to grab people's attention and leave them wanting more. While your communications are primarily used to promote your fundraising efforts, sometimes the most effective message is one of progress and hope.
You can use these tips and best practices to optimize your communications, but ultimately your message needs to be driven by your mission. Having your own voice and personality can make your organization seem more genuine and approachable, so welcome the audience into your organization and show them why they should champion your cause.
---
Want to Get the Most Out of Your Fundraising Efforts?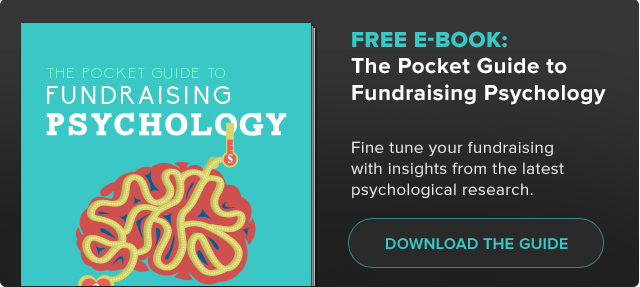 ---
Image Credit:
Unsplash