With the right tools and a little creativity, you can build something that wows your donors. That's the ethos with which we've upgraded the new Classy Fundraising Suite—and it's worked.
We've been blown away by the crowdfunding campaigns organizations have created with the updated design tools. Each time a new campaign pops up, it gets shared on our Slack channels and met with emoji glee.
One such campaign was created by the John Wayne Cancer Foundation (JWCF), an organization investing in programs to improve cancer patients' outcomes. Their new #ShowYourGrit campaign asks supporters to share a story of courage, strength, and grit via social media. Their innovative use of Classy Crowdfunding instantly stands out and has us revisiting their campaign page again and again. Not only is the page visually beautiful, but its cohesive and thoughtful design tells an easy to follow story that's clear and compelling.
Here are four Designer tools that helped John Wayne Cancer Foundation launch a modern and engaging campaign without a single line of code.
1. Image Opacity and Background Color
What it is: Opacity refers to how transparent an image is. When combined with a background color, you can create a pleasant filter. You could do this in an image editing program like Photoshop, but when you use the new Fundraising Suite's built-in design tools, you'll simplify your life by removing several tedious steps.
Pro tip: Use a dark background color with a reduced opacity to make your campaign page's headline stand out.
Where to find it: Available in the Design Tab for any Content Block's background image.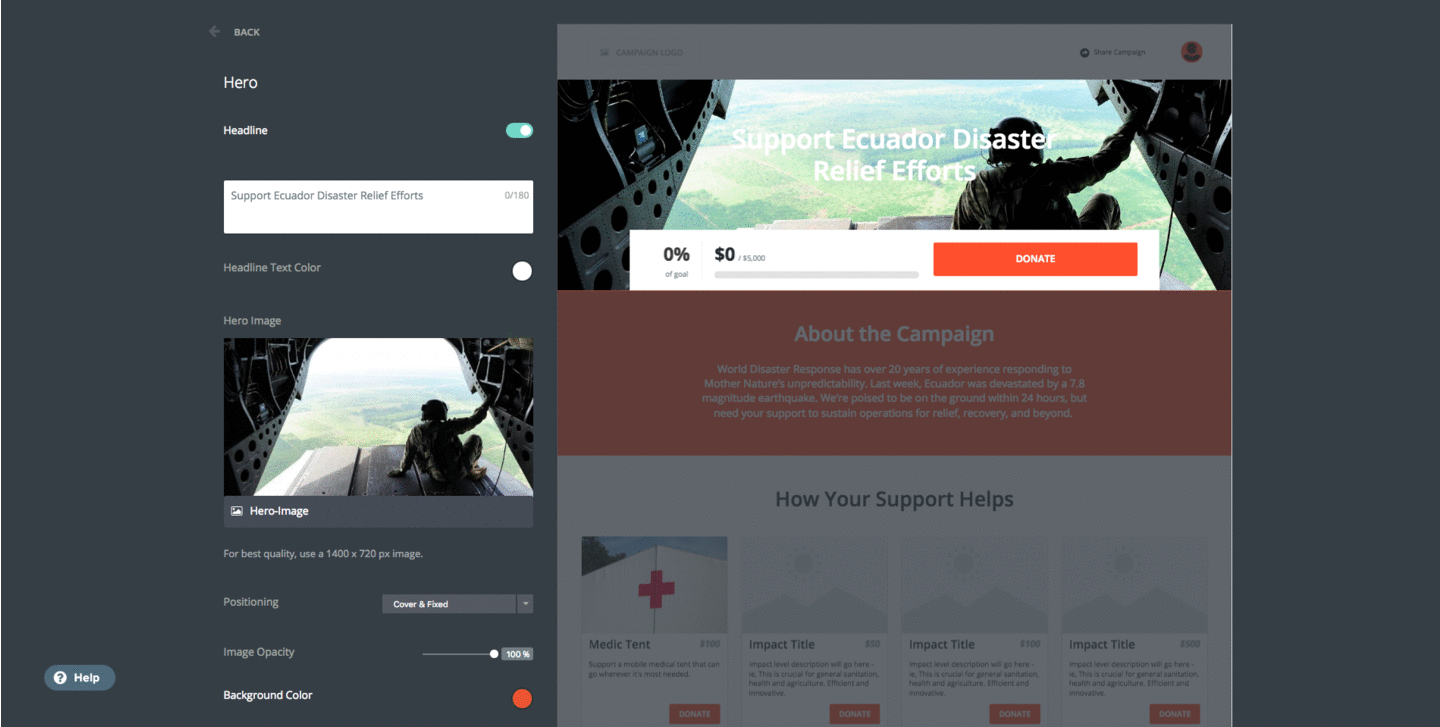 What JWCF Did: John Wayne Cancer Foundation's Creative Director Candice Moore told us, "The creative idea behind the whole campaign was to build something to draw people's eye. We really wanted to utilize the brand color: our orange…I used the built-in opacity and color overlay features for the Hero and 'About John Wayne Cancer Foundation' section."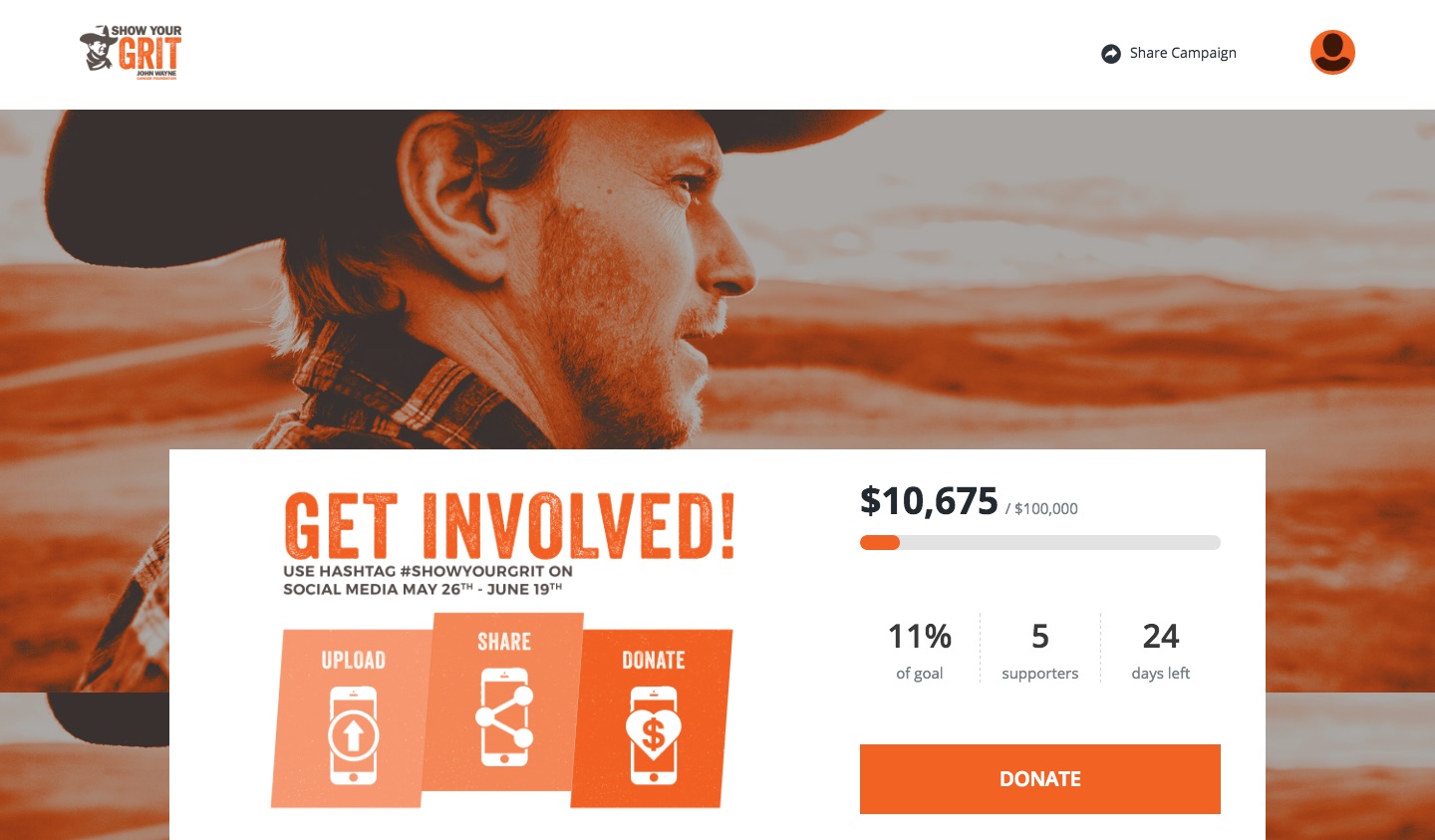 2. Featured Media
What it is: Add context to your story by supplementing your hero image with additional media, like a video or up to four photos. Another bonus: When you add featured media, you can choose one as your campaign's default Facebook share photo.
Where to find it: Access and add featured media on both the Setup and Design tab of the crowdfunding campaign. This feature is located within the Hero Content Block.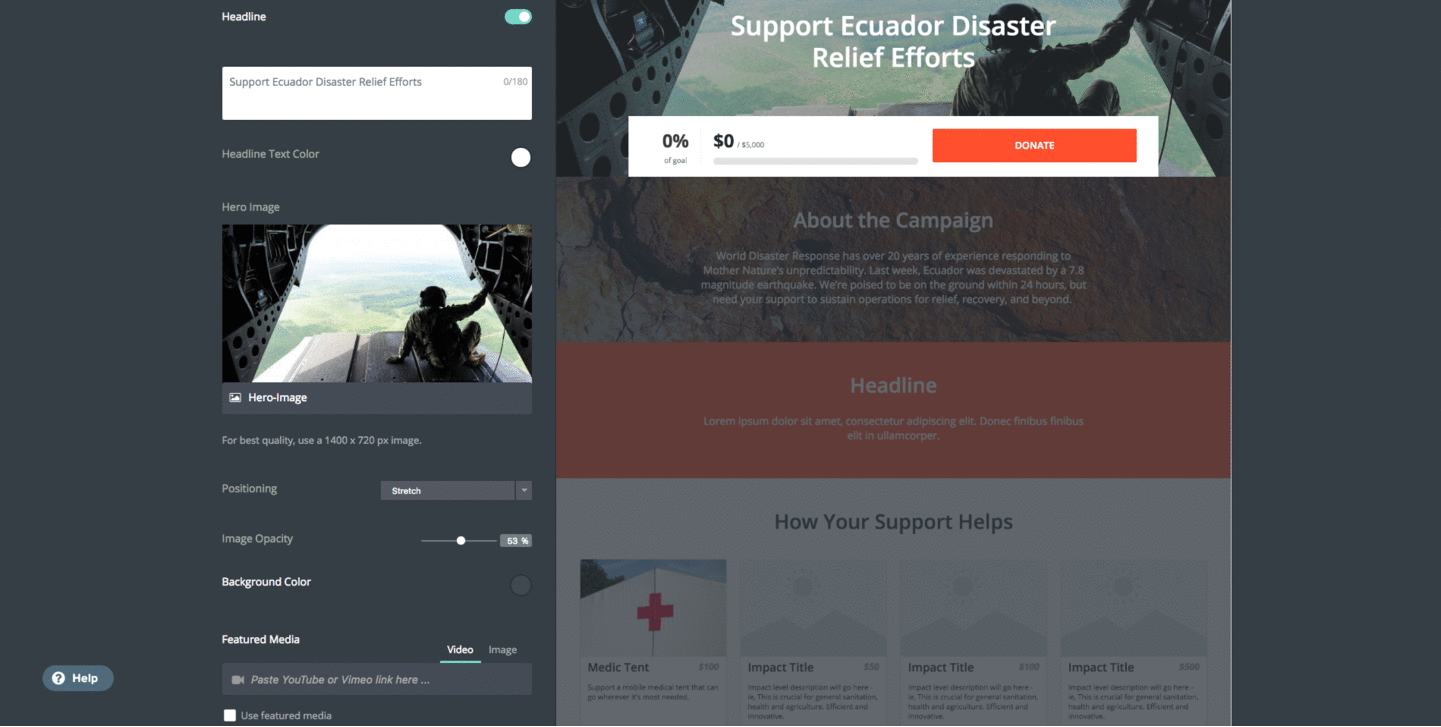 What JWCF Did: Candice and her team cleverly used this feature to promote the social media initiative associated with this crowdfunding campaign. They created an image that describes how to get involved and presents a clear call to action to the supporter.
3. Additional Text Blocks
What it is: Additional space to tell your story. This is just the first of several new content blocks that will be part of the new Fundraising Suite. While the Text Block was created as a way to add a simple headline and text, you can apply a background image to the entire block for more flavor.
Where to find it: In the Design view, simply open the "Add Content to Page" accordion and drag and drop the Text block wherever you'd like it to appear.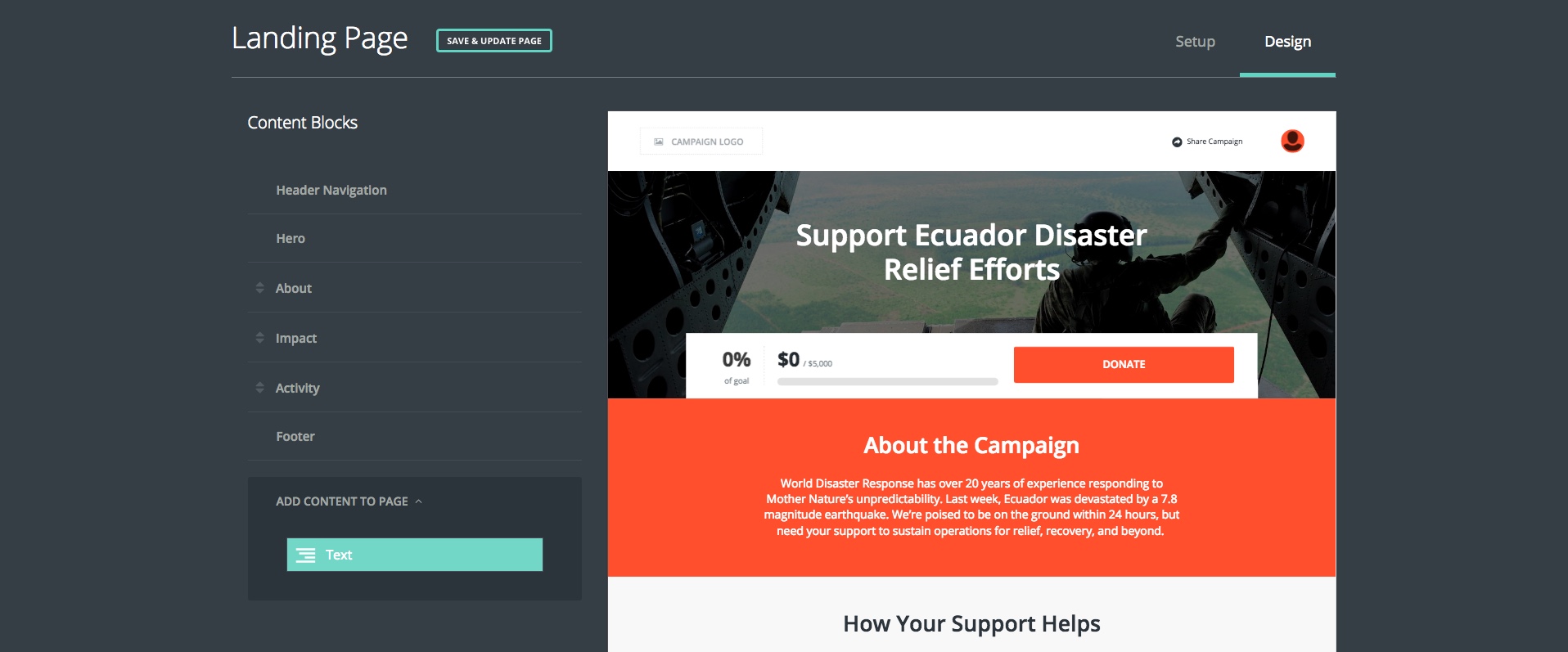 What JWCF Did: Gave site visitors a chance to familiarize themselves with the organization's history and cause. To infuse brand and personality into this section, Candice used a "Cover & Fixed" background image too.

4. "Cover & Fixed" Positioning
What it is: "Cover & Fixed" keeps your uploaded image fixed on the page while you scroll, giving the page a dynamic feel. Any content block that allows you to upload a main image also enables you to choose its positioning.
Where to find it: When on the Design tab of any page, open the "Advanced Options" accordion for the content block you wish to edit. Select "Cover & Fixed" from the Background Position dropdown.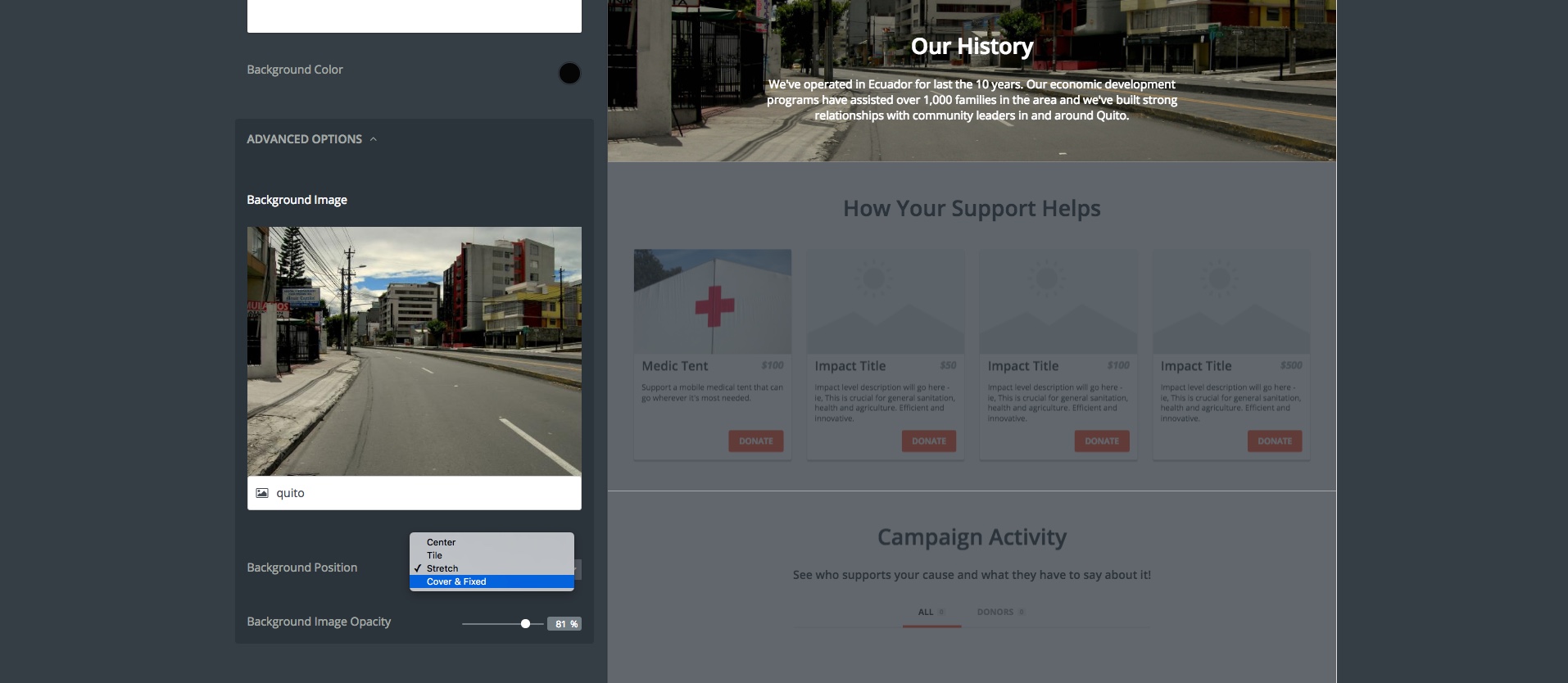 What JWCF Did: The organization used "Cover & Fixed" positioning for all the images on their campaign page, but it's most apparent in the "John Wayne Cancer Foundation" section. This gave the page a very "live" feel, because it seems to change with each mouse scroll. "It looks visually engaging, it looks fresh, and I was really pleased by how easy that function was to find and use," said Candice.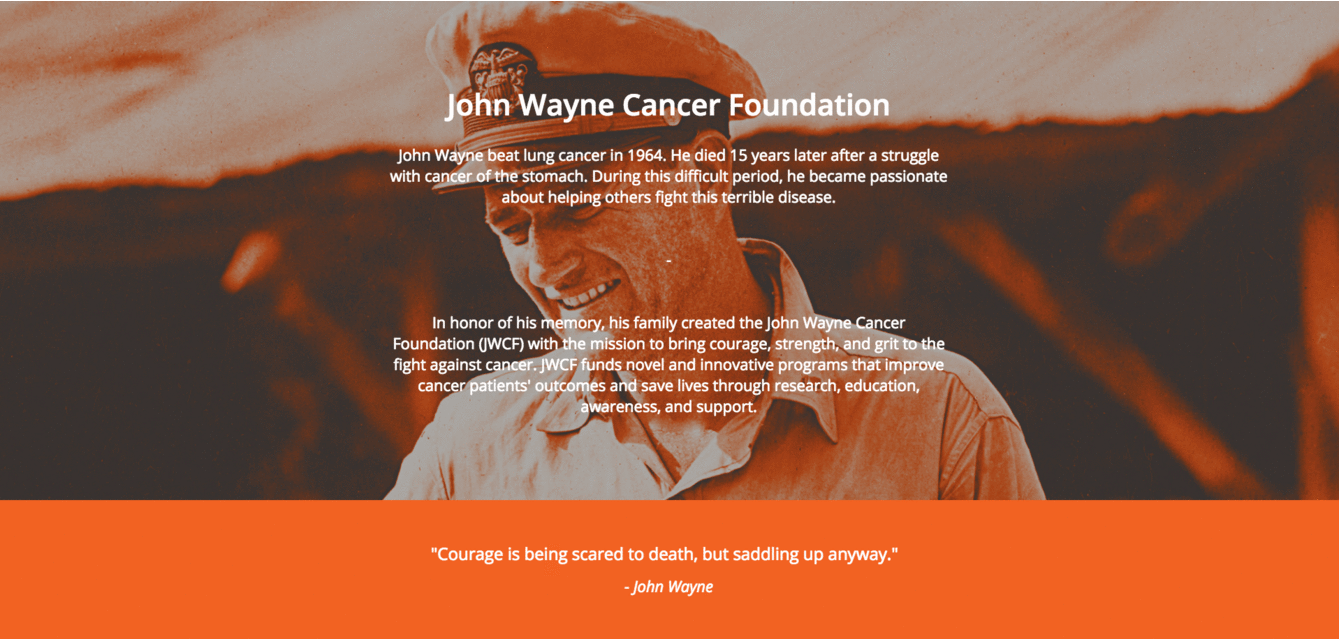 Messaging and storytelling are undeniably critical to donor acquisition and conversion, especially when it comes to standing out from the crowd.
The John Wayne Cancer Foundation's #ShowYourGrit campaign page is simple, yet compelling and it's something any organization is capable of creating! Make sure you check it out for some live inspiration. Get creative with crowdfunding campaigns on Classy and leverage the upgraded design tools to highlight your cause.
---