The primary goal of your campaign and event pages is to engage potential supporters and encourage them to sign up or donate. To do that, your overall page should be tastefully designed with content that will excite and inform supporters the moment they hit the page.
With Classy, you have ample real estate to display branded, engaging content. Not only do you have the ability to personalize your header, images, and campaign details, you have yet another customizable section at your disposal: the sidebar.
Bonus: If you're running a peer-to-peer fundraising campaign, the content that appears on your campaign page sidebar will display on each individual fundraising page.
To boost those creative juices, we've rounded up five examples of how you can leverage the custom sidebar to increase engagement.
1. Provide Impact Stats
An excellent way to use the extra real estate on your page is to display your organization's overall impact. For potential supporters perusing your campaign or event, an eye-catching visual can quickly demonstrate the difference you make. It can also remind them of how they, too, can play a part through this initiative. Consider displaying impact stats of what their support can help accomplish through your campaign. You can get specific and show how X dollars will grant Y scholarships or meals. Or, you can provide a glimpse into your organization's overall impact to date.
That's what Art Start does here on their Women's Charity Clinic event page. They customize their sidebar with an awesome map and chart visualizing their impact on New York City's underserved youth. By showing how Art Start advances the cause as a whole, the sidebar works to win a potential supporter's trust and interest.
Pro Tip: Keep your sidebar graphics consistent with your organization's explicit branding elements, including color scheme and font style.
2. Suggest Giving Levels
A custom sidebar is a great place to list various donation amounts for participants. You can even pair different donation levels with simple and appealing graphics of the gift's impact. By suggesting gift amounts on your custom sidebar, you can help influence donors' decisions before they even hit the donation form.
Take this example from Three Wise Men Foundation. To raise awareness of the challenges our veterans face, the organization's annual program, Step Up for Vets, raises money to launch mountain climbing expeditions. Their campaign page encourages donors to pledge an amount—one to five cents—per foot climbed. Based on these pledges, the custom sidebar lists the overall dollar amounts that would fund climbers to different stages of their trip.
If a supporter clicks on any section of the sidebar, they are taken to the donation form for further details about the dollar amounts. The suggested giving levels also match those that were listed on the campaign sidebar. Consider linking your sidebar to your donation form to get supporters onto your checkout form.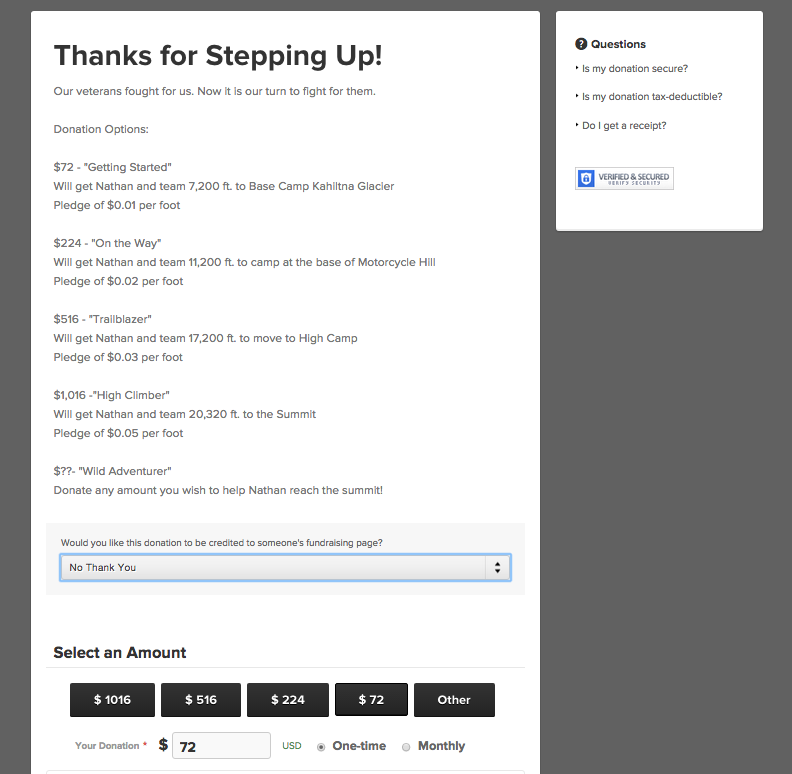 3. Link Out to Team Fundraising Pages
Your Classy donation form isn't the only page your sidebar can link out to. If you're running a peer-to-peer campaign that involves team fundraising, consider using your custom sidebar to show off and link out to different team pages.
Check out how Play Rugby USA pulls this off on their Kit Out a Team campaign page. This campaign aims to raise money for players' jerseys, and their custom sidebar links out to different teams' fundraising pages.
For example, if a supporter were to click on the "Manhattan" borough, they would land on the Manhattan team's fundraising page.
By customizing your sidebar with different team photos and links, you can direct attention to team pages while personalizing your overall campaign page.
4. Feature Corporate Sponsors or Partners
When social impact organizations approach potential sponsors or matching donors, their value proposition typically includes greater exposure to their audience. The sidebar on your Classy campaign or event page provides the perfect place to promote your corporate partner.
The Arizona Animal Welfare League & SPCA takes advantage of this opportunity on their 2015 Walk to Save Animals event page. They use the custom sidebar to feature multiple sponsors' logos, so everyone who hits the page sees these brands right away.
Note how they also use it to highlight their event hashtag, so supporters can promote the initiative on their social channels.
5. Add a Video or Animation
For those thinking outside of the box, you can move beyond images when it comes to your sidebar. Videos are one of the most powerful tools to engage your audience, so consider creating a short animation or video to showcase next to your campaign details. You might pull in a:
Teaser for your campaign
Message from a staff leader
Highlight reel from last year's event
Message or snapshots of the people you serve
Broadway Cares/Equity Fights Aids takes this route on the campaign page for their 2015 Strip-a-thon, the peer-to-peer fundraising component of their Broadway Bares event. They use this custom sidebar to present a short teaser reel for their popular event, showing clips of the risqué performance that dancers fundraise to participate in. Adding a built-in video to your campaign page is an excellent way to make it dynamic and bring your initiative to life.
Get creative with your Classy campaign and event pages. With a custom sidebar, you can personalize your page with awesome content that will further excite and inform your potential donors. From displaying impact stats to adding a short animation, use this space to draw in supporters and boost engagement.

---
Build a Strong Online Presence
---