5 Nonprofits That Make Clean Water a Global Reality
On March 22, people around the world observe World Water Day. Water revolutionizes the health and future of entire societies, and for that very reason, many nonprofits have committed to bringing clean water solutions to global communities.
To celebrate World Water Day, we highlight a few organizations that have taken up the worthy cause as their own. Here are five nonprofits that are moving the needle on the issue, and whose campaigns are shedding light on the need for clean water around the world.
1. Generosity.org
Mission: Generosity.org is an organization committed to ending the clean water crisis in developing countries.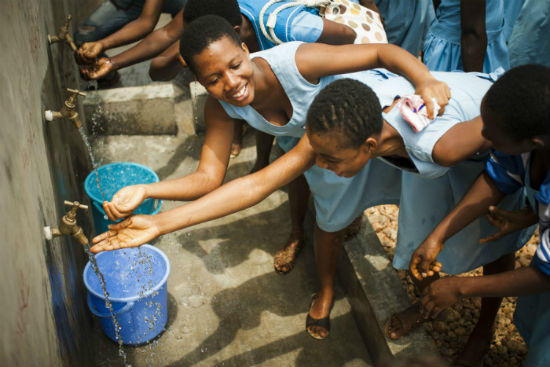 2017 Campaign: This World Water Day, the organization hosted "A Night of Generosity," a spectacular event to celebrate 10 years of providing clean water to vulnerable people all around the world. Over the course of a decade, Generosity.org has completed 778 water projects, and they have their eyes set on 1,000 projects as their next milestone.
Learn more about the event, which takes place in Los Angeles.
2. Pure Water for the World
Mission: Focusing on communities in Central America and the Caribbean, Pure Water for the World provides children and families with the tools and education to develop sustainable water, hygiene, and sanitation solutions.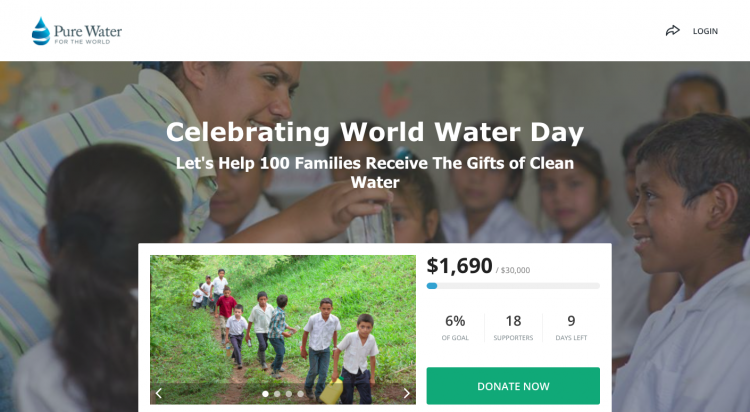 2017 Campaign: This World Water Day, the organization aimed to give 100 families in Haiti and Honduras access to clean water.
Aside from suggested donation amounts, we love how their campaign page suggests additional ways that people can take action—such as trading their beverages for water or hosting their own third-party event.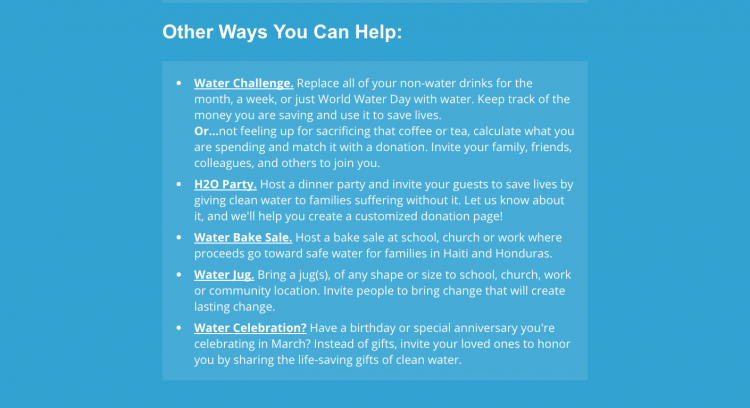 Visit the campaign site for more information.
Empower Fundraisers to Host Third-Party Events
Learn everything you need to know in order to train supporters to host their own events on your behalf.
Download Now
3. Blood:Water
Mission: Blood:Water is a nonprofit that partners with African grassroots organizations to bring clean water and HIV/AIDS support to one million people in 11 countries.
2017 Campaign: To mobilize their supporters, Blood:Water launched a 20-day challenge leading up to World Water Day. Participants pledged to give up their coffee and sodas and drink only water, and they created personal fundraising pages where their friends and family could donate and root them on.
Check out the campaign to learn more about how individuals, teams, and even gyms could take on the challenge.
4. Water for Good
Mission: Water for Good works with communities in central Africa to establish sanitation best practices, improve agriculture, and empower people to create sustainable clean water access.
2017 Campaign: Water for Good is raising awareness about their efforts in the Central African Republic to empower underserved communities with clean water access.
Apart from attracting donations, they also drew attention to their for-profit partners who donated a portion of their sales on World Water Day to the efforts in the Central African Republic.
Change lives with Water for Good and check out their
donation page
.
5. Hope of Life International
Mission: Hope of Life International is a faith-based organization dedicated to effectively serving vulnerable children and families in Guatemala.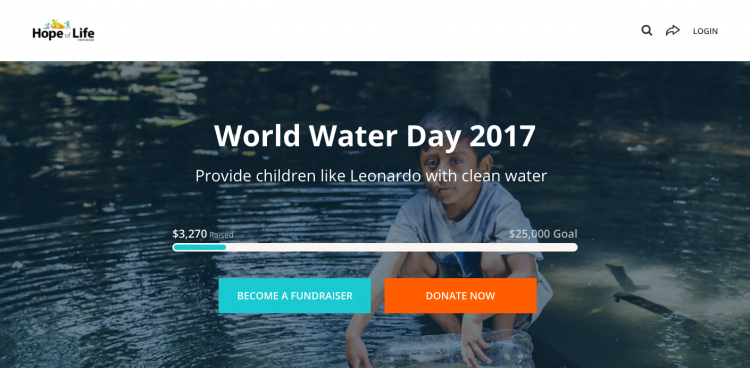 2017 Campaign: To celebrate World Water Day, the organization launched a campaign to build five wells in five different villages this April.
Using storytelling best practices, they created a beautiful campaign page that outlines how their efforts and the support of their community can prevent deaths due to diseases like typhoid and cholera.
Check out the campaign to learn more.
If you need ideas on how to celebrate World Water Day, this is a good place to start. These organizations and their campaigns are pushing the envelope to bring safe water to communities everywhere. Join in the global celebration today.

---
This post was originally published in March 2015 and has been updated with recent examples.