Companies are no longer content to do well. More and more businesses also make it their mission to do good. Corporate social responsibility (CSR) refers to this growing practice of for-profit organizations aligning with relevant causes and social good programs.
Social responsibility, beyond making the world a better place, also benefits companies' in their recruiting and consumer marketing. The Nielsen Global Survey of Corporate Social Responsibility found that more than half of people surveyed "are willing to pay more for products and services provided by companies that are committed to positive social and environmental impact" and two-thirds would rather work for such a company.
It's important to recognize and celebrate socially responsible companies, both to encourage their work and to show other organizations how they can successfully incorporate social good into their mission. These are some of the most progressive and impactful for-profits contributing to positive social change. Check out their programs and get inspired to work across sectors and partner with companies who care.
1. Google
Besides being the world's most popular search engine and creating platforms such as Gmail, and Google+, and the browser, Chrome, Google is also a leader in corporate social responsibility. The company is working to reduce its carbon footprint and make their products and services better for the environment. From facilitating green commuting to reducing energy use at their data centers to recycling old equipment, Google inspects nearly every part of their business with an environmental lens.
Takeaway
You can go green in all kinds of ways. Evaluate how your organization uses energy and other resources and introduce simple changes to make your business more environmentally friendly.
2. Ben & Jerry's
Ice cream tastes just a little sweeter when you know the makers work to promote safe, socially responsible ingredients and business practices. Since the 1980s, Ben & Jerry's has supported a number of important causes, many of which are directly tied to the business of making ice cream. In 1989, they first opposed Recombivent Bovine Growth Hormone use in cows, in part due to "its adverse economic impact on family farming." They have also used their packaging to support the family farm organization, Farm Aid. The company even created the Ben & Jerry's Foundation, which encourages their employees to give back to their communities and offers grants for social justice programs.
Takeaway
Every industry faces decisions about whether to prioritize values over profit. Ben & Jerry's makes socially responsible decisions regarding the farming and dairy industries. Ask what choices your business faces and remember to bring your values and ideals into difficult conversations.
3. SolarCity

Solar power, in itself, is a step forward for the energy industry and the preservation of the environment. SolarCity, America's largest solar power provider, produces and distributes systems to power homes, schools, businesses, and more. But solar power can be even more valuable to communities in developing countries who have limited access to electricity. In developing countries, having no electricity often means that school and work must stop when the sun goes down.
SolarCity's GivePower Foundation donates solar power systems to schools in South America and Africa. This allows the schools to operate at night and offer classes for adults along with children. These classes can improve both the short- and long-term prospects of the communities served.
Takeaway
Even if your business or organization is part of a progressive industry, you can still find ways to spread the love. Particularly in new technologies that tend to first be adopted by affluent consumers, companies have an opportunity to empower people of lesser means by donating their products or services.
4. Levi Strauss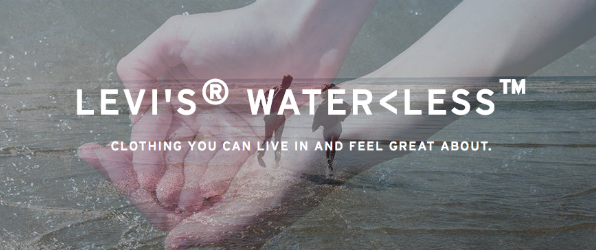 Are your jeans contributing to water scarcity? Most of us probably don't ask this when clothes shopping, but it's an important question for Levi Strauss. In recent years, the company has committed to reducing the amount of water used in production of their jeans, a product they have been making since 1873. According to Levi Strauss's website, their Water of designing and manufacturing has saved more than 1 billion liters of water since its inception in 2011. The company has also worked to fight stigma and support people living with HIV/AIDS, facilitate clothing recycling with Goodwill, and decrease their contribution to climate change.
Takeaway
Even the oldest companies and industries can adapt and innovate for social good. Manufacturing is an important part of operations where companies should look for opportunities to improve. Producing goods in a socially responsible way is a vital element of CSR.
5. Warby Parker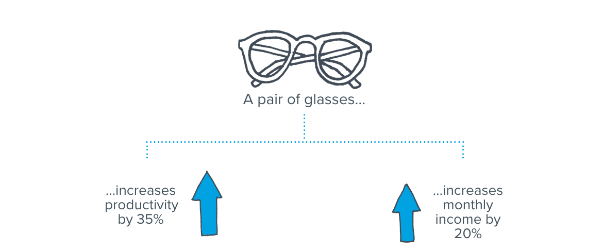 For people in the developed world, the need for a new pair of glasses is a chance to accessorize, but it can also be a chore to find the right ones. Warby Parker helps simplify the task by sending customers five different frames of their choice to try on before making a decision. But knowing that for many people a functional pair of glasses can be life-changing, the B-Corp also works to provide glasses for those in need. Through their Buy-A-Pair, Give-A-Pair program, Warby Parker makes a monthly donation to their nonprofit partners, such as VisionSpring, to bring prescription eyewear to people in developing countries. The company has distributed more than one million pairs of glasses since its start in 2010.
Takeaway
Giving back doesn't have to be just an ancillary benefit. The advent of B-Corps and the popularity of CSR means that for-profit businesses have more opportunity than ever to exact social change. Now is the perfect time to reevaluate your company's mission and build social good into the foundation of your business.
6. Microsoft
Microsoft changed the way the world works, studies, and plays with their computers and software. But their ambitions go far beyond the screen. The company, founded by Bill Gates who now devotes his time to philanthropy, began its giving program in 1983 when the fledgling company raised $17,000 for charity. As their philanthropy webpage explains, Microsoft's 2015 Employee Giving Campaign "raised a record-breaking $125 million for more than 18,000 nonprofits and schools across the globe."
The software giant also created Microsoft YouthSpark, a social good initiative that works with nonprofits, governments, and businesses to give all young people access to computer science education.
Takeaway
CSR can grow with your business. While your organization's contribution to a cause may start small, it plants the seed of philanthropy in your culture. Even small or brand new businesses can find a way to give back. In time, their commitment to social responsibility can have big impact.
More and more companies are not only adopting causes and social good initiatives but building them into the framework of their businesses. These organizations show how far-reaching and varied corporate social responsibility programs can be.
Whether it's donating your product to those in need, fundraising for a worthy cause, or starting your own foundation, any business can prioritize social impact. Along with the good it does for your community, it also benefits your brand and attracts customers and talented employees. Learn from these leaders and think of how you can bring philanthropy to your company.