7 Mobile Apps Helping Nonprofits Boost Engagement
The buzz around going mobile continues to skyrocket, and for good reason. According to recent numbers from Pew Research Center's Internet and American Life project, 61% of Americans own a smartphone. With more than half the country downloading mobile apps, this is an opportune moment to engage donors through mobile and micro-donations.
Custom-built apps require large development budgets, but the good news is that there are mobile apps out there for your nonprofit to leverage at little to no cost. Extend your organization's reach to mobile devices by considering these 7 smartphone apps.
Check-in for Good
Turn any business or venue into a donation hub for your organization. Using location-based technology, users can find donation hotspots and simply "check-in" to send a micro-donation to your cause. This is a great way to partner with local businesses in order to gain exposure for your campaign. Go here to build a free page and get registered for the app.
Recently launched by Google and available for Android devices, the One Today app features a different nonprofit everyday and allows users to donate $1 and match peer donations. They are providing an exceptionally simple and straightforward platform to turn "giving a little" into "changing a lot." The app also tailors charities to users' preferences and can introduce your projects to people who have donated to similar causes. The One Today program is available to approved Google for Nonprofits members. To register for Google for Nonprofits, go here.
MyWhereAbouts
Hosting a charity walk or race? Engage your fundraisers through this app, which tracks their location, time, distance, pace and route in real time. Because the app automatically updates participants' Facebook and Twitter, their supporters will always know where they are and where they're headed, so friends and family can cheer them on. Every update also includes a link to your organization's donation page or another chosen URL.
Instead
With this app, users can help save lives by simply making small changes in their daily routine. Instead of buying a cup of coffee or a sandwich, people can brew and pack their own and donate those $3 or $5 to a charity instead. The app helps supporters realize that a small amount can go a long way in changing the lives of others. To get involved with Instead, give them a shout on Twitter at @instead, or email them at [email protected].
VolunteerMatch
Finding volunteers for your event just got easier. VolunteerMatch is a platform to share volunteer opportunities by location, skill and interest. Create a free account here, and encourage site visitors to download the app and keep up with involvement opportunities right from their smartphones.
Budge Challenge
The Budge app ingeniously gamifies charitable giving. The app works as a betting platform: Users challenge friends to everyday activities, from a game of chess to a burping contest, and the loser donates a micro-donation to a charity. The winning "budge" is also published on Facebook, where others can follow and share friends' challenges. Encouraging friendly competition amongst supporters has always been a great fundraising tactic, and this app now brings that experience to mobile. To get your organization involved, email [email protected].
---
Have an Idea for a Fundraising Campaign?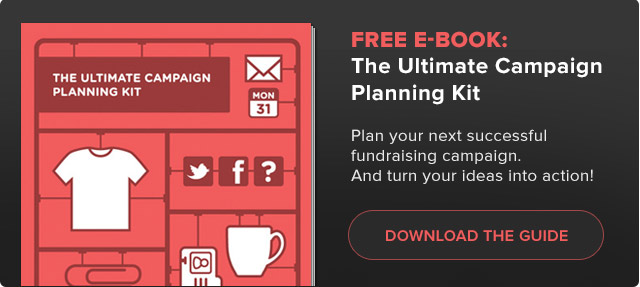 ---
Image Credit:
Wikimedia Commons
Subscribe to the Classy Blog
Get the latest fundraising tips, trends, and ideas in your inbox.
Thank you for subscribing
You signed up for emails from Classy