When you're planning a fundraiser for your nonprofit organization, it can feel like there are a million details to take care of. You need to plan your messaging, mobilize fundraisers, write emails and other communications, and maintain engagement as the campaign unfolds.
Free Download: The Anatomy of a Successful Fundraiser
While every campaign is different, here are eight ways you can set your fundraising campaign up for success. We'll cover why each practice is useful and give some tips on how to implement them. Even if you don't have time to get to all of them, any of these tips can help you succeed in your next fundraising campaign.
1. A Skillful Soft Launch
Why: A soft launch allows you to gain some campaign momentum before launch so you'll feel confident reaching out to your broader supporter base. Because people are more likely to give when you are closer to your goal, getting a few key fundraisers started before your official launch can help you hit the ground running.
How: Contact your best fundraisers or most dedicated supporters and ask them to create a fundraising page before the campaign officially launches. Then, encourage them to reach out to friends and family to start making an impact on your fundraising thermometer.
2. Put the Campaign Brand Front and Center
Why: For a fundraising campaign to be successful, people need to know about it. You could be missing out on fundraisers and donations if you're not promoting your campaign across all your communication channels. Someone who is not on your email list might be following you on Facebook and a casual visitor to your website might be moved by the story behind your latest campaign and want to get involved. Make this fundraising campaign impossible to miss.
How: There are a ton of easy ways to make your campaign visible across your communication channels. You can change the profile and background pictures of your social media accounts to content relating to the campaign. For example, it only takes a few seconds to add a call-to-action to your Twitter profile. Make sure your homepage features the campaign with a distinct call-to-action, so there's no doubt about the next step to get involved or donate.
3. Send Fundraisers a Tip Sheet
Why: With peer-to-peer fundraising, your success depends on the success of your fundraisers. While it may feel like the work is out of your hands, the information you give fundraisers can make a big difference. After comparing two groups of fundraising pages, Team Rubicon found that those fundraisers who received a one-page fundraising tips sheet raised almost 3 times as much as fundraisers who did not receive the tips.
How: We've put together a fundraising tips page you can easily share with your community. This is a great resource if you need to get the information out fast. If, however, you have time to customize a tip sheet with your logo or other campaign details, you can download our Customizable Fundraising Tips Packet. After customizing your sheet, simply attach or link to a tip sheet in the email fundraisers receive after making a page.
Tip: Make the tips sheet accessible and available on your website. Letting fundraisers know you're supporting their efforts can make a huge difference in their confidence and, ultimately, their success!
4. Create a Donation Page Branded to the Campaign
Why: Research has found that people donate more when they are directed to a branded online donation page, as opposed to a generic donation page. All your donation checkout pages should be branded to your organization, but creating a checkout page specifically for your campaign makes the donor experience more consistent and rewarding. It also affirms that their donation is going toward the campaign that motivated them to donate in the first place.
How: Make sure you customize your donation check out page for every campaign. Your specific campaign logo, copy and call-to-action should carry over from your appeal onto your campaign donation page.
5. Set Up a Matching Period
Why: Having a donation-matching period is a great way to reignite interest in the middle of your campaign, when donations tend to slow down. It gives people a reason to give right now as opposed to telling themselves, "I'll get around to it."
How: Approach potential partners, sponsors, and big donors before the campaign begins. You shouldn't wait until the mid-campaign doldrums to plan your matching promotion. Settle on dates or a maximum amount to be matched and then promote the event through your email, website, and social media. Oftentimes, donation-matching periods can be an incredible way to promote a campaign and drive excitement.
6. Link Donations with Relevant Impact
Why: Apathy is your enemy. As long as donors believe their support won't make any difference, they won't bother to give. Linking your suggested donation sizes with their real-world impact reminds your audience that even a small donation can help educate, feed, care, and protect. This also gives the donor a way to judge their purchasing power. In other words, a $25 gift will mean more and seem like a smarter choice when the donor sees this will vaccinate 3 children against a deadly disease. It allows them to feel like they are making an informed "purchasing" decision.
How: These details about the impact of specific gift sizes can be wound into written appeals, like emails, but they can also be powerful concepts for visual CTAs. You can even create a custom sidebar for your fundraising pages with icons representing the impact of different gift sizes.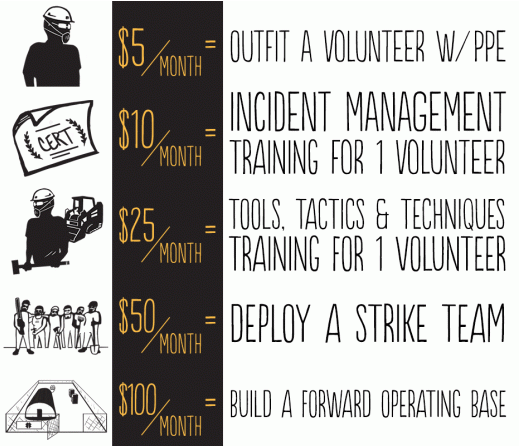 7. Create a Campaign Video
Why: Videos are one of the best ways to tell your story. They let you combine visual and auditory elements to bring your cause and campaign to life. Not only that, social media posts with videos tend to get more engagement. By creating a campaign video and building it into your fundraising pages, you make it easy for fundraisers and donors to learn about the cause. And connect with the people it helps.
How: There are as many ways to make a campaign video as there are campaigns. You can use footage from your programs, feature a specific individual, use animation to tell the story, or a combination to show why your audience should help and how they can get involved. You can see some great examples by checking out our blog post on 10 Awesome Nonprofit Videos You Haven't Seen 1,000 Times (Yet).
8. Celebrate Successes – For You and Your Fundraisers!
Why: We all need a little positive reinforcement from time to time. Acknowledging and celebrating important milestones and accomplishments in your campaign encourages your community to keep working towards your goals. While you should definitely update donors and fundraisers on the campaign results when it's all over, you can highlight incremental wins along the way to keep spirits high.
How: To keep your community focused along the way, consider setting weekly goals. This not only makes your appeals more urgent, but it gives you a chance to celebrate a new milestone every week. Posting to social media is a quick and easy way to spread the news that you are already halfway to your weekly goal or that a fundraiser just reached the $1,000 mark. Between incremental campaign goals and the successes of individual fundraisers, you will have plenty of opportunity to spread some good news.
These are some of our best tips to help you create a powerhouse fundraising campaign and we hope you find them helpful. If you want to learn more about fundraising best practices, check out our resource guides or give us a call.
---
Bring Your Campaign Idea to Life
---
Image Credit:
Davide Costanzo