Nonprofits are frequently understaffed. If you work for a nonprofit organization, you probably split your time between a dozen different responsibilities. The phrase "work smarter, not harder" was made for you. Mostly because you can't work any harder.
Fortunately, fundraising is becoming easier and easier to manage, thanks to donor relations software, social media, and online fundraising. If looking at your fundraising goal makes you want to stick your head out the window and yell "HELP!", multi-tier fundraising could be a great fit.
In this blog post we will explain what multi-tier fundraising is and why it is a great option for short-staffed nonprofits. Then we will cover how you can use fundraising platforms and your organization's dedicated inner circle to ramp up donations. If you already work in fundraising, you need to know how to make fundraising work for you.
Multi-Tier for the Multi-Stressed
When we talk about online fundraising, or crowdfunding, that includes two different systems. The first system is called "Single-Tier." This is when one party creates their donation page and asks for their network of friends and family to give.
This can certainly be effective, if you already have a large pool of contacts that are likely to respond to your nonprofit's appeal. But sticking with single-tier fundraising is limited in its reach. The only people who might donate are those that you can get in touch with directly. But what if your pool of contacts took your cause and spread it to their entire network?
Multi-Tier fundraising is the other option in crowdfunding. Just like before, you will have your organization's main fundraising page, but instead of asking your contacts to make a donation, you ask them to make their own fundraising page and ask all their contacts to donate.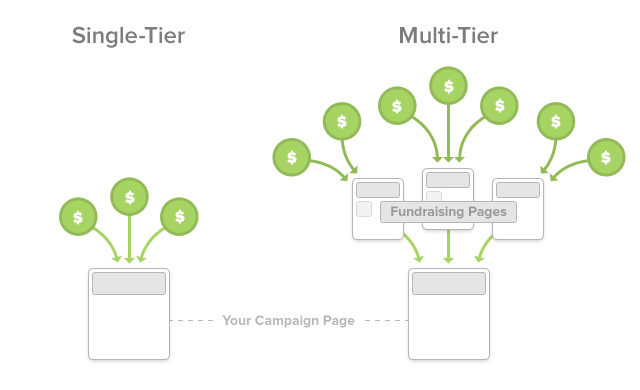 As you can see in the diagram above, your fundraising campaign can reach exponentially more people, without dramatically increasing your own workload.
If you want your supporters to make fundraising campaign pages, you need to ask them and make it a simple, intuitive process. Here are some of the important details to remember when choosing and setting up your peer-to-peer fundraising platform.
Ask them with an Eye-catching CTA
By now, most organizations' websites give donors the option to give online. The standard way to do this is with a call-to-action, like a "Donate" button. But if you want people to fundraise for you, you need to make it clear that this is an option. So make sure to have an easy-to-find "Fundraise" button there as well.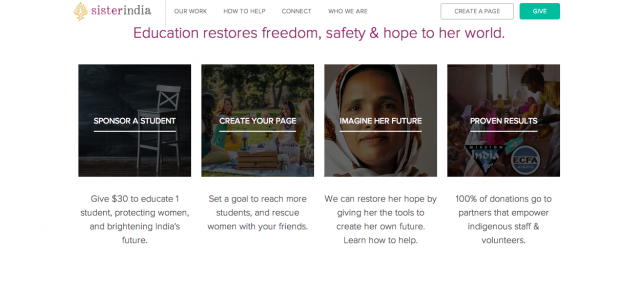 To sign up with a social network these days, all you really need is an email address. In a matter of seconds, you have a profile to personalize as much (or as little) as you want. This is how quick you want the process of creating a fundraising page to be. Some platforms, like StayClassy, even allow fundraisers to sign up through their Facebook account. From there, the page is ready to start collecting donations.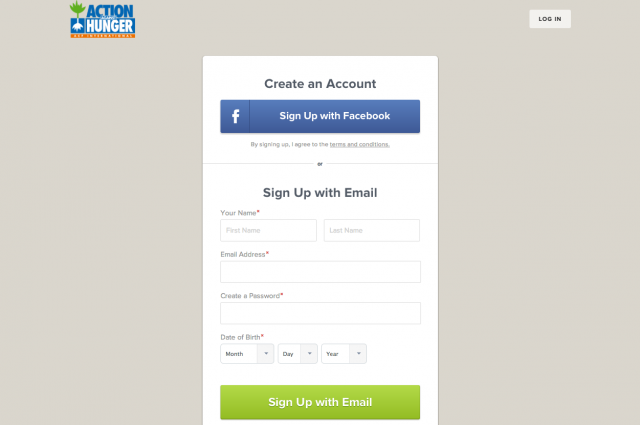 If you're recruiting supporters to fundraise on behalf of your nonprofit, they will probably need some guidance. You can do this through a series of onboarding emails, like Liberty in North Korea has done so well. Or you could take a page out of Team Rubicon's book and create a one-pager full of useful fundraising tips. The point is to educate fundraisers on some best practices to maximize results. After all, their success is your success.
Call on Your Best Fundraisers
Another great way to help fundraisers succeed without creating more work for yourself is to gve new fundraisers a team leader. These are fundraisers and volunteers who have gone the extra mile for your organization in the past.
Ask them to serve as a point of contact for new fundraisers who need help. This way, you need only train a few key people and they can handle questions like "who should I ask to donate?" and "How do I change my profile picture?" This frees you up to focus on the campaign as a whole. You can even challenge your board to make fundraising pages and lead the way. Just be sure to send a special "thank you" to your fundraising leaders.
Anywhere, Anytime, Anyone
Many nonprofits are incorporating year-year peer-to-peer fundraising into their development strategy. This means that fundraisers have the option to create a page and start their own campaign at any time, whether it's for a birthday, a 5K, an anniversary, or some other event.
For example, Blood:Water encourages people to fundraise any way they can and they offer tons of examples. One of the best things about having this year-round option is that it takes the burden of creativity off your shoulders. Fundraiser can join a seasonal campaign, take one of your suggestions, or come up with a theme entirely their own.
Raising More without Doing More
You probably don't have the option to simply add more staff to your development department, but that doesn't mean you can't ramp up your fundraising efforts. We're here to help you work with what you've got.
Your first step is making sure you have a quick, simple process for supporters to make fundraising pages. Your best fundraisers can guide the newbies while you can handle the big picture. The point of fundraising software is to help you raise more money with the staff and supporters you already have.
---
Have an Idea for a Fundraising Campaign?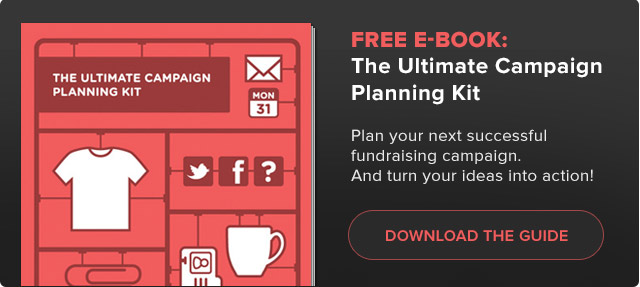 ---