Break These 5 Bad Marketing Habits
Reading Time:
7
minutes
With 2014 coming to a close, nonprofits must now take a hard look at their current engagement strategies. The way donors like to be engaged is constantly evolving, so nonprofits must continually ask the question: what's working, and what's not?
Unfortunately, many forget to ask. As a result, they continue to use stale, ineffective practices which is a big marketing mistake.
It's time to put these unsuccessful tactics to rest. Here, we list 5 bad habits nonprofits must break, along with effective new practices you can roll out in the New Year.
Marketing Mistake #1: Delivering Irrelevant Content
With content marketing shown to produce about 3 times as many leads as traditional marketing strategies, it's unsurprising that nonprofits are creating content to attract and engage supporters. In fact, 92 percent of nonprofit professionals now use content marketing through social media, blogging, email and video.
However, the bigger picture reveals nonprofits are still struggling to retain donors, with 60-70 percent of all new donors failing to give again the following year. Even more troubling? 53 percent of donors who leave an organization do so because of a lack of effective communication.
Wait, communicating through content should be effective, shouldn't it? What gives?
The truth is that effective communication isn't just about content – it requires context. All this points to one bad habit: nonprofits use content to reach supporters, but they don't contextualize it for targeted audiences. As a result, the content often ends up being irrelevant to many supporters – and thus, ineffective.
What to do in 2015: Deliver the right content to the right people.
1. Analyze donor data: Using a CRM solution like Salesforce, you can collect and analyze donor data based on different criteria (e.g. total lifetime value, the last campaign they donated to, the frequency of their donations, their reason for giving, etc.). Track and pull a range of reports to better understand supporters' giving habits and analyze donor trends.
2. Develop donor personas: After collecting this data, you'll probably find your donor base contains different types of individuals with varying engagement levels. Identify your different audiences, where to find them, what motivates them to give, and how they interact with your organization. These donor personas should drive your content creation.
3. Segment your donor lists: Analyzing your donor data can also help inform how you choose to split your email list. Segment your contacts into smaller, specific lists so you can deliver targeted campaigns to different groups of supporters.
4. Track open and click rates: As you deliver targeted messages, use your CMS or email marketing software to review your open and click rates, and see what content your donors are responding to. This data-driven approach will help you continually improve the content you deliver to supporters.
Marketing Mistake #2: Using a Generic Donation Page for Every Appeal
Most organizations invest a lot of thought and effort into crafting specific appeals for one campaign. Oftentimes they'll address a specific and urgent need on their homepage and in emails, using campaign-specific messaging and imagery to make a emotional connection with the reader.
Then, when supporters click to donate, many nonprofits will direct them to a general donation form. Bad move.
This disconnect immediately halts the emotional steam invoked by the special appeal's campaign-specific text and graphics. As a result, potential donors quickly lose the initial impulse to donate or abandon the process altogether.
You spend a great deal of time creating an effective special appeal that prompts readers to donate. Don't undermine your efforts by linking your message to a generic donation form.
What to do in 2015: Create unique donation pages per campaign or appeal.
Accompany your special appeals with custom donation pages that match the look and feel of the appeal.
This will sustain the emotional momentum that your appeal helped to create, and maximize the chances of your supporter completing a donation. Whether your appeal is for the holidays, back-to-school season, or some other initiative, link it to a donation page that reiterates the same branding, images, and copy.
For example, check out this appeal Team Rubicon crafted for their Eleven11 recurring donation campaign: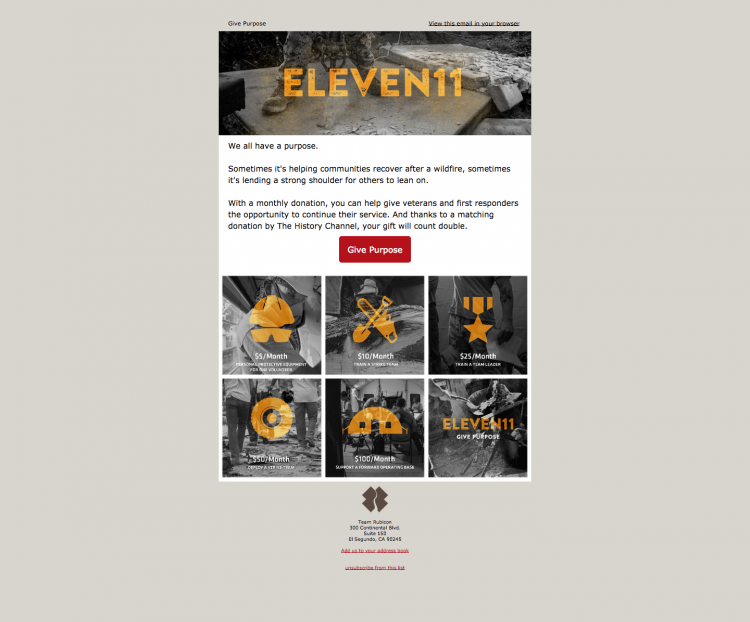 The message communicates that by taking action, supporters can "give purpose" to veteran volunteers and enable them to continue their work. Thanks to a matching grant, the appeal announces that donations are also worth double. To top it off, visual giving levels show readers what their gifts are capable of, linking each monthly donation amount to its long-term impact.
Now take a look at the custom donation form that accompanies the email appeal:
You can see the top header mirrors the custom graphic for the Eleven11 campaign shown in the appeal. The bold text below repeats that monthly gifts will be matched, while the rest of the copy on the form reinforces donors' ability to give purpose to veterans and first responders. Finally, the suggested donation amounts are replicated here as well, reminding donors what their gift will enable. By creating a seamless continuity from appeal to donation form, the organization lets donors know they're in the right place, responding to the right call-to-action.
Marketing Mistake #3: Not Optimizing Your Emails for Mobile
66 percent of emails are now being read on a mobile device, meaning your supporters are likelier to read your appeal on a smartphone or tablet than on desktop. And if your email isn't optimized for the mobile screen, your readers will likely delete it, or unsubscribe from your list altogether.
Despite these trends, many nonprofits still don't deliver mobile-friendly emails. According to a recent Dunham+Company study, 54 percent of emails from nonprofits are not optimized for mobile.
Yikes. All those emails – and the CTAs inside – fail to reach supporters on their mobile devices.
What to do in 2015: Make sure your emails format properly across devices.
Improve your chances of reaching mobile donors by delivering emails that are responsive; responsive emails adapt beautifully to any screen size.
Check your email marketing service to see if it offers responsive templates. Many services, like MailChimp, provide responsive templates built into the software. Lots of companies also allow you to import them.
While you're at it, check out these collections:
– 32 responsive email templates for small businesses (both free and premium)
– 30 free responsive email templates (both basic and pre-designed)
We get it. There are a ton of social networks out there, and you want to cover your bases. It makes things quick and easy when you simply auto-post one message across all those channels. But, by doing this, you can either miss your audience, fail to harness the platform's full potential, or sadly, both.
Not all social platforms are created equal. Each network serves a unique purpose, and can therefore attract different audiences. For instance, a behind-the-scenes video can get a lot of engagement on Vine, Instagram or Twitter, but it might be received differently by professionals on LinkedIn. If you push the same message through multiple channels, you will inevitably deliver irrelevant information to many of your audiences.
What to do in 2015: Understand the purpose of each platform and the audience it attracts, then create compelling content for each channel.
1. Stay current on the latest social media marketing trends by subscribing to blogs that cover social media, like HubSpot's Inbound Hub, Buffer Social, Simply Measured, or Social Media Today.
2. Since different social networks often host different audiences, look into the many studies published online to learn about the who and what of each channel.
P.S. We know that's a big task to take on, so we've done a lot of the work for you. In our new BIG Social Media Guide for Nonprofits, we break down all of the core functions, audiences, and best practices of each main social platform.
Marketing Mistake #5: Ignoring Your New Email Subscribers
People subscribe to your newsletter because they're interested in your organization's work and mission. In fact, at no other time are they more interested than the moment they choose to go out of their way to give you their personal information. Indeed, MailChimp has found email subscribers are most engaged right after they sign up.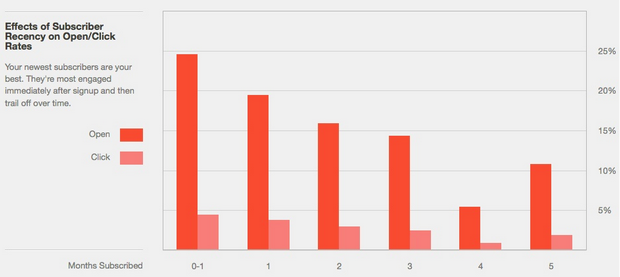 However, a striking number of nonprofits don't take advantage of this critical window. According to a Dunham+Company study, 37 percent of organizations don't send any emails to new subscribers within the first 30 days they sign up. Compounding that marketing mistake is that 88 percent of organizations don't send a welcome email series to new subscribers, either. By foregoing this initial engagement, you risk disappointing supporters with your lack of communication, or losing their interest altogether.
What to do in 2015: Send a personalized email immediately after signup.
It begins the relationship right away, and captures and sustains subscribers' interest. Personalize the email – and add a splash of personality – to cement your spot on your subscribers' good side.
Take a note from Invisible Children, who sent me this email right after I signed up for their newsletter. Their enthusiasm over my subscription won my loyalty right away. And rather than sending a generic auto-thank you email, they delivered a thoughtful, personalized message that strengthened my connection to the organization's cause.
Conclusion
With 2014 coming to close, it's time to break bad habits, and embrace better ones. Don't let a simple marketing mistake slow you down. Lay these unproductive practices to rest, and embrace fresher, more effective ways to engage your supporters. From updating your content marketing tactics, to sprucing your donation pages, to putting more care into your email strategy, take the necessary steps to enhance your donor relationships in the New Year!
What bad nonprofit marketing habits drive you crazy? What advice do you have to fix them?
The Year-End Fundraising Handbook
Subscribe to the Classy Blog
Get the latest fundraising tips, trends, and ideas in your inbox.
Thank you for subscribing
You signed up for emails from Classy
The email you subscribed is