After months of hard work, we're thrilled to announce that Classy is now Payment Card Industry, Data Security Standard (PCI DSS) Level 1 Compliant. This means our systems have been evaluated by independent auditors and passed the highest security protocols set by PCI DSS.
PCI DSS is a widely accepted set of standards published by major credit card providers to ensure service providers maintain a secure environment for customer information. Level 1 is the highest certification offered.
For our clients, this means you can feel confident that your transaction data is protected with the utmost rigor and security.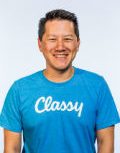 "The Classy team is thrilled to achieve this PCI Level 1 certification milestone. Coalfire independently audited our network architecture, security policies, and development procedures to validate that customer transaction data is secure with Classy. Our engineers have designed to exceed PCI guidelines for years, so the process was very smooth.
This initiative has been a massive undertaking for our team, and we're proud this achievement will offer our Classy community the confidence and freedom to focus on their missions.