How to Create Fundraising Opportunities Year-Round
Reading Time:
4
minutes
How do you create opportunities for your supporters to fundraise throughout the entire year without burning them out?
Simple. You let your supporters decide when, where, and how they want to raise money for you.
That's the beauty of having a year-round peer-to-peer fundraising program. By adding a permanent fundraising option to your website, you allow your supporters to interact with your organization on their own terms. Your followers can use their birthdays, athletic endeavors, weddings, and other life events as moments to support a larger cause that they care about. This transforms every individual milestone into a new fundraising opportunity for your organization. And because your supporters' life events will be randomly distributed throughout the year, it allows you to build a balanced stream of monthly revenue for your nonprofit.
BENEFIT: More Personalized Fundraising Opportunities
Year-round p2p offers more than just extra fundraising opportunities throughout the year; it also gives you the ability to make the fundraising process much more personal.
When a supporter decides to fundraise for one of your campaigns, the experience very much revolves around your organization (and not the supporter). You put out the call to action, you determine the campaign messaging and goal, and you judge the success of the effort. But when a supporter fundraises around an event in his or her own life the entire process is imbued with a deeper sense of personal meaning. And that's why adding a year-round fundraising option to your website is the ultimate win-win. It allows you to build stronger ties with your supporters by connecting your cause to events in their lives AND it allows you to create a continuous stream of donations. Both are obviously good things for any nonprofit.
EXAMPLES: Three Organizations that are Doing it Right
After poking around the Internet, we picked out three nonprofits that we thought had excellent year-round fundraising programs. Take a look at our thoughts about each, explore the organizations' websites, and start brainstorming what your own year-round fundraising program might look like!
---
1. Charity: Water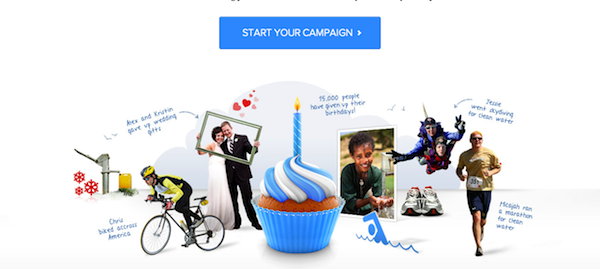 Charity: Water really put year-round peer-to-peer on the map and we still consider them the best example out there. Things we love about charity: water's year-round fundraising program:
P2P fundraising is so important to them, that they place the call-to-action prominently on their home page top navigation. They even make it a different color to draw the most possible attention to it (even more so than their donate link).
Once you click through, the calls to action are so crystal clear that its almost difficult to get confused on what to do next.
There's compelling and succinct text (and graphics) to demonstrate why getting involved matters, and how it relates to some of your life events.
They explicitly encourage personal expression in the fundraising process
They send a personalized impact report after the fundraising process has ended to "close the loop" and prove the impact the funds made
They ask supporters to pledge their birthdays, so they can capture commitments, and then follow up when those birthdays roll around
---
2. National Breast Cancer Foundation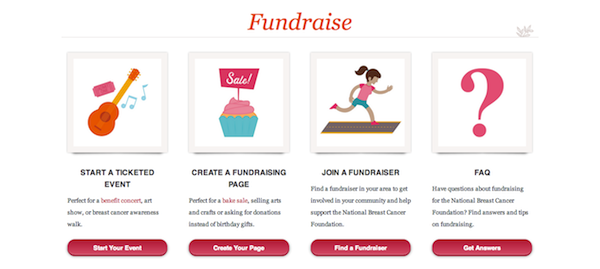 Things we love about NBCF's rolling peer-to-peer program:
The navigation from the home page to the fundraising section is intuitive and easy (you can get there in one click!)
Simple and clear design and equally clear calls to action backed up with helpful graphics
Shares personal stories of successful fundraisers to make the experience more personal and build a sense of community
---
3. Pencils of Promise
Things we love about PoP's year-round fundraising program:
Simple one-click navigation from the home page to the fundraising section (notice a pattern?)
Great use of compelling images on the homepage's scrolling banner to promote p2p fundraising option
Calls to action are clear and framed in terms of the impact that fundraiser will make (reinforcing that this is about a lot more than raising money)
Dynamic design, as you expand your impact goal, more of the picture gets colored in, reinforcing the prospective fundraiser's desire to raise larger sums of money (see image above)
---
GET STARTED: How to Implement a Year-Round P2P Program
If you've never considered the possibility of adding p2p as a permanent fixture to your website, don't feel bad.  The vast majority of nonprofits are either unaware of this approach, or fail to recognize its true value. Most nonprofits continue to think of peer-to-peer as an event fundraising technique (because it started with run/walk/rides) or as a way of conducting limited online campaigns. But things are changing.
More and more organizations are moving towards fully integrated online fundraising programs. As access to customizable online fundraising platforms has increased, the barriers to creating and maintaining a year round fundraising presence have dropped away. When charity: water got started they had to build everything from scratch. That's no longer the case today. Depending upon what fundraising solution you use, creating a rolling peer-to-peer program can be as easy as designing a new webpage and adding a few links!
With the emphasis that the younger generation puts on personalization and their affinity for fundraising, we're betting that this trend will only pick up pace in the coming years. So if you haven't thought about it yet, it might be a good time to explore whether a permanent fundraising option is a good fit for your organization!
Ready to Raise More Money Online?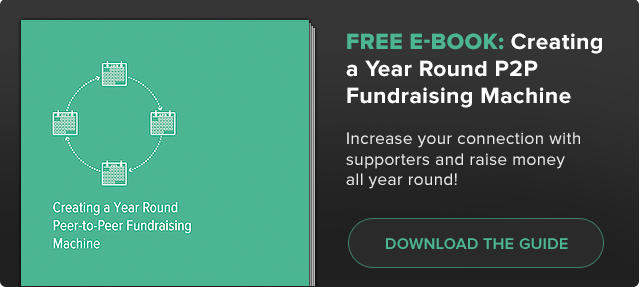 ---
Photo Credit: Flickr User streamishmc
Subscribe to the Classy Blog
Get the latest fundraising tips, trends, and ideas in your inbox.
Thank you for subscribing
You signed up for emails from Classy