The idea of peer-referrals is not new. Small businesses and nonprofits alike have relied on word of mouth to fuel growth for a very long time. And the reason why is simple; people trust their immediate circle of contacts much more than they trust an organization that's trying to solicit them or sell them something.
Although the importance of referrals has long been recognized, there can be little doubt that they're playing an increasingly important role in today's business environment. In a world saturated with digital communications channels (Facebook, Twitter, SMS, etc.) and sites dedicated to aggregating peer reviews (Yelp, Amazon, etc.) more referrals are being made and they are reaching larger audiences. In this hyper-social universe it pays off to cultivate a group of advocates that will amplify your marketing message by singing your praises across the web.
Now how exactly do you accomplish this?
Using Fundraising Campaigns to Identify Potential Advocates
The first step towards harnessing the latent power of your supporter base is identifying the most passionate members of your crowd. There's more than one way to do this (listening closely on social media, for example, is one method), but one of the easiest ways to find top supporters is through fundraising campaigns.
The next time you run a peer-to-peer fundraising campaign keep any eye out for your top performing fundraisers. It takes effort and persistence to really out-raise the rest of the crowd during a campaign; that's why you can be sure that your top fundraisers are going to be true believers in your cause. Each time you run a campaign, keep note of the top performers. If you run a year-round fundraising program, check back in periodically to see who is going the extra mile to raise money for your cause.
Giving Loyal Supporters the VIP Treatment
As you begin gathering a list of top fundraisers through your seasonal and year-round fundraising initiatives, make sure you are following up with these people in ways that are likely to inspire advocacy. This means a highly personal followup strategy that will cement in each fundraiser's mind just how much they love your organization. You should call each one of these people to express your gratitude for their efforts on your behalf. You want them to walk away from the experience convinced that you are anything but the ordinary nonprofit. It's this extra bit of attention that will prime the pump for personal advocacy.
You should also do your best to sustain meaningful conversations with these folks beyond your initial outreach. The focus should be on delivering valuable content and creating genuine dialogue. A nonprofit blog provides a great forum for your organization to regularly update supporters on the progress you are making towards your mission. You can also keep an eye on your top supporters on social media and engage them from time to time (further strengthening the positive relationship). Using a tool like Hubspot's social inbox can help you track a specific list of supporters and keep an eye out for mentions of your brand or other keywords. Participating in relevant conversations and delivering interesting content will keep you top of mind and further solidify the relationship you've already established with your core supporters.
Providing Vehicles for Expression
By taking the time to identify passionate supporters, personally express gratitude to them, and nurture these relationships with interesting and valuable content, the stage will be set for your advocates to really take off. It's very likely that these folks will take it upon themselves to start sharing how much they like you, but you also want make sure that you provide them with targeted opportunities to spread the love.
Peer-to-peer campaigns are great for empowering your nonprofit brand advocates. Each individual supporter gets a personal page to explain why he or she supports your organization and these pages are designed with social sharing in mind. By empowering others to spread your message you will be able to reach a much larger audience than you could with direct messaging. Even when the end recipient doesn't ultimately make a donation you are still creating vital awareness by familiarizing one more prospect with who you are and what you do.
Peer-to-peer is by no means the only vehicle for empowering your brand advocates. You should think about other touch points that these people will likely have with your organization. How else will they interact with you? Are there opportunities to turn these interactions into chances to promote your brand? One obvious example is donation forms. After someone makes a donation do you give them the chance to spread the love on social media?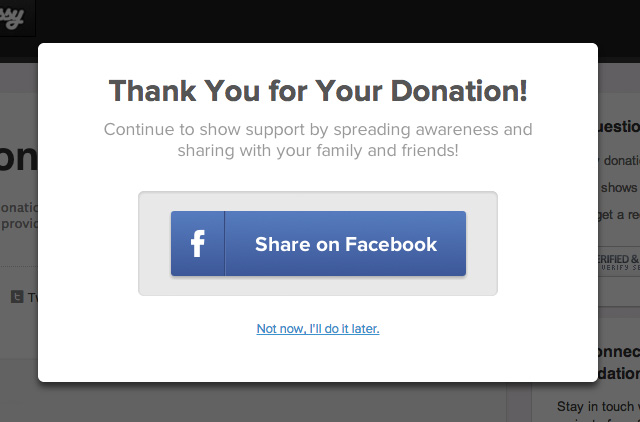 At the end of the day, the formula for transforming your supporters into true brand advocates is pretty straightforward:
1. Discover which supporters already really like you
2. Convince them you are even more awesome than they thought (by treating them amazingly!)
3. And then make sure you are providing them with avenues to express their passion for your cause
If you can follow these steps, you'll be on your way to building a group of vocal advocates that will help amplify your message and accelerate your growth!

---
Want to Raise More Money Online?
---
Photo Credit: Flickr User chase_elliot