Donor Stewardship: Go Above and Beyond
Reading Time:
4
minutes
Doing what's expected won't set you apart.
While every nonprofit organization should send donors a receipt and sincere thank you, if you want to truly succeed at donor stewardship, you need to give them something extra. To keep donors coming back to your organization, you need to make an impression by going above and beyond.
Donor retention is vital for financial sustainability and the best way to retain donors is to leave them delighted. Learn why it's so important to go the extra mile for donors and how your nonprofit can surpass donors' expectations and create lifelong bonds.
Brands Known for Amazing Service
Some of the most respected and trusted brands have built their reputation on outstanding customer service. Because donor stewardship is the nonprofit equivalent of customer service, there are lessons to be learned from these for-profit organizations.
Nordstrom and Zappos are two companies that provide endless examples of great customer service. Both businesses follow a policy to accept all returns, but that's only the beginning. It's the individual stories of customer experiences that really define their service.
Perhaps you've heard the story of the affable Nordstrom clerk who helped a customer return some tire chains, even though Nordstrom doesn't sell tire chains.
Or maybe you heard the story of a woman who ordered six pairs of shoes from Zappos, trying to find some that would be comfortable on an injured foot. When she had to return the shoes, she happened to tell Zappos why. Imagine her surprise when Zappos sent her flowers and a get-well card.
Not only did the businesses please individual customers, but those customers spread their experience, becoming evangelists for the brand. Nordstrom and Zappos didn't just make these individuals into lifelong customers, they built a reputation that attracted more.
For both for-profits and nonprofits, good word of mouth is priceless. Outstanding donor stewardship is giving people such a great experience that they want to tell their friends about it.
How Nonprofits Can Delight Donors
It makes sense that leaving donors delighted and impressed is good for your brand, but how can you deliver such an impactful experience? Particularly at nonprofits, where there's so much focus on putting every dollar toward the cause, organizations have to be smart and creative when it comes to how they serve their donors.
Here are three ways nonprofit organizations can make the giving experience more touching and impactful.
1. Make the Ordinary Extraordinary
Returns are a pretty ordinary part of doing business in a department store, but accepting any and all returns is what sets Nordstrom apart. A great way to set your organization apart is by taking something normal to a business or nonprofit's operations and making it extraordinary.
A simple example of making the ordinary extraordinary is the way Team Rubicon has thanked donors to past missions. People expected to receive an email or maybe a paper letter, but they were shocked and pleased when they received a phone call from the disaster site. Not every charitable donation feels momentous, but you can bet those donors remembered when a veteran on break from their volunteer work called to say "thanks for the support." That's the kind of experience you want to tell friends and family about.
2. Surprise Donors With Impact
Donors want impact stories following a donation, but don't be afraid to celebrate a win when you get one.
Don't wait for a birthday, holiday, or big campaign win to send donors an update. Celebrate success along the way. Maybe it's something big, like the passage of important legislation for your cause, or maybe it's a small victory, like a former constituent of your homeless center moving into their own apartment.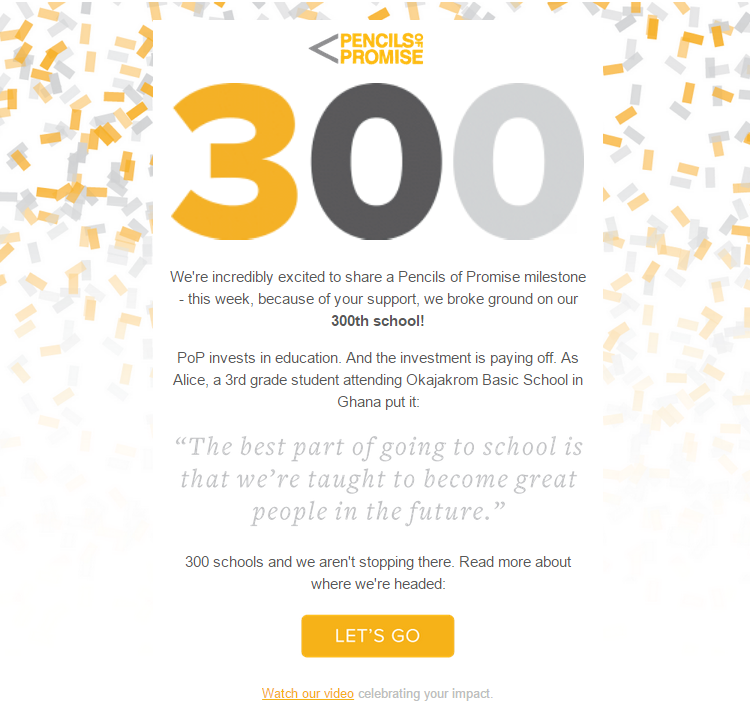 3. Make Them Smile
Many people give to nonprofits partly because of the warm feelings they get from helping others. They give to charity because it makes them feel good.
You can give them what they want, through email, social media, and more. Pictures and video are especially powerful ways to remind donors why they give. Many nonprofits have found that posting stunning impact images on Twitter and Instagram is a great way to inspire donors on a daily basis.
A little extra thought and effort can make all the difference when it comes to the donor experience. Think about how your organization can go above and beyond for your donors.
Whether it's making a commitment to personally call or write to a number of donors, share the little victories along the way, or just give them a reason to say, "aww," going the extra mile for donors strengthens their bond with the organization. Over time, these relationships can build a reputation for stewardship that attracts more and more supporters.
---
Keep Donors Coming Back
Subscribe to the Classy Blog
Get the latest fundraising tips, trends, and ideas in your inbox.
Thank you for subscribing
You signed up for emails from Classy