In fundraising, half the battle is getting donors' attention. The other half is holding on to it. We know that it is less expensive for a nonprofit to retain a donor than it is to recruit a new one, but that isn't the only advantage to creating a lasting relationship with donors. Repeat donors have a larger lifetime donation value and they frequently volunteer and advocate for the cause, through political action and word of mouth. But to get this kind of donor, you have to get past the first encounter.
We have identified three steps you can use in an early interaction to guide a supporter towards continuing engagement. Showing a donor why they should care and how they can help can make a huge impact and may help you find your rock star supporters.
1. Make Them Care
If you want people to stick with your organization, you need to make them care about your cause. Well, that part is pretty obvious. But do you know how to make them care?
Your first instinct might be to dive into all the information behind your nonprofit, the facts that keep you motivated to keep working for change. This method is likely to overload the audience with information and make it difficult for them to really connect with the cause. Chip and Dan Heath give a great anecdote on the subject in their book, Made to Stick. In 1992, when James Carville was running Bill Clinton's presidential campaign, he said, "If you say three things, you say nothing." Carville understood that to really make an impact on American voters, they had to have one central message and stick to it. It worked for Bill Clinton, now let's make it work for you.
Even if your nonprofit has several different programs, your best strategy to make someone really connect and care is to choose the most important message and make it as effective as possible. There are several ways to deliver that central message. Many nonprofits already know how powerful stories can evoke an emotional response from an audience. Stories have characters, which gives the audience someone to sympathize with or identify with.
The Malala Fund, for example, puts the story of its namesake on its home page. The story of a 15-year-old girl shot by the Taliban on her school bus has motivated thousands of people to join the movement to give every girl access to education.
You can also use a metaphor,prop, or visual image to illustrate the work your nonprofit does. People have been using metaphors for centuries and you've probably watched a presentation with a prop before. In a TED Talk, Andy Puddicombe, a British monk, uses juggling balls to illustrate how the mind navigates through meditation.
It's hard to make a room full of people understand a process that takes place in the mind. They can't see a thought or a worry, but by using balls to represent them he helps the audience take in the larger concept he is teaching. Nonprofits can use the same technique to make a big problem easier to understand and connect with.
For example, DC Action for Children faced the daunting task of analyzing and explaining the intersections of race, public services, poverty, and education in the neighborhoods of Washington DC. To show how these problems overlap, they created an interactive map of the city showing how each area fared in these issues. This tool allows anyone to visualize the correlation between poverty and reading proficiency.

People may intuitively understand that there is an achievement gap, but a visual representation like this drives home how moving a few blocks North or South can drastically change the quality of a the average child's education.
2. Make Them Powerful
One oft-cited reason that people don't vote is that they feel their vote won't make a difference. They feel powerless. If they know they can't change anything, why go to the effort of trying? The same demoralization can prevent someone from becoming involved with a nonprofit movement. This is why the next step after making your audience care about your cause is to show them how they can change something. To get people to invest themselves in your cause, you have to show them that their investment has power and promise.
You can begin by showing off what your organization has already accomplished. This gives you credibility and assures the donors that they'll be joining a winning team rather than boarding a sinking ship. Pencils of Promise did a great job showing their impact and the people behind it in a video promoting their campaign called "The Next 100."
This video doesn't just tell its audience about the schools Pencils of Promise has already built, but it introduces them to the regular people who made it happen. By introducing us to the DJ and college students who made a difference, they are telling the audience "You can do this too!"
Another way to drive home an individual donor's power is to translate that donation into its tangible result. A donor might not think they have the power or resources to make a difference in the fight against heart disease, until, for example, the American Heart Association's website shows them that $5 can train 100 people to recognize heart attack symptoms and administer CPR. Not bad for the price of a fancy cup of coffee!
3. Ask Them to Commit
Now that your audience cares about your cause and knows they have the power to help, you can ask them to commit to some kind of continuing involvement. No matter how small, if you can get supporters to take some sort of action, you are moving toward a more lasting relationship. Here are a few small commitments you can ask of your audience to keep them involved
Sign up for a volunteer orientation
Make a monthly gift
Commit to fundraising for an upcoming campaign
Register for your next event
A memorable way to engage a live audience is to ask them to pull out their smart phones and make a fundraising pageIf you are utilizing a peer-to-peer fundraising platform, this can be done almost instantaneously. This not only plants the idea of becoming a fundraiser, but reinforces how easy it can be to help raise money for a cause.
Of course, if a one-on-one encounter is going well and the supporter seems excited about the cause, don't be afraid to ask them to play a bigger role. You might have just met your next corporate sponsor or pro bono grant writer!
Every time someone signs your petition, makes a donation, or attends your event, it is an opportunity to gain a lifelong supporter. And the only way to get to that point is to make sure they reengage with and remember your cause. If you can show why they should care and how they can make a difference, you can ask them to take that important next step. Beyonce said that if you like it, you should put a ring on it, but you can't put a ring on it without securing that second date. Do you have any tips for continuing engagement? Let us know in the comments.

---
Want to Get the Most Out of Your Fundraising Efforts?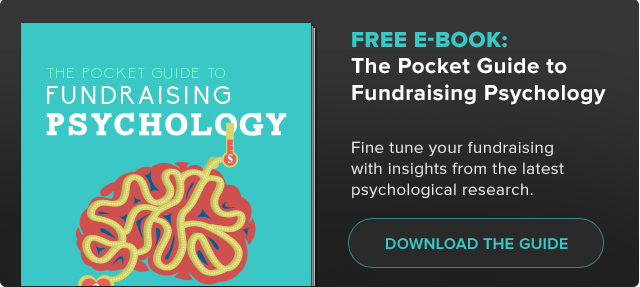 ---
Image Credit:
Jonathan W.