Just as publically traded companies regularly disclose information with their shareholders, nonprofits use annual reports to increase their impact transparency and inform donors.
Yet annual reports are just that—annual. And the modern donor expects regular communication around your organization's results and performance. In fact, at Classy, we've found that just as fundraising drives impact, so too does impact drive fundraising. This is why features such as impact blocks (which visually display and communicate the value of different gift amounts) are an important part of our product.
To truly build a sense of community and win your supporters' trust, you need to engage your audience with a regular cadence of impact messaging. This type of information connects the dots for your community about how their gifts are making a difference, and draws them into the folds of your important work. The more connected and updated they feel, the more they're able to buy in, literally, to help you achieve success. And, the more they will feel part of something.
With the right steps you can create a regular cadence of impact messaging that strengthens your community's sense of belonging. Below, we outline what to consider before you get started.
Measuring Impact
To communicate your organization's impact, you first have to have a system in place for how you collect data and measure progress over time. This starts with a clear understanding of the goals you're trying to achieve.
It's also helpful to spell out what your organization's intended outputs are versus your outcomes.
An output is a unit of production, such as time served or people helped, and an outcome is the short and long-term results created from the outputs.
For example, your organization may provide X gallons of clean water annually, but what happens because that water was provided? Are people healthier? Are they working longer hours because they're healthier? Does that change their income? The local economy?
Donors tend to support impact in terms of outputs. But knowledge of how your outputs impact larger outcomes, and the long-term picture, is an important piece of your narrative.
Many organizations dedicate resources entirely to collecting and communicating this data, even going so far as to hire directors of impact. Consider what resources your organization might dedicate to this process. The dedication of said resources not only strengthens your program team's connection to other departments, but communicates your level of dedication to your larger community.
Articulating Impact
Once you have a solid understanding of the results you're keeping track of, outputs and outcomes, you can begin to think through the best ways to articulate those things.
The more you break it down for your audience, the clearer their understanding will be of what you're working on and what it will take to help you achieve your mission/goals.
Unfortunately, "breaking it down" isn't simple for every organization. Donors tend to gravitate toward tangible examples. But not every organization's impact is as clear as "X gallons of clean water." It might take a touch more creativity, but there are still ways to create examples for your community that help them understand the significance of their contribution.
For example, on their crowdfunding campaign page, Convoy of Hope uses more general phrases to title their impact blocks and attract support. In the supplementary text, they outline how the contribution helps them move closer to a goal. While not the same as $X = X output, this language still paints a helpful picture in the mind of the donor.
Impact Communications
To keep impact at the forefront for your community members, you need to prioritize it throughout your different touch-points and general copy.
Establishing a sense of consistency in how you describe your progress is important. When people feel they can trust and expect a certain level of communication from you, they'll likely feel more connected to your work and more willing to continue their support.
Consider the following five areas to build a well-rounded strategy:
Campaign Pages
To ensure your impact drives donations, be sure to use software that allows you to keep impact top of mind on your campaign pages.
Using Classy, nonprofits can add impact blocks to their crowdfunding campaign pages. Below, The Honor Foundation uses the space to provide clear examples and incentivize different gift sizes.

Your Website
Where does your impact live on your website? Is the purpose of your organization and the results you achieve immediately visible to site visitors?
Dedicate a page of your site to clearly articulating your impact.
Team Rubicon has an entire section of their website dedicated to impact and stories. They even show visitors a map of their impact in the last 90 days, providing a visual representation of the organization's presence and disaster assistance.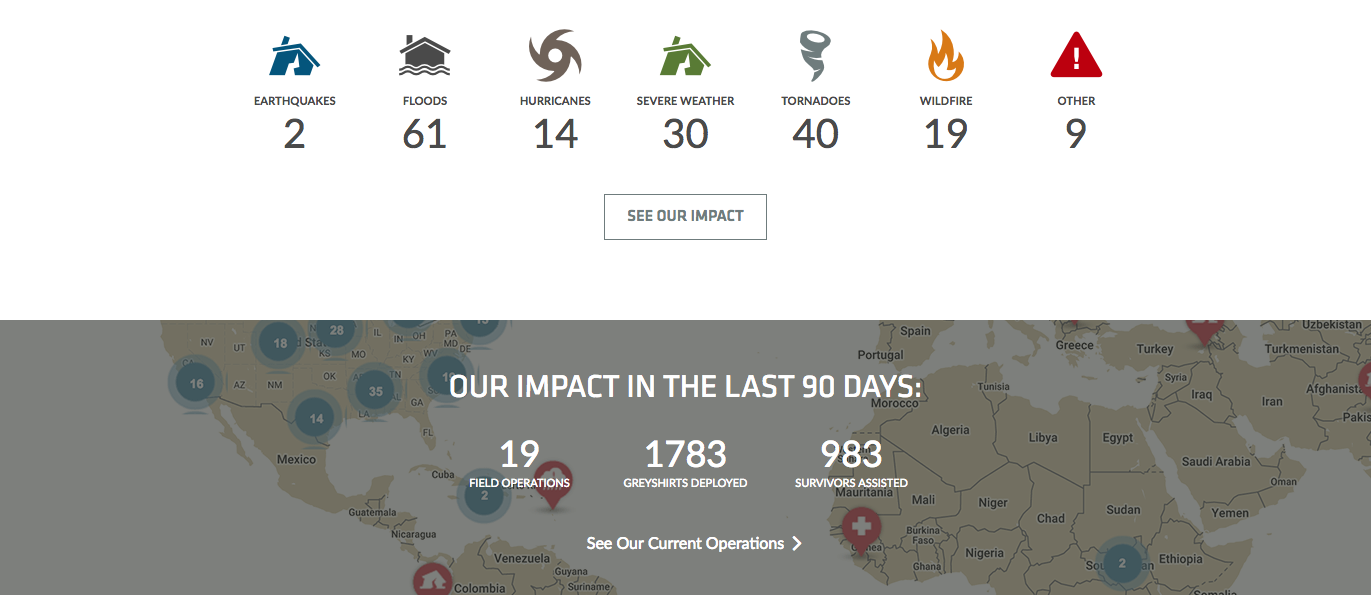 Donation Page
Even the language on TR's main donation page provides tangible examples and is centered around impact. They simply state,
$10/month provides: Incident Management Training for one volunteer
$25/month provides: Tools, Tactics & Techniques Training for one volunteer
$50/month deploys: A strike team for an operation
$100/month builds: A Forward Operation Base for an operation
Consider what simple language you can use on your donation page to help your donor understand the difference they can make. Your donation page can also call out the opportunity to become a monthly donor.
Recurring Donors Page
Your monthly giving experience is another opportunity to communicate the impact you make possible. To Write Love on Her Arms (TWLOHA) outlines the perks of joining their monthly giving program, TWOLHA Blue. They provide each member with monthly updates and stories from the road. This loops the donor into the story of their beneficiaries, and connects them in a unique way to the cause.
Classy also has an annual summary feature which allows organizations to send recurring donors a summary statement at the end of the year. This statement shows a donor their total annual contribution via their recurring giving plan, and is a great way to thank donors and demonstrate their larger impact over time.
Email
While it's important that impact-related copy live in the aforementioned places, it's also crucial to drive awareness through your email communications. If you don't create messaging specific to communicating impact, how can you weave results and progress into your existing correspondence? However you choose to present impact via email, set an expectation for your audience members around how often to look for updates.
The more consistent your communications and updates, the more often you'll give the impression that you're achieving results and making a difference. The right messaging and copy will create enthusiasm and a sense of real-time results that people can rally behind.
If you focus on your donor's perception of your organization and of the power their gift, you will help them feel as though they directly contribute to the results in the field—because they do. A sense of belonging is how the best brands create cult followings, and how nonprofits create diehard supporters.
---