With the start of the New Year upon us, people are once again looking to improve themselves and accomplish new goals. Half of all Americans set a New Year's resolution, and while this is admirable, most of these goals go unfulfilled by the end of the year. In fact, according to researcher Richard Wiseman, a full 88% of those resolutions fail!
If you want to set your supporters up for an "easy win" this New Year, then you should consider making a January ask for recurring donations. Your supporters might not be able to lose 100lbs or achieve spiritual enlightenment in 2014, but they can support a worthwhile cause—yours!
A Goal People Can Keep
If you are like most other people, you can probably relate to the experience of a failed New Year's resolution. Usually things go something like this:
---
"I'm going to get into the best shape of my life"
"I'm going to quit, X, Y, or Z"
"I'm going to volunteer every week this year."

---
And then the end of January rolls around, and it ends up being more like this:
---
"Well, there's always next year."

---
Hey, we're only human, and as the Buffer Blog points out, there are actually biological reasons why we often stumble when we set such a high bar for ourselves. The nice thing about inviting your supporters to make monthly giving one of their 2014 resolutions is that it's an easy goal to accomplish. All your supporters have to do is complete a simple donation form and they'll be all setup to achieve their resolution.
No, it's not quite spiritual enlightenment or lasting inner peace, but it's a start. When a donor makes the commitment to give a recurring monthly gift they will accomplish something that (1) creates good in the world, that (2) they will be reminded of throughout the entire year. That's not too shabby.
Another nice thing about this approach, aside from the fact that it will help you reap the many benefits of recurring giving, is that it provides a natural dialogue around a shared experience. Everyone's familiar with the New Years resolution game, many of us are participating in it right now. By appropriating a timely cultural event like this, you can speak to people in a way that's relevant to them in the moment. You also set yourself up with plenty of fodder for marketing…
Creative Ways to Market Your Recurring Giving Push
The mediums you choose to promote your recurring giving campaign are really up to you. Email and social media should probably be among them. In fact, they are likely to be the most attractive platforms for promoting your effort (particularly social media) because your donors have probably heard a lot from you lately during the big holiday giving season. A couple emails and a social media campaign is minimally intrusive and won't burn people out. Regardless of the mediums you choose, however, there are some great stories you can tell your community to get people involved in the campaign.
1. The Failed Resolution Montage.
Consider making a series of funny images about clichéd New Years resolution fails that you can spread across social media channels. You can make light of the shared experience of failing to hit your lofty New Years goal and instead invite supporters to start with something simple, making a recurring gift.
2. Staff Insight Posts.
If humor doesn't match your brand identity particularly well, there are other options to choose from. You could humanize your organization by sharing photos of different staff members and have them share a personal 2014 resolution. Then you can invite supporters to get in on the act by making a resolution to support your organization with their own recurring donation pledge.
3. Resolutions that Highlight Impact.
Another way you could market your New Year recurring giving campaign is by highlighting the hypothetical "resolutions" of the beneficiaries of your programs. For instance if you help build schools in developing countries, you could show a picture of a child with a book with the caption "This year I'm going to learn to read." You can then invite supporters to help these resolutions come true by supporting your mission with a monthly donation.
---
Have an Idea for a Fundraising Campaign?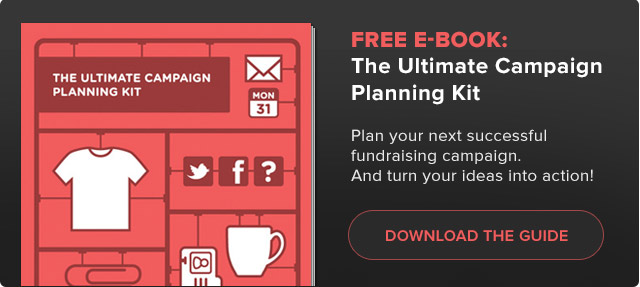 ---
Image Credit: (In order)
Anthony Quintano
cropped,
Alan Cleaver
cropped, StayClassy,
Sarvodaya Sri Lanka
cropped