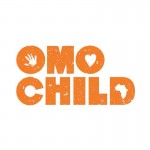 Charity Name: Omo Child
Founded: March 2011
Location: Rancho Santa Fe, California [headquarters] and Jinka, Ethiopia, Africa
Mission: To stop Mingi, the ritualistic killing of infants and children in the Omo River region of Southwest Ethiopia by providing education and safe, nurturing shelter for rescued tribal mingi children
Current Fundraising Goal: $150,000
---
The lower valley of the Omo River in Ethiopia has been at a cultural crossroads for thousands of years. With at least eight different tribes living in the region and no formal written language, it's an area in a constant state of flux. Unfortunately for the children of the valley, it's also an area dominated by superstition.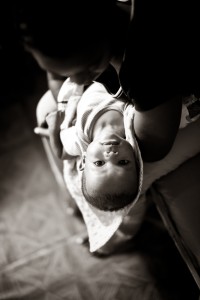 One of the darkest superstitions observed in the lower valley is the ritual killing of children. Labeled Mingi, or 'cursed', scores of infants are killed based upon strict traditional criteria enforced by tribal elders. Fortunately, organizations like Omo Child are working to end this.
We spoke with Christina Koczan, Omo Child's Director of Communications, to learn about the nonprofit's very personal connection to the crisis, how it's working to end it, and the launch of the organization's new website.
---
How did Omo Child get its start?
Lale Labuko is the Founder and heart behind Omo Child. He was born into the Kara Tribe in the Omo River Valley in Southwest Ethiopia and was one of the first of his tribe to receive a formal education. This opportunity led Lale to realize the critical importance of ending the tribal ritual of Mingi.
Lale believes he can best help his tribe through education and developing humanitarian support to overcome his people's many hardships. Lale lost two sisters to Mingi. Outlawing – and stopping – this devastating practice is his life's mission.
John Rowe has spent many years traveling the world photographing some of its most intriguing people and cultures. His love for people and culture led him to Southwest Ethiopia, where he photographed and documented the struggles of the people in the Omo River Valley. John met Lale while traveling to the Omo ten years ago, and has now joined in the effort to stop the Mingi practice and to bring education to the area.
Many people might not be aware of your cause, or even the problem you are trying to tackle. How do you approach fundraising and getting supporters engaged in your mission?
Omo Child is a non-sectarian and non-political nonprofit. This is strictly a humanitarian effort. Our primary concern is education, both for the people within the Omo region itself as well as potential donors. National Geographic dubbed the Omo River Valley the "last frontier." There's no formal written language, no education, and healthcare and water projects are desperately needed. It's such a remote region that there are only a handful of NGO's working on the ground. Educating people about the problem is an important part of our mission.
As far as fundraising goes, finding partnerships has been very challenging for us because people have a hard time understanding the solution. The solution is complex, but we believe that once education, water and healthcare projects take hold, Mingi, and the superstitions that surround it, will cease. The younger tribal generations in Ethiopia do not support the practice, it's something that the elders enforce. Once we explain to outsiders what Mingi is, the response is overwhelmingly "I can relate to that – if I lived there I would be Mingi, or my child would be Mingi."
Here is something to consider: if our President, Barack Obama, was born there, he would have been Mingi! There are four main categories that can put a baby or child in a Mingi category:
Teeth Mingi – top teeth come in before the bottom teeth
Woman Mingi – when couples are married but the pregnancy hasn't been approved
Girl Mingi – babies born out of wedlock
Twin Mingi – Twins are considered mingi
You just launched a new website design in early March. For a young nonprofit, what was the motivation to complete this project?
We knew it was extremely important to have a website that was representative of our organization. We wanted people to go to the site and immediately be engaged. More importantly, we wanted people to feel as if they were on the ground with us in Ethiopia, and to let them connect with our mission and our programs on their own.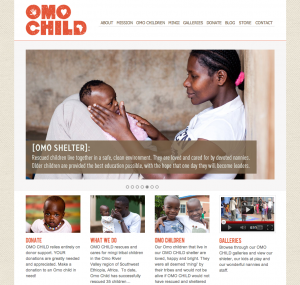 This was a big step for us because our old site did not allow our supporters any sort of interaction; it was static and not representative of who we are as an organization at all. We needed a better format for producing new content and photos. WordPress has been a great platform for us because it's easy to update graphics and text in seconds.
Did you take a certain approach when designing your site? Colors, layout, posts, content?
We wanted the site to be image heavy because we feel that great imagery can be an extremely powerful tool that people can easily connect with. We wanted to incorporate the colors and elements found in the Omo River Valley region: burnt orange, browns, greens, reds, blues, and yellows. The canvas is representative of the area and the tribes. We also wanted to avoid any confusion about our mission, that's something that often disappoints me when I visit other nonprofits' websites.. When there's too much text or it's not laid out properly, I'll get frustrated and leave the site. We wanted to avoid that and clearly define our cause up front.
What are some best practices that you would suggest to other nonprofits looking to update their website?
I can't stress enough how important it is for a nonprofit to have a prominent online presence! That's really how people find out you even exist. You want people to go to your website, read more about what you do and discover how they can help. Make it count when they get there!
The most important thing is functionality. Make your website communicate what you do and what you need from your supporters. Let people know what your mission is as soon as they reach your homepage. Don't make it overly complicated to navigate — visitors will get frustrated and leave. Make the text size and font legible.
As far as social media goes, we are fairly new to Facebook, Twitter and Pinterest. I think Pinterest is a great way to reach potential donors. You can pin an image from your website, and when someone clicks on it, they'll click through to your site. We've also had good luck with Facebook because it allows us to connect and interact more intimately with our supporters. We recognize that people spend a lot of time on social media sites and we want to be where these people hang out.
What's currently happening at Omo Child? Do you have any upcoming fundraising campaigns or events?
We are currently working on our "I Am Mingi" campaign. It will be a photo-based campaign that will be social media driven. It will be a compilation of photos of individuals (adult and child) declaring "I Am Mingi." It will help us raise awareness of the practice of Mingi. We also have our "Oh Baby!" Baby Bundles. A $75 donation purchases wipes, diapers and formula for one of our Omo Children at our shelter.
[toggle_framed title="Learn More About Mingi"] "Mingi" is defined as being ritually impure in certain tribes in Southwest Ethiopia, including the Kara and Hamar people in the Omo Valley. Children are deemed "mingi" or ritually impure, for a variety of reasons, including being born out of wedlock, being a twin, chipping a tooth in childhood or having the upper, baby teeth grow in before the lower, among other reasons.
"Mingi" children are killed by being left in the wilderness to be preyed upon by animals, or by being drowned in the Omo River. They can be killed in early infancy or later in childhood when these events occur. The tribes who follow the traditional Mingi practices believe that failure to eliminate these "impure" children will bring famine and disease to their people.[/toggle_framed]
[toggle_framed title="Learn More About Omo Child"] The Omo Child Foundation saves and cares for Mingi children of the Omo River region of Southwest Ethiopia, Africa. They currently house thirty-five children, ranging from just-rescued infants to six year olds, in two homes located off of the tribal land. Their most recent project responded to the ongoing drought in Ethiopia by providing five water pumps to the Kara people in Dus Village. By teaching the villagers how to use the pumps, they provided long-term food security to the Kara people, who were at risk of starvation. Rather than providing outside service that collapses when the foreigners leave, they endeavor to empower the tribe members to create change from within. Visit their website here. [/toggle_framed]