Name: Brian Lane
Age: 31
Location: Royal Oak, Michigan
Fundraising Initiative: 30 Days in the Dark
Fundraising Beneficiary: FiftyTwo4Mom
Fundraising Goal: $25,000                                                                                  
---
Brian Lane founded FiftyTwo4Mom in 2009 in honor of his mother, who became legally blind after suffering a head trauma. Today, he is voluntarily going blind for 30 days to raise awareness for vision disorders and funds for research. Here, he speaks to the logic behind his unconventional fundraising campaign and what it means to be a young philanthropic leader.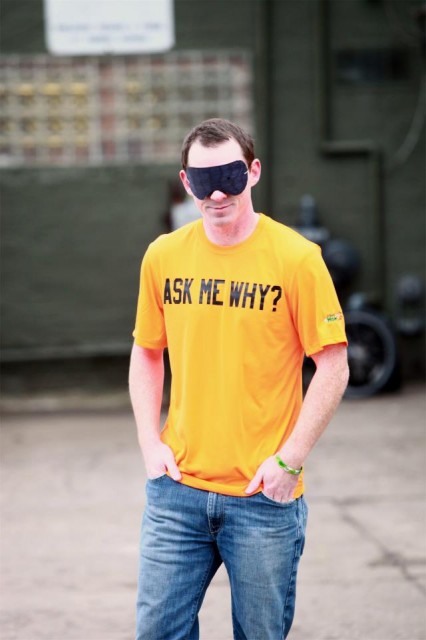 What exactly is 30 Days in the Dark?
I am going blind for the entire month of March to raise awareness of vision loss and the several various vision disorders. I will eat, sleep, work out, run, train, go out with friends, and do everything in my normal life wearing masks to mimic three different stages of blindness. The masks will allow me to spend one week with tunnel vision, one week with no central vision, one week where I can only see shadows and one week completely blind.
I want people to become aware of the varying degrees of blindness through this fundraiser. Tunnel vision, loss of central vision, and complete loss of vision are all included under the label "legally blind." People often think that if someone has a cane or looks blind then they are completely without sight. That's just not the case. However, those with varying degrees of blindness struggle just as much to live a full and productive life.  Through FiftyTwo4Mom, I want to help bring sufficient resources to everyone.
I want to raise $25,000. The Bascome Palmer Institute in Miami is working on research for optic nerve disorders and I'd really like to be able to help them in their efforts. In addition, it'd be great to raise money for FiftyTwo4Mom programs, such as new support and activity groups.
How is the campaign going so far?
The most difficult thing so far has been the fear. I'm about half way into the campaign, and I still don't trust my eyes. I'm often afraid I will run into people or objects. For example, I was at a restaurant and it took me two hours to get up the nerve to go to the bathroom because it was so crowded and busy. I was so afraid that I would bump into someone, or knock over a drink, or even step on a child.
My interactions with others have been mixed. Many people have been supportive, but some have been very ignorant. While out for drinks one night, a bouncer tried to kick me out of a bar because he was afriad I would bump into someone and start a fight. I also had a guy tell me vision loss is a worthless cause and I should take all the money we raise and give it to cancer research. To be honest, it's been really difficult so far.
How did you get involved in the nonprofit community?
It was 14 years ago that my mother suffered a head trauma that left her legally blind. She was forced to quit her job and stop driving. While I've been involved with several other nonprofits through organizations like Why Not Sports, Inc., my mom remains my main motivation because her strength and courage have been so inspiring despite her loss.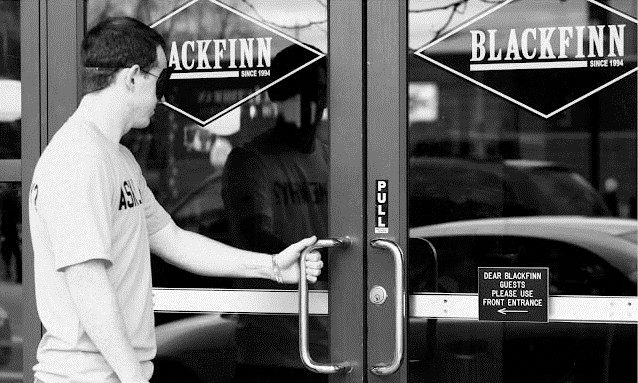 Through my philanthropic endeavors I hope I can show others that no matter how young, old, or what your background is, you can do something to make a difference. Usually you see people with a lot of money starting foundations, but not me. I still have a lot of student loans left to pay, I don't work a high profile job, and I definitely still struggle to pay the bills; but, 30 Days in the Dark was something very close to me. Instead of waiting until I was financially ready, I decided that something needed to be done now.
In your opini

on, what are some challenges for young people in philanthropy?
I think that many young people are more worried about getting by then about what they can do to change the world. It's hard for my generation to find decent jobs and many don't feel they have any time to make a difference. I tell my friends to put $5 a week towards something they believe in. If enough people were to do that, they really could make an impact. Often times people feel they need to donate a large sum of money to make a difference, but that's not the case.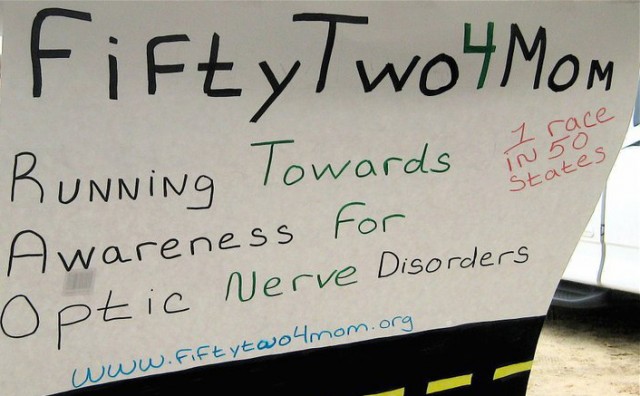 What advice would you give to someone who is passionate about a cause and wants to raise awareness or money for it?
Follow your heart. While I don't make a lot of money, I am so gratified by what I do. I meet the greatest people and every day go home knowing that no matter what, I'm making a difference.
I remember when I was on the road fundraising in Mississippi I spoke with a lady for two hours about how difficult it was for her to take care of her mom who had gone blind. While we spoke, my friend noted that about 100 people walked by that I could have talked to and I may have missed several opportunities to raise more money. But that's not what it is always about: I think that I made a difference in her life, and I value the relationship that her and I still have today. To me, that's what life is about…making a difference where we can.
[toggle_framed title="Learn More About FiftyTwo4Mom"]FiftyTwo4Mom works to increase awareness of optic nerve disorders (OND); raise money for the funding of research into causes, treatments, and cures; and to help fund programs to assist individuals who suffer from such disorders. Visit the website here. [/toggle_framed]