Five Reasons Nonprofits Are Getting Involved in the Classy Awards
Reading Time:
6
minutes
The Classy Awards started in 2009 with a very simple goal – to put a public spotlight on amazing charitable efforts in the San Diego community. By 2011, the small local event had catapulted itself into the national spotlight, becoming the largest philanthropic awards ceremony in the country. More than 2,000 nominations were submitted and 250,000 votes cast for charities, individuals and socially conscious businesses from 49 states.
From nominations, to voting, to the actual red carpet awards ceremony, we took a look at some of the benefits of participating in the largest philanthropic awards competition in the country.
Unique Networking Opportunities
The Classy Awards Weekend presents an opportunity for nonprofit organizations, large and small, to collaborate and network with the most well respected and forward thinking leaders in the industry.
Last year, Gene Talerico, CEO of Marley's Mission, submitted a nomination in the Best New Charity category simply to see how their organization compared to others across the nation. Founded in early 2010, Marley's Mission was just getting started and saw an opportunity to use the Classy Awards as a launching pad for growth.
"It was clear the Classy's were attracting the best and brightest in the nonprofit world and the Awards would give us the chance to meet, network and exchange ideas," said Talerico. "As a new nonprofit, we took much from the opportunity to meet great dreamers & innovators at the 3rd Annual Classy Awards. These were people who strive to transform the power of an idea into action and we learned a lot from their stories of success and setback. The Classy Awards afforded us access to people, concepts and tools that we had never dreamed of. Had we not attended, we would not be the organization we are today."
Catalyst for Growth
"You can draw a straight line from the Classy Awards to the incredible growth and success of Marley's Mission," said Talerico. "We've seen our revenue multiply ten-fold. That growth is directly connected to our participation in the Classy Awards. It provided a national platform for our vision and attracted new, energetic supporters. We now have the ability provide therapy 7 days a week and have doubled the number of children we treat. The Classy Awards played an integral role in changing the lives of children at Marley's Mission."
There is simply no other charity event that catalyzes, promotes and inspires the new wave of social innovators and its supporters as does the Classy Awards"
The attention given to Classy Awards participants often drives increased donations to support their causes, resulting in expanded programs and services. Classy Awards Winners and Finalists have also gone on to receive other prestigious national recognitions.
For example, Swipes for the Homeless, a previous Finalist, was recently recognized by President Obama and the White House as a College Champions of Change for their positive community impact in the greater Los Angeles area.
Judith Broder, Founder and Director of The Soldiers Project, the 2011 Winner of Charity of the Year, was one of just thirteen recipients selected from a field of 6,000 to be named a recipient of the Presidential Citizens Medal for exemplary service to her fellow citizens.
Several more finalists have been recognized as CNN Heroes, including Gina Keatley of Nourishing USA, Jake Wood of Team Rubicon, Diane Latiker from Kids Off the Block, Debbie Cantwell of the Pink Daisy Project and Bruno Serato of the Anaheim White House Restaurant.
Other Classy Awards Winners like StandUp for Kids, have gone on to expand their reach from a local or regional level to a national level based on the recognition they've received.
"Even before the Classy Awards happened, we started getting calls and emails from new supporters to find out what they can do to help," said Kim Goodeve, Director of Outreach Center Operations for Stand Up for Kids Oceanside. "We had volunteer requests, clothing donations and just interest in general about what we are doing here at StandUp. Getting our name out there is the hardest part of all of this and Classy has made our job a little easier."
Media Exposure
The ultimate goal of the Classy Awards is to put a national spotlight on the story and effort behind the charitable achievements themselves. To do so, Classy shares achievement stories that exemplify inspiring volunteer efforts, impactful nonprofit fundraising and innovative corporate social responsibility with media partners such as Huffington Post Impact, MTV Act, and Chronicle of Philanthropy.
In 2011, NBC San Diego syndicated three Classy Awards stories, which generated more page views than any of their other local news stories in the previous two weeks.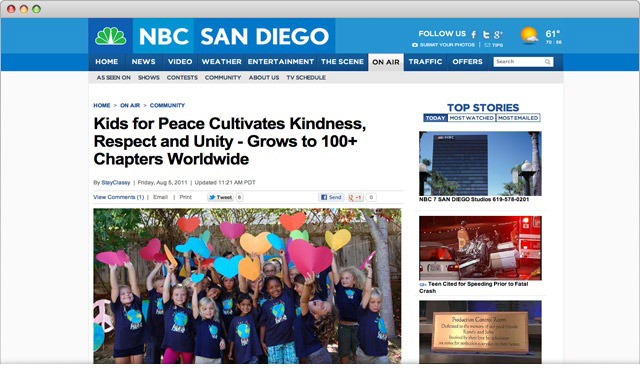 This year's nominees are expected to receive more than 160 million impressions throughout the six-month process. Classy Awards nominations are often picked up by some of the top local, regional and national media sites in the country.
Mark Dunning, whose daughter's 6th grade class won the 2011 Classy Award for Most Successful Fundraiser by an Individual, knows this first hand. "We tried and tried forever to get recognition of the Sixth Grade Roll-a-Thon in the local media. The CLASSY Awards changed all that," said Dunning. "This honor is much more valuable than some 30-second spot on the evening news," said Dunning. "The whole town is talking about it! I've been stopped on the street a half dozen times for congratulations. As for the media coverage – since we've received the Award, there have been several articles written about the efforts of Bella's class. Finally, they have gotten both the honor and the recognition they always deserved."
Peer Recognition
While there is a small public voting component, the Clsasy Awards is not a popularity contest. In the same way that the Academy chooses the Oscar winners, the Leadership Council serves as the democratic voice of the Classy Awards, bringing great depth and expertise to the judging process. Ultimately, past CLASSY Awards Winners and this panel of industry experts choose the Finalists and Winners.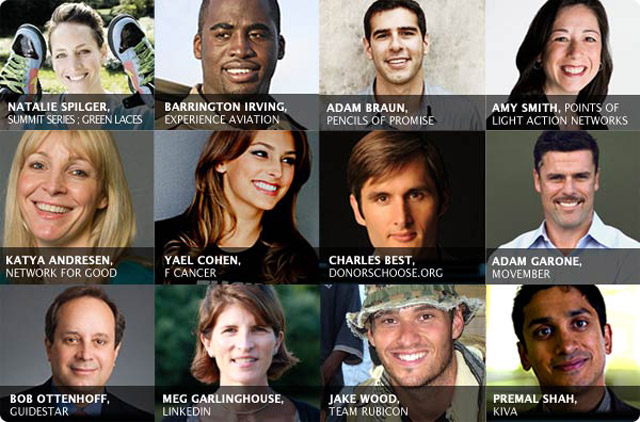 The Council includes Adam Braun of Pencils of Promise, Charles Best of DonorsChoose.org, Clam Lorenz of PayPal's Nonprofit Engagement, Emily Davis of Next Generation and YNPN San Diego, Jim Gibbons of Goodwill Industries International, Jim Moriarty of the Surfrider Foundation, Meg Garlinghouse of LinkedIn's Social Impact, Premal Shah of Kiva, Stephanie Kurzina of Oxfam, to name a few. To view a complete list of the Leadership Council click here.
Industry-Led Initiative
The Classy Awards recognizes nonprofits operating as efficiently as lean corporations; for-profit enterprises that have built social responsibility into the essence of their mission; and it shines a celebrity spotlight on charity leaders. It celebrates creative applications of technology in a sector that has never been known for it's technology adoption, and young progressive leaders who could become the next generation of wealthy CEOs, but instead have dedicated their lives to improving the lives of others.
"There is simply no other charity event that catalyzes, promotes and inspires the new wave of social innovators and its supporters as does the Classy Awards," said Tony Rodriguez, Sr. Director of Business Development for Guidestar USA. "As the philanthropic sector evolves and strives to be more inclusive, innovative and challenges us to approach our society's biggest challenges in brave new ways, we rarely acknowledge, share and elevate to the appropriate heights those success stories. The Clsasy Awards celebrates real accomplishments and shines a bright light on the work and passion of many truly inspired individuals & organizations doing important work."
Subscribe to the Classy Blog
Get the latest fundraising tips, trends, and ideas in your inbox.
Thank you for subscribing
You signed up for emails from Classy
The email you subscribed is