Before we get started, let's do a quick Google search for "Millennials."
According to the media we're cheap and confused (and beyond this Google search, also referred to as lazy and narcissistic). By CBS's account, we might as well be aliens – 'The "Millennials" Are Coming' sounds like a B-Grade horror movie about other worldly invaders. There are endless articles about how to sell to us, engage us, motivate us and talk to us. Radio broadcasts explore "who we are" from every conceivable angle.
In a much more positive light, this SSIR article, written by authors of the Millennial Impact Report, calls us the next greatest generation, saying:
"Millennials are poised to become the next greatest generation…This idea sprung from the belief that this generation (born between 1979 and 1990) has the potential and desire to create a new model for social change—and on a scale unlike anything we've seen in modern times." – SSIR, Achieve, Case Foundation
Studies and surveys about Millennials vary so widely (yes, we want to be entrepreneurs… no, we don't want to be entrepreneurs … and publishers cover every view about us at work) that it's impossible to get a grasp on what we really think or what we really want. And, in some cases, the same survey comes out with results that read like a game of pin-the-tail on the donkey.
In other words, Gen Y is both an enigma and a paradox. Everyone is as confused about us as we are about ourselves (after all, many of us are in our 20s…). We're feeble because we're needy and spoiled but strong because we're nonconformists and idealists.
"Surprise! We have high expectations.
The latest Millennial Impact Report took on the admirable task of surveying Millennials in the workplace and previous reports have taken a deep dive into their charitable giving habits. The main conclusion, over the last few years, which is consistent with countless other studies about Millennials, is that we have high expectations.
And, why not? We grew up in a world where we saw our passions enabled by technology, interconnectivity and social media. We're empowered to act on and engage with causes in more ways than imagined possible.
We can start social enterprises because we can connect with people in need thousands of miles away. Or we can demand the companies we work for take on more responsible practices because our amplified voices through social media and blogs can pose a real threat to their brand vitality.
Forget what you've read about Millennials and consider this single most important trait of our generation:
---
---
It's Not All About What They Say
I have enjoyed reading each of the Millennial Impact Reports and tons of other surveys and studies, but I question whether we should consider them anywhere near definitive.
These data are insightful but not canonical, and overarching generalizations shouldn't be leaned on too heavily. There has always been a gap to be bridged between generations, so in a sense I do understand the obsession to figure out Gen Y.
But like every generation before us, we grapple with and conquer the realities of our time in our own ways. As humans, the 80 million or so Millennials occupy a wide range of personalities, political views, and individual preferences, which makes generational generalizations an absurdity.
A line from the 2012 Millennial Impact Report caught my eye. One survey respondent noted:
Stop trying to figure out Millennials and just include them.
Changing the Conversation
I echo the respondent's sentiment – I don't believe the subject should be how to "handle" us or to determine "who we are." Perhaps a more productive approach is not necessarily how to motivate, entice or engage Millennials, specifically, but rather how to use a new generation of high expectations to adopt better practices that, in the long run, improve organizations as a whole.
These are practices we've come to expect as standard in any company or organization, like transparency, developing resilient cultures, fostering and encouraging innovation, training Millennials for, and then entrusting them to leadership roles.
An interview with DC Central Kitchen and LA Kitchen founder Robert Egger really hit it home,

"Our society needs an elevated nonprofit sector, but to get there, we need people who are prepared to challenge antiquated ideas about the role we play in the economic and political process.
In fact, one of the things I find comical is these leaders are constantly telling young people that there is a leadership crisis and promote classes or cohorts so they can teach you leadership, but all they are teaching is their version of leadership, which the sector does not need."
Millennials like Natalie Warne, Malala Yousafzai, Kennedy Odede and so many others have demonstrated a willingness to take on those antiquated ideas and leverage causes to reshape economic, political and social processes. They are ready to lead (or, rather already leading) in their own ways.
One would hope we'll have the experience necessary to take on leadership roles in every sector; but especially in the nonprofit world, where organizations are often at the forefront of battling the world's greatest challenges. To champion another Robert Egger quote – "No profits without Nonprofits."
I've recently become intrigued by a sentence I read on an older post from Brad Feld's blog (I've also mentioned it in a previous blog post about nonprofit culture) and it has stuck with me. "You can't motivate people, you can only create a context in which people are motivated."
Consider that the debate isn't whether or not we stand a chance in this world, but rather what our vision of progress is. Rather than take on the guesswork of engaging, motivating or otherwise effectively communicating with our cohort, your organization can create a context in which we are motivated. Then, you'll see us organically engage with you, communicate with you, support you, amplify you and champion your cause.
Something some of these surveys do offer a glance at is what we are excited and motivated by. The big picture is motivating. Progress is motivating. Innovation is motivating. Culture is motivating. Empowerment is motivating. Compassion is motivating. Fun is motivating. These things all make up that impact we think is attainable. When you believe impact isn't far fetched, solutions to tough problems don't just exist, they're executable.
Next time you're strategizing about how to engage Millennials, try to forget what you've read about them and simply think about where you want to see your organization – and your cause – in 2025.
---
Want to Get the Most Out of Your Fundraising Efforts?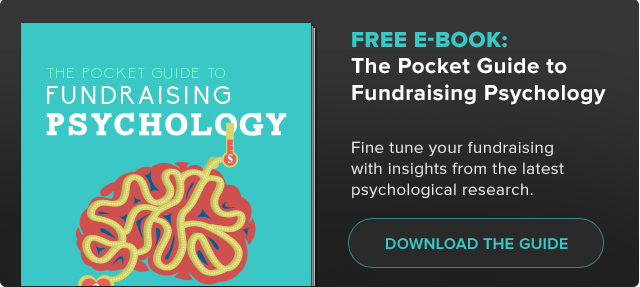 ---
Image Credit:
Brooklyn Morgan