#GivingTuesday – a day dedicated to giving and philanthropy is also an opportunity to say thank you to all the people working tirelessly behind the scenes to serve the greater good. Today, we want to recognize and acknowledge the 1,000+ nonprofits that use Classy's platform to power their fundraising efforts. We believe in supporting the organizations that have so diligently supported us! That's why today, we're donating all our transaction fees back to all Classy customers.
Classy is lucky enough to work with some of the most amazing organizations. We're constantly inspired and motivated by the unwavering dedication to their respective causes. If you're looking for an organization to donate to on this #GivingTuesday – or simply looking to kick off the holiday season with inspiration – you're in luck. We've gathered the top 25 highest grossing organizations on the platform to-date**. Could your organization be on this list in 2015?
#1: Invisible Children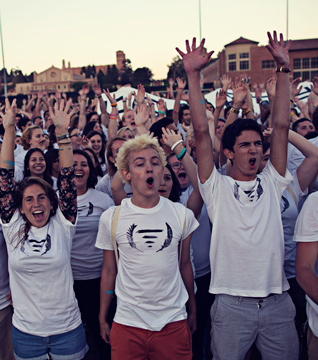 Mission
: Take an active role in stopping the Lord's Resistance Army, recover abducted child soldiers and advocate for ending one of Africa's longest running armed conflicts.
Total amount raised on Classy: $13,674,529
Impact: In 2012, Invisible Children leveraged the viral power of YouTube and the energy of Millennials to engage in a grassroots effort to locate victims of the Lord's Resistance Army and to find war criminal Joseph Kony.
After KONY 2012 went viral, the organization raised $4.8 million on Classy, solidifying it as one of the most successful nonprofit online campaigns ever.
Donate Now
---
#2: Barbells for Boobs
Mission: Providing men and women under the age of 40 access to early detection services by uniting athletes and local communities.
Total amount raised on Classy: $3,044,649
Impact: Barbells for Boobs has provided grant funding to 21 breast healthcare organizations and facilities across 18 states and plan to extend their efforts to at least 5 additional states by the beginning of 2015.
Donate Now
---
#3: Team Rubicon
Mission: Unite the skills and experiences of military veterans with first responders to rapidly deploy emergency response teams. Team Rubicon gives veterans a renewed sense of purpose by bridging the gap between military and civilian life.
Total amount raised on Classy: $2,712,890
Impact: Since January 2010, Team Rubicon volunteers have deployed on more than 75 disaster relief operations at home and around the world – from Typhoon Haiyan in the Philippines to tornadoes in Oklahoma. Through continued service, Team Rubicon helps returning veterans find a sense of purpose, community and self-identity, which is often lost when returning from service.
Donate Now
---
#4: buildOn
Mission: Build a better future for America's youth while building schools in some of the world's poorest countries.
Total amount raised on Classy: $2,033,453
Impact: In 2014, buildOn built more than 100 schools in seven of the economically poorest developing countries in the world, bringing education to 90,000 children and adults. In seven U.S. cities, students involved in buildOn's youth service programs were empowered to contribute more than 200,000 hours of service to their communities.
Donate Now
---
#5: Action Against Hunger
Mission: Saving the lives of malnourished children, while providing communities access to safe water and sustainable solutions to hunger.
Total amount raised on Classy: $1,997,345
Impact: Over 9 million people in 45 countries have benefited from Action Against Hunger's lifesaving assistance. Their 6,000+ field staff is helping communities build long term strategies for self sufficiency all over the world.
Donate Now
---
#6: Pencils of Promise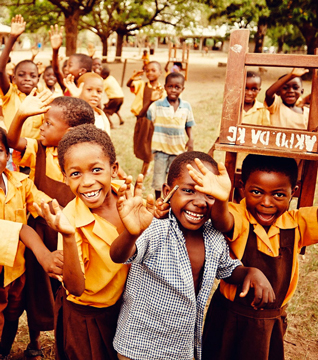 Mission
: By building quality schools and sustainable education programs, children around the world are experiencing life-changing education.
Total amount raised on Classy: $1,957,478

We have every resource necessary to provide access to education for every child on the planet; we just need to commit to enabling it.
– Adam Braun, Founder of Pencils of Promise
Impact:
Donate Now
---
Bright Pink
Mission: Working to save women's lives from breast and ovarian cancer by empowering them to live proactively at a young age.
Total amount raised on Classy: $1,583,353
Impact: Thanks to a community of online fundraisers, Bright Pink has educated 11,000+ individuals through their BrightUp® Educational Workshop, 39,000+ through Assess Your Risk and 900+ medical professionals through their Emerging Medical Professional Program on breast and ovarian health, cancer risk, early detection and prevention.
In 2014 alone, we saw our greatest educational impact to date – reaching exponentially more women with life-saving breast and ovarian health education. We are now more poised, than ever before, to create systemic change that will truly alter the breast and ovarian health landscape for generations to come.
– Lindsay Avner, Bright Pink Founder and CEO
Donate Now
---
#8: The Malala Fund
Mission: Working to break the cycle of poverty, while empowering girls through education.
Total amount raised on Classy: $1,386,087
Impact: Malala Yousafzai's story and perseverance continues to be an inspiration for the 66 million girls all over the world who do not have access to education. In 2014, Malala became the youngest recipient of a Noble Peace Prize, solidifying her role as an international education advocate.
Donate Now
---
#9: Love146
Mission: Working to end child trafficking and exploitation, while providing effective thoughtful solutions.
Total amount raised on Classy: $1,302,520
Impact: In 2014, Love146 served over 5,000 youth in the U.S. with education to prevent exploitation, and opened their fourth location serving survivors of child trafficking.
Donate Now
---
#10: The Pablove Foundation
Mission: Investing in underfunded, cutting-edge childhood cancer research.
Total amount raised on Classy: $1,157,935
Impact: From the very beginning, peer-to-peer fundraising has provided the Pablove Foundation with the crucial support needed to invest in underfunded, cutting-edge cancer research. In 2014, $300,000 in donations funded Childhood Cancer Research Grants allowing scientists to search for safer, more effective treatment options, and for a better understanding of how childhood cancers behave.
It has been an action-packed year for Pablove. Not only did we reach a milestone of nearly $1 million awarded through our Childhood Cancer Research Grants, but we also expanded our photography program, Pablove Shutterbugs, to 12 new cities nationwide!"
–Jo Ann Thrailkill, Co-Founder and President/CEO
Donate Now
---
#11: Liberty in North Korea
Mission
: Helping North Korean refugees reach freedom.
Total amount raised on Classy: $1,103,757
Impact: North Korea is one of the greatest challenges facing humanity today. Liberty in North Korea works with the North Korean people to accelerate change from the bottom up. Since 2010, Liberty in North Korea has rescued over 285 North Korean refugees using a 3,000 mile long modern-day underground railroad stretching across China and into Southeast Asia.

In 2014, 100% of the money raised by over 1,100 fundraisers has been used to rescue 85 North Korean refugees (and counting!)
– Andrew Quan, Donor Impact Manager
Donate Now
---
#12: Vs. Cancer Foundation
Mission
: Investing in game changing research initiatives to find a cure for childhood cancer.
Total amount raised on Classy: $1,097,651
Impact: Over the past year, the Vs. Cancer Foundation has played an instrumental role in the battle against childhood cancer. They have directly impacted 40,617 children in over 20 different hospitals nationwide by improving day to day hospital conditions, all while investing in game changing research initiatives to find a cure.
Vs. Cancer's fundraising goal has been to simply give the platform to athletes to impact others- and Classy has allowed that to happen, resulting in thousands of athletes at all ages embracing the idea that they can and will change outcomes for children with cancer."
– Chase Jones, Founder of Vs. Cancer
Donate Now
---
#13: National Breast Cancer Foundation
Mission
: Providing early detection services to those who need it most.
Total amount raised on Classy: $1,028,485
Impact: Breast cancer affects over 12% of all women in the United States and with no known cure, early diagnosis is critical. Last year, the National Breast Cancer Foundation provided over 100K life-saving early detection and diagnostic services, such as high-quality mammograms and clinical breast exams, to women in need.
Donate Now
---
#14: Life Teen
Mission: Leading teens closer to Christ.
Total amount raised on Classy: $918,857
Impact: To date, Life Teen is being implemented in 1,646 parishes in 31 countries around the world. Their movement continues to grow with 100,000+ combined teens and adults who have attended a Life Teen event or interacted with the organization in some way.
Donate Now
---
#15: Bob Woodruff Foundation
Mission: Ensuring injured veterans and their families are thriving long after they return home.
Total amount raised on Classy: $875,548
Impact: The Bob Woodruff Foundation serves post-9/11 injured service members, veterans and their families by navigating a maze of more than 40,000 nonprofits serving veterans to find, fund, and shape innovative programs.

Donate Now
---
#16: Junior State of America (JSA)
Mission: Helping high school students become active, informed citizens.
Total amount raised on Classy: $794,625
Impact: The Junior State of America (JSA) is the nation's largest student-run organization. By giving students the tools and safe, non-partisan environment to discover and discuss the causes they care about, JSA raises the level of public discourse and develops students' self-confidence and public speaking skills. Each year, the Junior State serves more than 10,000 high school students nationwide.
Donate Now
---
#17: Shining Hope for Communities (SHOFCO)
Mission
: Laying the foundation for a better future in urban slum communities.
Total Raised on Classy: $695,769
Impact: In 2014, SHOFCO launched the Mathare School for Girls in Nairobi welcoming 80 students in its pioneering class. In the slum community Kibera, SHOFCO kicked off a clinic and clean water initiative among other services attached to the school. Additionally, they've increased access to their clean water capacity and grew their economic empowerment programs to 80 savings and loans groups.
Donate Now
---
#18: World Ventures Foundation
Mission: Giving back to communities in need, close to home and around the world, through sustainable economic and environmental solutions.
Total amount raised on Classy: $642,892
Impact: WorldVentures Foundation partners with local nonprofits across the globe, who understand the real challenges impacting children in their communities. A few of their global projects include, DreamCourts in the United States at Boys & Girls Clubs, Orphanage support in Thailand, Water Filters for Disaster Recovery areas and much more!
Donate Now
---
#19: Northwestern University Dance Marathon
Mission
: Working to create a tangible change in the Midwest region for chronically ill children and their families.
Total amount raised on Classy: $619,018
Impact: Northwestern University Dance Marathon is one of the largest student-run philanthropies in the nation. Since its founding in 1975, Northwestern students have raised more than $15 million for more than thirty different beneficiaries.
First year fundraising with Classy for the Dance Marathon, we saw a $100,000 increase in the amount of money raised compared to the year before.
Donate Now
---
#20: Be the Difference Foundation
Mission: Improving treatment options for women battling ovarian cancer.
Total amount raised on Classy: $595,221
Impact: 1 in 72 women will be diagnosed with ovarian cancer in her lifetime. To help change these statistics, the Be the Difference Foundation raised over $1,00,000 in 2014 to fund life-saving ovarian cancer research.
Donate Now
---
#21: Semper Fi Fund
Mission: Providing immediate financial assistance and lifetime support to post 9/11 wounded, critically ill and injured members of all branches of the U.S. armed forces and their families.
Total amount raised on Classy: $555,307
Impact: Since the establishment of the Semper Fi Fund in 2004, the organization has issued more than 82,000 grants, totaling more than $99 million in assistance to over 13,000 of America's heroes and their families.
Donate Now
---
#22: The Free Wheel Foundation
Mission: Giving injured members of the military and the families of injured and fallen warriors hope and assistance as they travel the road to recovery.
Total amount raised on Classy: $495,925
Impact: The Free Wheel Foundation's signature event, The Ride430 Challenge is a four-day, 430 mile challenge in which cyclists complete as many as 100 miles a day. On average, a bike rider raises $6,6000 for the cause, more than any event of its kind. In their first 6 years, the Ride 430 Challenge raised more than $1.3 million dollars, all of which supplements the military assistance provided by The Free Wheel Foundation.
Donate Now
---
#23: Blood:Water
Mission: Addressing the HIV/AIDS and water crises through strong partnerships with African grassroots organizations.
Total amount raised on Classy: $472,226
Impact: People in Africa spend 40 billion hours walking for water each year, including children under the age of 14. Water sources are far from clean and often shared with livestock from the community causing people to get sick. Blood:water is working to shorten that walk and to provide people with access to water that is actually clean.
Donate Now
---
#24: The Flatwater Foundation
Mission
: Providing those diagnosed with cancer, their families, and loved ones access to mental health therapy and family support.
Total amount raised on Classy: $464,194
Impact:
In 2014, The Flatwater Foundation has placed nearly 200 individuals and families into counseling and therapeutic care, while paying for 100% of the care. Support for those approved and placed into care is made possible by the campaigns running on Classy.org.
– Mark Garza, CEO, Flatwater Foundation
Donate Now
---
#25: Broadway Cares/Equity Fights AIDS
Mission: Calling on the talents and resources of the theater community and its fans to support people living with HIV/AIDS.
Total amount raised on Classy: $437,968
Impact On June 22, 2014, 170 of New York's most daring Broadway dancers took the stage for the 24th annual Broadway Bares, raising over $1.3 million benefiting organizations across the country providing treatment or services benefiting organizations in all 50 states that provide treatment and services to those affected by HIV/AIDS.
Donate Now
---
Ready to make the 2016 Top 25 List?
Join the Classy community and start fundraising today!
---
**Note: The transaction data for all 25 clients was pulled on October 1, 2014 and reflects the total amount of money raised on Classy's platform at that time.