How To Get Noticed In The Nonprofit Sector
Reading Time:
5
minutes
There are over 1 million nonprofits operating in the United States alone, with thousands of organizations working on similar problems. While this variety of viewpoints and contributors is helping to find the most effective solutions to huge problems, it can make it hard for any one organization to establish itself and stand out. Many new or simply underappreciated nonprofits face the question of how they can get noticed, not just by donors but by foundations and other organizations in their cause sector.
Needless to say, doing good work and bringing innovative solutions to a problem can attract attention and get you noticed. But that by itself won't guarantee you name recognition and widespread support. Any nonprofit can boost their visibility and presence in their community by clearly defining their purpose, creating a consistent visual brand, and engaging in the conversations and events that are moving your community forward.
Declaring Your Mission
You almost certainly have a mission statement at your organization. A mission statement is a prerequisite for any functional nonprofit. The problem is that mission statements tend to be longwinded and full of jargon. The first step to making your organization stick in peoples' minds is to be able to present your mission in a way people will remember.
When someone asks what your organization does, can you answer in one sentence? You don't necessarily have to formally changing your mission statement, but marketing and development staff need to have simple language to explain what you do.
Some nonprofits are able to convey their mission simply by their name (Food for the Poor), but many require a little more explanation, such as Splash who tells webiste visitors, "We clean water for kids."
You don't have to give a full rundown of everything you do. The point is simply to associate the name of your organization with your cause.
If you haven't heard of them, you might not know what the organization Love146 does. But if you were given the full explanation—they train workers to care for children who have experienced sex trafficking, operate rehabilitation centers in Asia for these children, teach classes in the United States to prevent sexual exploitation, and perform research on the prevention or human trafficking and the reintegration of victims—you would probably forget most of the details. You are more likely to remember that "Love146 works to end child trafficking and exploitation."
Transparency and detailed program information are an important part of building trust and passion among donors, but to get noticed, you have to start by explaining what you do in a way people can understand.
So ask yourself, "What does my organization do?" Better yet, ask the rest of your staff and volunteers and see how well your organization can introduce itself.
Create a Visible Brand
Another important step to becoming a recognizable part of the nonprofit sector is to create a consistent visual brand. In other words, people should associate your logo with your cause. Think about some of the biggest nonprofit organizations, the first ones that come to mind for a given cause.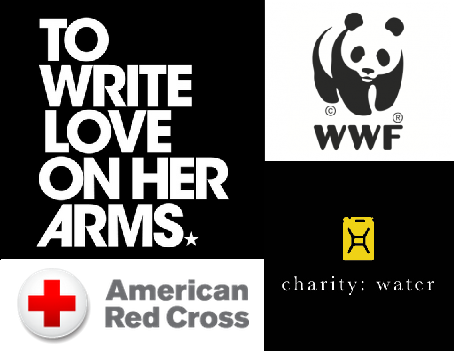 These organization span different causes and audiences, but what they all have in common is their simple, but strong, branding. This starts with design. Most of these recognizable brands only use two colors, one of which is usually black or white.
While you may be tempted to make your logo vibrant and multifaceted, you run the same risk as trying to explain every element of your work in one sentence: your statement will be cluttered. If your goal is to get noticed and increase brand awareness, you want simple and striking, not colorful and complicated, imagery.
A strong visual brand isn't just having a good logo, you have to use it wisely, too. Nonprofits like charity: water and To Write Love On Her Arms make sure that every outlet of their organization carries their logo, from web pages to social media to T-shirts.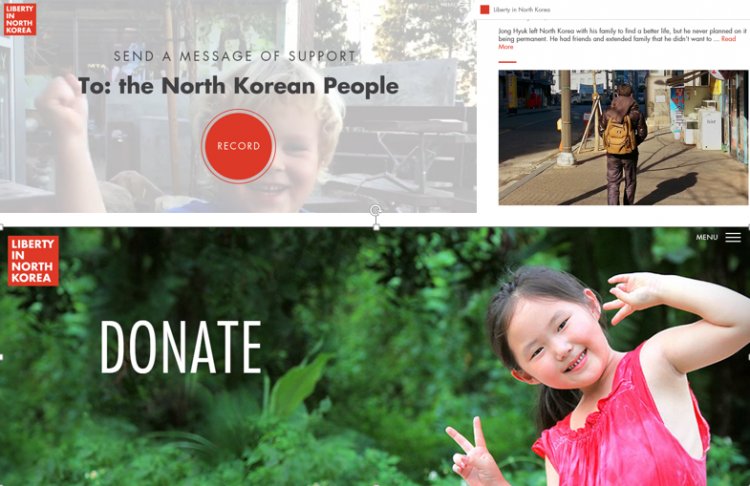 You want your logo to be as recognizable as your name. This doesn't mean your logo should show up 23 times on the same page, though. Your brand should be consistently included, but not necessarily the focus.
Join the Conversation
Once you can present your work clearly and succinctly and you have a strong visual brand, a huge step you can take to get noticed is to simply speak up. It sounds easy, but making yourself heard and seen can actually take a lot of effort. There are some small ways you can get started, though.
Social media is a great place to connect with donors and other organizations. Tweet chats are regularly-scheduled online conversations in which people discuss particular topics. By tuning in even once a month and offering your take on the questions asked, you begin to establish your nonprofit in the conversation. This is also a chance to ask your own questions of other participating nonprofits.
LinkedIn is another popular platform to discuss development and other topics in the social sector. Get started by joining some industry groups like Development and Fundraising or Nonprofit PRO.
Community events and nonprofit conferences are also good opportunities to gain exposure and brand awareness. Whether it's a cause-related event in your city or a conference for nonprofit professionals, you can make new connections with donors, volunteers, and other organizations.
There's a reason political candidates crisscross the country and shake lots of hands. Personally meeting someone creates a stronger connection than sending an email or seeing an advertisement. The time and money spent to actually attend events like these can be a wise investment, if you know who you want to meet or what you want to learn.
It's disheartening when you feel like your work and ideas are going unnoticed, but if you have something to contribute, that is ample reason to put your organization out there and be seen. If you want to increase brand awareness and engagement, spend some time clarifying your mission, evaluating your visual brand, and forging connections in the nonprofit sector.
---
Plan a Charity Run/Walk Like a Pro
Subscribe to the Classy Blog
Get the latest fundraising tips, trends, and ideas in your inbox.
Thank you for subscribing
You signed up for emails from Classy
The email you subscribed is