Get Ready for Giving Tuesday: 6 Features to Look for in a Fundraising Platform
Reading Time:
6
minutes
It's hard to believe, but for-profit and nonprofit organizations alike have their eyes on the holiday horizon. The time is here to review your tools and better position yourself for a successful holiday season — starting with #GivingTuesday.
Now in its third year, #GivingTuesday, the national philanthropic event that juxtaposes the consumer hype of Black Friday, Small Business Saturday, and Cyber Monday, urges individuals to go above and beyond in giving back to the communities and causes they believe in.
December is a notably important time for any social enterprise. Network for Good reported that 31 percent of total 2014 giving on their platform occurred in the month of December. Specifically, online giving for #GivingTuesday grew 63 percent in 2014, evidence of the holiday's gain in traction across the globe and the day's dependence on online engagement. In fact, of total donations on #GivingTuesday for 2014, an estimated 76 percent was raised online.
If you don't already have an online platform, it's time to make the transition. As we know, the best way to spread cheer is by singing loud for all to hear—an online fundraising platform allows for just that. It's the easiest way to accept donations and to encourage supporters to share news of their gift online to all of their connections.
Whether you're considering an online platform for the first time, or looking to make a switch to better fit your needs, here are the key features that will contribute to the success of not only your #GivingTuesday campaign, but every other campaign you run.
1. Peer-to-Peer Fundraising Capabilities to Maximize Donations
Organizations are increasingly implementing peer-to-peer fundraising to drive donations, and it can help bolster your overall #GivingTuesday campaign by empowering supporters to fundraise on your behalf. According to a recent Network for Good report, dollars raised through peer-to-peer fundraising increased by 70 percent from 2013 to 2014. With an online fundraising platform, you can expand your network of supporters and harness your campaign's full potential. With the average fundraising page raising $568 from seven donors*, it's clear peer-to-peer fundraising is a great tool to maximize donations. Bonus: It helps bring in new donors, too.
Your fundraising platform should let you give supporters the option to fundraise for your #GivingTuesday campaign. National Geographic, for example, displays a clear call to action to "start a campaign" on their Build a Boma campaign microsite.
2. Ease of Use
An uncluttered donation page can make all the difference in holding a prospective donor's attention and ensuring they complete the donation process. Links to additional content can serve as distracting exit options for your donor and may prevent them from following through with their intention to donate. Choose an online fundraising platform that ensures a clean look and feel and keeps the process to as few steps as possible.
Additionally, choose a platform whose backend is straightforward and easy to navigate. You should be able to set up a campaign quickly after you've planned out your details.
How you promote and distribute your online campaign is also key to its success. Your donors should be able to tell their networks about their donation, thereby increasing your campaign's reach. Social share buttons should be integrated so that your donors can spread the word right after they hit the donate button. Without a way to immediately share, the potential for the content being distributed dramatically decreases.
The 2013 Millennial Impact Report disclosed that among millennials who interact with nonprofits on social media, "three-quarters of respondents liked, retweeted, or shared posts, video, or images." This key insight illustrates the importance of allowing two-way interactions between you and your donors.
Here, you see Heifer International's clear call to action to share gifts on social media outlets such as Facebook, Twitter, and Pinterest. Notice Heifer International also gives the donor the option to send an eCard. This is a great way to personalize the donation process as donors can send specific messages to friends when they donate in honor of someone.

4. Branded Donation Pages
When it comes to donations and sharing personal information, donors want to feel safe. When they access your online donation page, they should know that their gift is going to the campaign and organization they intend. That's why branded donation pages are so important. In fact, branded donation pages receive seven times the number of donations a generic page collects. Generic pages run the risk of causing a potential donor to leave, out of confusion or perhaps hesitation. By branding a page so it appears to be an original piece of your website, you provide a valuable sense of security and eliminate any confusion about leaving your website.
A platform with customizable donation pages would be a great resource for your #GivingTuesday campaign as you could create a page branded specifically for #GivingTuesday.
Here, National Geographic's branded donation page includes their organization and campaign logos, as well as a campaign-specific image and color scheme. Even matching the color of the buttons to their campaign is a small decision that can make all the difference.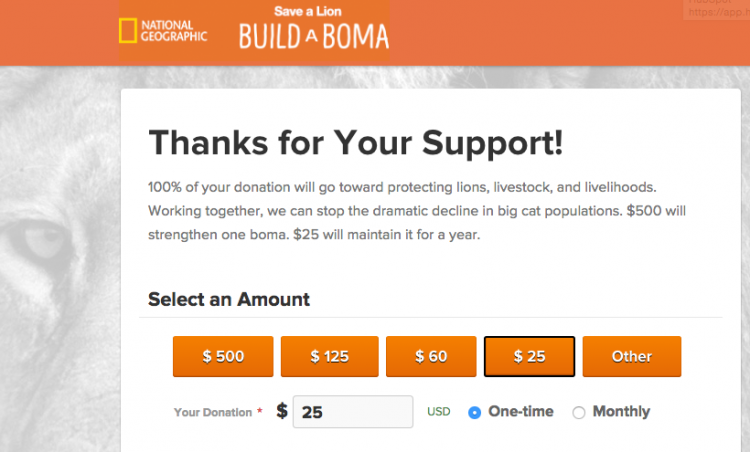 5. A Mobile Responsive Interface
Providing donors with a mobile-friendly giving experience is a must now that 66 percent of emails are initially opened on a mobile device. The holidays are one of the busiest times of the year and if the majority of your #GivingTuesday audience is interacting with your appeal through email and through shared content via social media apps, you need to have a mobile responsive interface.
The Millennial Impact Report found that millennials' "biggest pet peeves are trying to navigate non-mobile-friendly sites, finding some information missing or not available, and not being able to find the details they want." This sentiment is certainly not limited to Generation Y.
An online fundraising platform with mobile responsive donation pages provides donors with a clear, simple way to take action no matter where they are when they open your appeal.
National Geographic's responsive donation page adjusts to fit any screen size. This provides a mobile user with a positive streamlined experience that allows them to donate right from their smartphone or tablet device.
6. Analytical Capabilities
An online fundraising platform with analytical capabilities and measurement tools will help you track each campaign's performance. This in turn allows you to identify opportunities for growth and improvement moving forward.
Look for a platform that is able to generate reports on your organization as a whole and also for individual initiatives. Specifically, look for the ability to create reports on donors to your campaigns or on fundraisers in your peer-to-peer campaigns. You should be able to filter, sort, and export these reports. This information will help you manage your campaigns and communicate your progress to supporters, thereby increasing your transparency.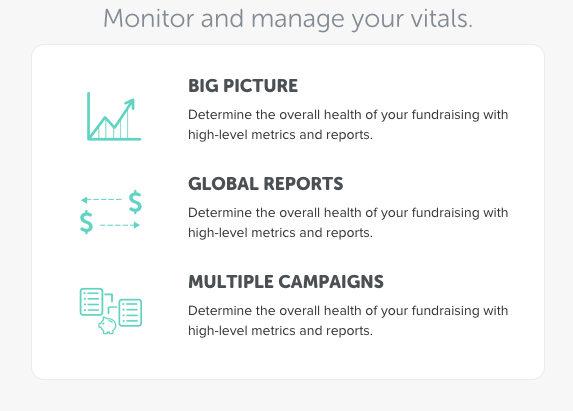 Making your Decision
Before making your choice, think about your organization's objectives and let them drive your decision. Certain features will undoubtedly be more important to you than others depending on your initiatives. No matter if you're making a switch or just getting started, an online platform should make you feel empowered to expand your reach in creative ways and raise funds for your cause like never before.
Giving Tuesday on Classy
Download more information on holiday fundraising below and be sure to share your Giving Tuesday campaigns with us on Twitter @Classy. If your nonprofit is just getting started, create your first Giving Tuesday campaign on Classy for free.
*Classy Data

---
Photo Credit: Heifer International , Flickr user JD Hancock , Build a Boma
Visit the Giving Tuesday Resource Center
Subscribe to the Classy Blog
Get the latest fundraising tips, trends, and ideas in your inbox.
Thank you for subscribing
You signed up for emails from Classy
The email you subscribed is