Every year, StayClassy gives its staff time off for the holidays. Our office closes a few days before Christmas until January 2nd. Most of our staff is working from home during that period (or coming in to work anyway), but every so often we get to sneak out for a little vacation. I hate taking time off during the year because things are happening so fast around here, I always feel like I'm missing something. That's why this year, when I was invited by a friend to join the JDC on a little vacation to India that just happened to coincide with our holiday break, I jumped at the chance.
If you're not familiar, the JDC (commonly referred to as "The Joint") stands for the The American Jewish Joint Distribution Committee. It's a large global nonprofit organization that provides financial assistance and various other forms of aid to at-risk communities and individuals all over the world. It played a large role in helping European Jews escape the Nazis during World War II, and today helps thousands of people throughout the world regardless of race, religion, or political affiliation.
I'd never heard of the JDC before my friend mentioned the opportunity to go on the trip, but since I love traveling, especially internationally, I decided right away to join them. I'm a firm believer that if you show up for something with an open mind, good things are bound to happen, and it was with that thought that I soon found myself at the airport at 3:30 a.m. meeting 17 new friends for our journey to India.
Arriving in India
Everyone I spoke with about India before going commented on the smell. Apparently, some sort of odor is supposed to overwhelm you the minute you step off the plane. I found this not to be the case. I also noticed a surprising lack of luggage when I got to baggage claim. As it turned out, the luggage for maybe ¼ of the passengers on our flight failed to make the trip – mine and about 4 of my trip-mates included. Welcome to India.
All told, I spent less than 10 days in India, 4 of them in the same t-shirt, jeans, and hoodie that I'd carried with me on the flight. But these things happen when you travel internationally, and I for one was glad to get the inconveniences out of the way early. The rest of the trip went off without a hitch.
Impressions of Mumbai
With 1.2 billion people in India, and 20 million in Mumbai alone, the term "crowded" seems somehow inadequate. Put simply, people are everywhere – lots of them. With that kind of population density, comes an almost unfathomable challenge of civic infrastructure. As far as social safety nets go – there are none. From a government aid perspective, it's pretty much every man for himself, and the result is a level of inequality that can shock anyone growing up in western society.
One example of this is the 27-story skyscraper / personal residence owned by the richest man in India. It's one of the tallest buildings in Mumbai, and is meant to house only 5 permanent residents (plus parking, and many, many servants). By contrast, the Mumbai slums stretch for miles, seemingly in all directions, with families of 4 or 5 piled into aluminum shacks. The worst slum in America would be referred to there as "lower-middle class."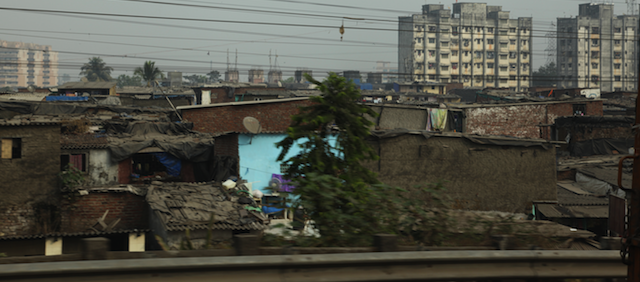 There are currently less than 4,500 Jews living in India. That's less than 0.0004% of the total population, and many of them are becoming increasingly secular, moving to other countries, or simply getting old.

It's a community that's been in India for nearly 2,000 years, and might not have a real presence there that much longer. While the JDC provides aid regardless of political or religious affiliation, much of their work in India revolves around supporting this very fragile, very proud community, and it was a pretty cool experience to spend a little time with them.
Visiting The JDC in India
As a nonprofit organization, I found the JDC extremely interesting. They operate in a way that's very different from many other organizations out there. They're very large and very old, and have an annual operating budget larger than that of a few small countries (sorry Micronesia, Palau, and Tuvalu). Yet, very few people have heard of them. They maintain an anonymity and operational freedom that's an enormous boon to their effectiveness as an organization.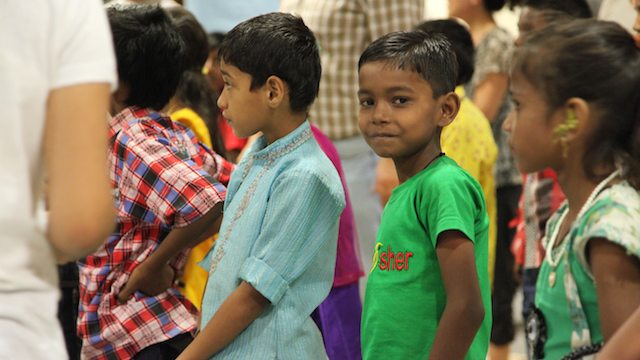 One of the programs we got to see first-hand is called The Gabriel Project. The Gabriel Project brings children from the Mumbai slums together, and exposes them to things they wouldn't normally have a chance to experience. They teach them to read, draw, and dance to popular Bollywood songs. Sometimes, when a group like ours comes through, they get to meet and interact with people from other countries. Admittedly, there was a pretty big language barrier between our group and theirs, but it was amazing to see such big smiles, and energy on the faces of kids living in such profound poverty.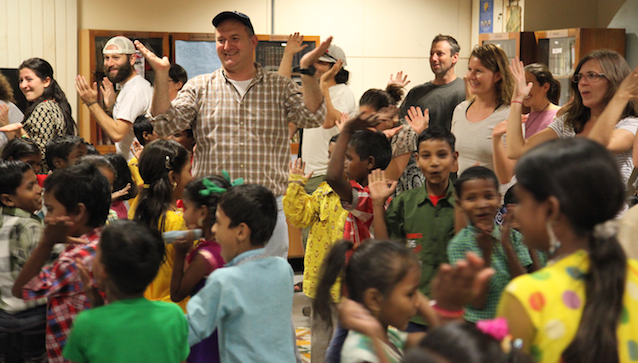 We also had the opportunity to visit an eldercare facility called Bayati. Admittedly, I don't spend a lot of time in retirement homes here in the U.S., but I have never seen a group of seniors more energetic or engaged. One resident, a former newspaper cartoonist named George, shared some of his drawings with us.

Another, named Elizabeth, insisted on feeding members of our group by hand. Apparently, it's tradition in India for grandmothers to feed their grandkids in this fashion, so we took it as a sign of affection. I figured it was unfair for us to be the only ones eating, and made sure she was just as well-fed as we were.
Coming Home
Much to the relief of my companions, I eventually did get myself a clean change of clothes. I took over 1,000 photos, some of which are embedded in this article, and made some amazing new friends from San Diego, Mumbai, and New York. The team here at StayClassy does try to do a little fundraising, volunteering, and board service when we can. For the most part though, our experience of philanthropy is 2nd hand. We do our best to help the people who are out there helping others, but rarely get to provide direct assistance ourselves.
This was a unique experience for me to get out there and see the work a nonprofit organization is doing on the ground, and engage with some of their beneficiaries directly. It was a pretty amazing time that, now more than a month removed, I'm continuously find new perspectives and new insights in. 10 days of jetlag aside, the trip left me energized and excited to redouble our efforts in the coming year – and I can't wait to go on another trip!

---
Ready to Raise More Money Online?