After much preparation and daylong campaigning, your #GivingTuesday efforts have paid off. You've experienced a bump in revenue, acquired some new donors, and spread awareness about your organization and its programs. Overall, it was an awesome day!
So…what happens now?
#GivingTuesday might be over, but you don't want all of the excitement and momentum to die out. So how do you wrap up your one-day campaign and keep supporters engaged until your next one? In this post, we go over how you can sustain donor engagement in the days following your #GivingTuesday campaign.
1. Blog All About It
Your nonprofit blog is an excellent marketing tool, so use it now to share information about your campaign and its results. Writing a blog post also gives you a valuable piece of content you can send out through other communication channels, like your social networks or email campaigns.
Start your blog post (or blog series) by thanking supporters for their involvement in your #GivingTuesday initiative. One way to express your appreciation is to spotlight supporters' social media activity around your campaign. Curate supporters' social media posts using your campaign hashtag, and highlight them on your blog post. Check out tools like Storify or Tagboard that pull messages from different social media sites into a neat and beautiful gallery.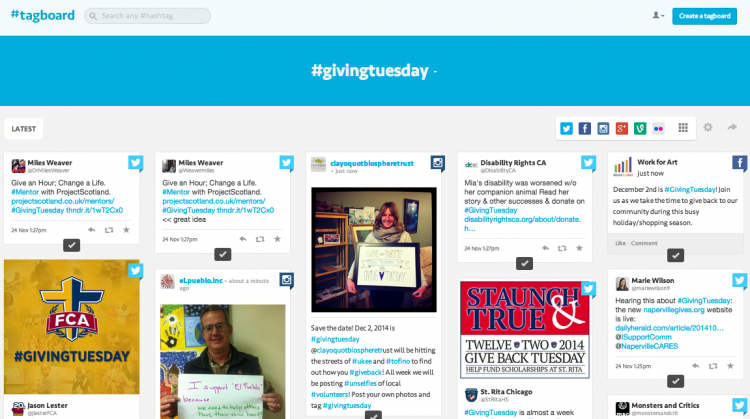 Your blog is also the perfect place to describe in depth the campaign's impact on your mission. In addition to announcing the event's results, explain how supporters' gifts will help your organization make significant strides toward its cause. How does the campaign's success factor into your organization's programs and overall mission? How will the support you received on #GivingTuesday set you up for success in 2015?
2. Cover Your Social Media Bases
Your entire #GivingTuesday was probably spent engaging supporters on social media, but now's not the time to stop. Because your social networks powered a great chunk of your campaign's engagement and reach, they are also some of the most important places to follow up.
Hopefully you've been diligent about thanking and responding to supporters' posts, retweets, and comments during #GivingTuesday. Most #GivingTuesday activity will have been on Twitter, so make sure you've acknowledged people's tweets by favoriting, retweeting, or directly replying to followers' messages. After #GivingTuesday, blast your social profiles with another genuine thank-you message. Announce how much was raised and emphasize how your community's support is powering your programs.
Tip: Amplify engagement by attaching visuals to your posts. One study found that tweets with images garnered 36% more clicks and 41% more retweets than texts without images.
Here are a few types of visuals you can whip up:
• An infographic summing up the results and impact of the campaign
• Thank you photos from staff members
• A thank you Vine or Instagram video recorded in the office
• Photos of the those who will be impacted by your funds
For instance, Born This Way Foundation, a nonprofit organization aiming to empower youth and build safer communities, tweeted an image of post-its with "thank you" written in many different languages, signed the BTWF Team. A small, personalized gesture such as this can be a meaningful way to connect with a large community.
Thank you for supporting us on #GivingTuesday, and for helping to make this a kinder, braver world. Xoxo #BTWF team pic.twitter.com/mwuOLtkf

— Born This Way (@BTWFoundation) November 28, 2012
3. Welcome New Donors
Chances are your #GivingTuesday campaign attracted its fair share of first-time donors to your organization. Because these donors might have given in the spirit of #GivingTuesday – and not necessarily because they are already passionate supporters of your cause – it's extremely important to tailor a follow-up campaign specifically for them. This is a healthy practice no matter what time of year; you want to build initial rapport and trust with first-time donors that will encourage them to deepen their relationship with your nonprofit, and eventually turn them into regular supporters.
Keeping this in mind, launch a 2-3 part welcome email series for these donors. It might look something like this:
First Email – Wednesday, December 3rd (Day after – that's today!)
• Thank the donor for their gift
• Share the results of your #GivingTuesday campaign
• Link to a blog post that details the people or work their donation impacted
• Thank the donor again
Second Email – Saturday, December 6th (3-4 days later):
• Share what your organization and its programs have been up to this year
• Offer more resources to help them learn about your cause and nonprofit (e.g. photos and videos from the field, blog posts, an impact report, etc.)
• Ask the donor to follow you on social media, or share a infograhpic or blog post with friends
Third Email – Tuesday, December 10th (1 week later):
• Ask the donor to opt into your monthly newsletter to keep up with your organization's work
If you don't have enough time to send all three emails before launching your next holiday campaign, collapse these into one or two emails to avoid annoying recipients. You can also use one of these emails as a kickoff to your holiday fundraising campaign. Include: A huge thank you, information about your cause and programs, and an ask to share your organization with friends or family.
Two key points here:
> You don't want to annoy new donors with too many points of communication, but you do want them to immediately feel a part of your fundraising community.
> You want to add new donors into your regular communication for the New Year
4. Follow Up With Regular Donors
While your email campaign for first-time donors focuses on educating them about your organization, your follow-up to regular donors (those who have donated more than once) should focus on appreciation and impact.
Send one or two emails to regular donors. Thank them for their #GivingTuesday donations, and then focus on what your organization has accomplished this past year. After receiving such valuable support from your community, you can even tease what your organization hopes to accomplish next year.
Focusing on your programs' impact will help transition your communications over to your year-end campaign. During this engagement period, your goal is to validate your organization and its work, so you remain top of mind when donors start considering which nonprofit will receive their year-end, tax-deductible gift.
Conclusion
Because #GivingTuesday falls right at the start of December, it can be tempting to simply move straight into your holiday campaign launch after the fact. While #GivingTuesday does kick off the holiday season, the importance of follow-up still applies to this one-day event. Thank supporters for their participation in your mini-campaign, and focus on donor engagement in the short time before your year-end communications begin. These efforts will help you sustain momentum and amplify your next campaign launch.
---
Turn New Donors Into Lifelong Supporters
---
Image Credit:
Flickr User ChrisGj6