Have Nonprofit Videos? Use Them to Increase Email Click-Through Rates
Send Clickable, Sharable, Watchable Emails
Have you checked your email today?
Have you checked it in the past hour?
Are you switching back and forth between this blog and your email inbox?
Email is now a vital part of our personal and professional lives. In fact 9 in 10 people check their email daily. The good news is most nonprofits already know the importance of communicating through email. The bad news is so does everyone else. Taking a cue from the words of Kanye West…
[pullquote3 align="center"] "What am I supposed to do now?
Man the game all messed up
How I'm supposed to stand out when everybody get dressed up?"
–Kanye West [/pullquote3]
How can you get donors to read your emails when the average subscriber gets 416 emails per month?
The key to getting a donor or fundraiser's attention may be to send them an email they don't have to read. In this post, we'll show you some compelling evidence that including videos in your emails could increase your engagement and we'll give you some tips on how to send emails people love to watch.
Why Video?
Emails with Videos Get Opened
A video hosting and analytics start up called Wistia found that their emails that included videos had a 300% click-through increase over their emails without video. In another case, a software company found that people spent 100% more time on their site when they posted a video.
Videos Get Shared
Of course when you send your email list a video, you want people to watch it, but it's even better if they invite others to watch it too. And visual content generally gets shared more than text. On Facebook for example, some research has found that videos get shared 12 times as often as links and text. Wistia also observed that shares on Twitter after an email delivery containing a video was 4 times higher than when the email didn't contain a video. So not only do videos seem to catch the recipient's attention, but your audience will multiply if your subscribers share your email or video.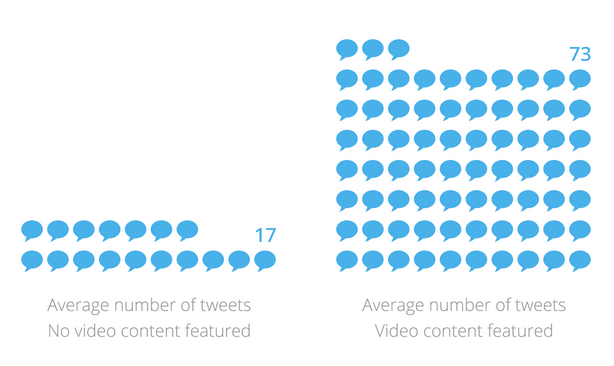 A Window to Your Cause
Including videos in your emails offers subscribers a different way to observe and appreciate your cause and the people behind it. Although writing out an impact story from your cause can certainly be effective in engaging and motivating donors, there is nothing quite like watching and listening to someone tell their own story. The Robin Hood, an organization fighting poverty in New York, is using video to allow site visitors to meet the people they are helping.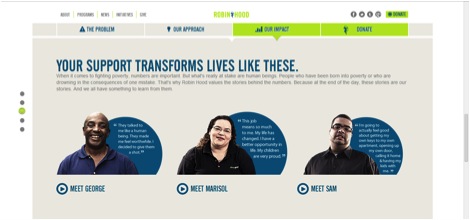 Tips for Including Videos in Your Emails Keep it Short & Sweet
Although videos can result in increased engagement, they fall prey to one of the same problems faced by written content: partial viewing. Wistia found that as videos got longer, the percent the viewers watched on average decreased. They suggest keeping your videos under 2 minutes. Remember, you're not sending a feature-length documentary, but just a short message to make a more personal connection with supporters.

Show Them the Next Step
Videos are not a guarantee, but rather a tool, to help you achieve your goal of securing donations and support from subscribers. After watching your video, your audience needs to know what they can do to help, so don't forget to add calls to action in your email and even embedded in the video. If you can, choose a CTA that relates to the message in the video. If your video is about your organization's efforts to vaccinate against Polio, include a CTA asking them to donate an amount that provides five children with the life-saving vaccine. The video can get the viewer's attention but a CTA can lead them to take action.
Use What You Have
Another great aspect of including videos in your emails is that it allows you to repurpose any videos you already have. While you certainly want to keep donors up-to-date on your activities, videos your organization has made in the past can spice up your emails, as long as the message and information is still relevant.
You can also use videos to catalyze supporters at different stages of the donor lifecycle. When you first make contact with a potential donor, you can send a video explaining what your programs do. After they have made their first donation, you can send an impact video to show how their gift has helped your program's constituents or as a simple "thank you" message.
Movies Are Still Magic
More than a century after its invention, moving pictures have expanded into one of our primary ways of communication. We spend hours watching TV, perusing YouTube, going to the movies, and recording important moments on Vine and Instagram. And even though more people than ever have access to view and create videos, they still attract our attention. Well-written appeals certainly haven't gone out of style – and definitely don't forget about them! – but adding a quality video to your emails can help get your message noticed and possibly set viewers on the path towards action for your cause.

---
Ready to Raise More Money Online?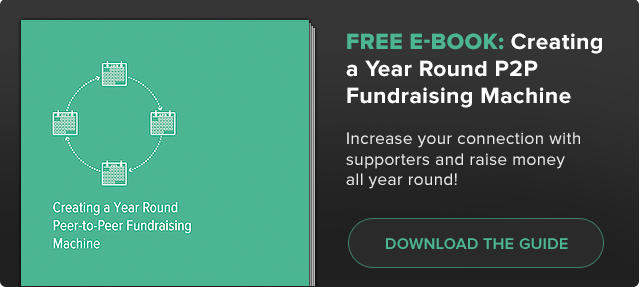 ---
Image Credit:
Isaac P Photography