How 5 Nonprofits are Rocking Social Media – and You Can Too
Reading Time:
5
minutes
About a year or so ago, I went to work in the kitchen and made a fantastic chicken tortilla soup thanks to one of my favorite bloggers Gina Homolka. I was having some friends over so I went the extra mile and put together a pretty fantastic dinner presentation, which in my mind was Instagram worthy.
I tagged Gina in the post as a courtesy, not thinking that she would actually take the time to see what I was up to on Friday night. However, to my surprise, she liked the photo and commented on it telling me that everything looked great!
For a solid hour, I was on cloud nine. A famous food blogger, at least in my world, had taken the time to recognize something I had made. One simple interaction reaffirmed why I loved her blog and it turned me into a life long supporter.
I was probably one of the first to pre-order her cookbook when it was released this fall.
Moral of the story? Social media can be used by big brands, businesses – you name it – to build relationships with supporters in an extremely positive way. Just think, one retweet or Facebook like can make someone's day.
When I think about nonprofits using social media to interact with their supporters, I immediately think of this story. Unlike a consumer brand or top blogger, nonprofits are focused on creating a positive impact. Their work would be unachievable if it weren't for the generosity of their donors.
Therefore, it's incredibly important for nonprofits to capitalize on every opportunity possible to engage and thank those who give to their cause and social media is one of the easiest places to do this.
Rather than rambling on about all the ways nonprofit's can use social channels to celebrate donors, I thought it would be more fun to show you!
Here are 5 nonprofits who are effectively using social media to celebrate and support their donors:
1. Liberty in North Korea
LiNK is always quick to celebrate the hard work of their supporters and to lend a helping hand. In this recent Facebook post, we can see that Charlie has raised enough money to help one North Korean refugee reach freedom. However, he hasn't quite hit his initial fundraising goal.
To infuse momentum back into Charlie's campaign, LiNK shares his story and peer-to-peer fundraising page on Facebook! It's evident that they have personally worked with him on the campaign, which demonstrates that LiNK values the initiatives of their donors.
This social act of kindness also has the potential to turn Charlie and his network of peers into life-long supporters. Just think, would you be more willing to donate to a nonprofit that actively works with its donors or with one that takes a more hands off approach?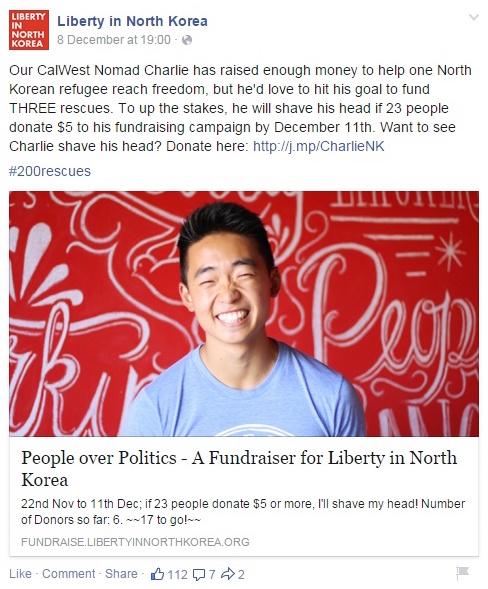 2. Barbells for Boobs
Barbells for Boobs partners with Crossfit gyms across the country inspiring local communities of athletes to come together and fundraise for the early detection of breast cancer. Barbells for Boobs' fundraising model is dependent on the hard work of their supporters and they rely on their social media presence to keep fundraisers engaged and motivated.
Having fun with new social trends, Barbells for Boobs calls out a fundraiser as their #MCM (Man Crush Monday). This type of social encouragement is an easy way to make a fundraisers day, while inadvertently encouraging them to fundraise more.
Barbells for Boobs also does a great job of monitoring what their supporters are saying on social media. A simple retweet, like the one below, is an incredibly easy way to interact with your supporters. It shows that you are listening to what your fundraisers are saying and that you are invested in their success!
3. Vs. Cancer
Vs. Cancer rallies high school and college baseball teams around the country to raise money for childhood cancer research. On top of fundraising for the cause, athletes and coaches alike shave their heads in honor of children battling cancer today.
Here, Vs. Cancer is celebrating the Nados Baseball team for their fundraising efforts, while calling out the head coaches' new hair cut. Simple gestures like this show appreciation and will likely encourage the Nados team to partner with Vs. Cancer again in the future.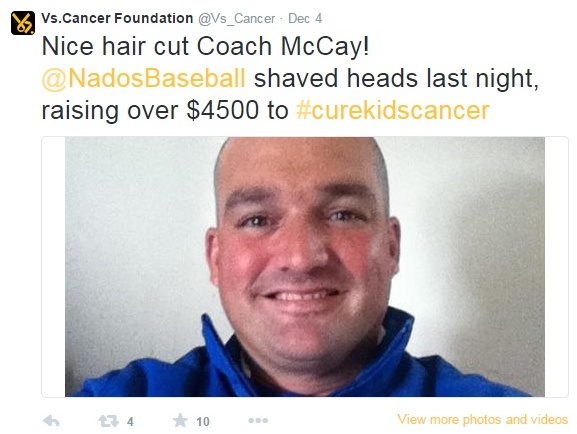 The Movember Foundation
The Movember Foundation took to social media to give thanks to all the Mo Bros and Mo Sistas after another epic Movember came to a close last month.
To thank all the fundraisers who made a commitment to changing the face of men's health, Movember's co-founder and CEO put together a note of appreciation, which was shared on a more professional network, LinkedIn. You might not think of LinkedIn as an ideal channel to give thanks, but you'd be surprised by its impact on supporters!

We already mentioned the goodwill associated with calling out your top fundraisers on social media, especially when you are actively running a campaign. Here, Movember shared the story of a fundraiser who had been fighting for a top spot on the leaderboard and for the coveted Mo Mo title.
Mo Bro Mike, like so many others, has been deeply impacted by cancer. This simple Facebook post linking to his full story, was an easy way to call out the dedication and hard work of a fundraiser. Posts like these also reinforce the fact that there are smaller communities of like individuals within the larger social media network. It's very likely that someone stumbled upon this post and instantly related to his story. Connections like these can translate into off-line conversations and donations to Mike's fundraising page.
5. Heifer International
Heifer International uses social media a little differently than the other nonprofits we discussed, but their strategy is worth calling out. Rather than celebrating the success of a single supporter, they focus on the collective impact their donors have made.
Their photo of the week showcases the Sarbu family in Romania, who received a water buffalo thanks to the generosity of Heifer's donors. Demonstrating impact in a tangible way like this can be incredibly powerful.
As we have discussed before, donors want to know that they are making a difference and that their money is being applied toward effective programs. There are a number of ways that you can share stories like these with your supporter base, but why not share them socially as well? This display of success and impact may just motivate someone new to give to your cause.
Takeaways
First and foremost, never underestimate the power of social!
No matter how trivial social engagement may seem, there is tremendous value in using social networks to communicate within an online community. Whether you are a nonprofit, local coffee shop, sports team, or a new chef to the blogging scene, social media can be used to build a community of followers who support what you do.
---
Every Campaign. Every Channel. #Winning
---
Image Credit:
Sean MacEntee
Subscribe to the Classy Blog
Get the latest fundraising tips, trends, and ideas in your inbox.
Thank you for subscribing
You signed up for emails from Classy