How to Enhance the Monthly Giving Experience
Reading Time:
4
minutes
This is the second installment in a three-part blog series on nonprofit monthly recurring revenue programs. Part 1 discussed the essential elements of any monthly giving program. This post will talk about how a positive user experience takes your program to the next level.
When it comes to the online giving experience, it's the subtle things that matter.
Those subtle things all add up to make the donor experience smooth sailing. And when it comes to donor conversion rates, especially in Monthly Recurring Revenue (MRR) programs, a positive donor experience makes all the difference.
Here's what to focus on to enhance the user experience for monthly donors:
Mobile
Ensure your MRR program page and donation page are mobile friendly. This means the design of your page is responsive to any size device, making it easy for anyone on the go to navigate your site. In fact, responsive design doubles donations.
Here's what Pencil of Promise's MRR page looks like on mobile.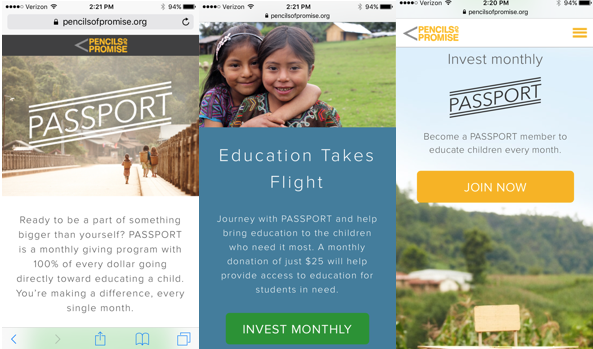 Multiple Calls to Action
If you take a look at some of the industry-leading nonprofits' MRR program pages (e.g., Liberty in North Korea, Pencils of Promise, charity: water), you'll notice multiple calls to action as you scroll down the program page. This is, of course, intentional. While each call to action is slightly different, they all seek to achieve the same end: a monthly donation. One call to action may appeal to a potential donor more than another and prompt them to start the donation process.
Here are some of the various calls to action on Liberty in North Korea's MRR page. In total, they have nine calls to action on their page.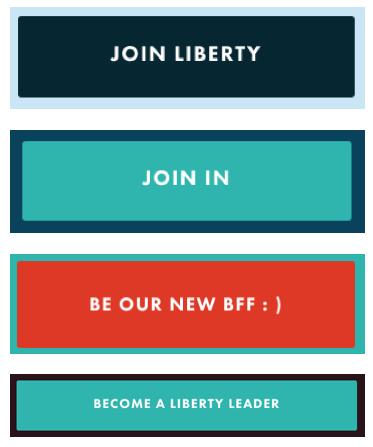 MRR on the Homepage
Be sure to feature your MRR program on the home page of your website as a giving option, side by side with one-time giving. Consider including two buttons side by side. One could read "Donate" and the other could read "Give Monthly."
Design Items
Cross Promotion of Giving
If donors find themselves on your MRR page and aren't ready to give monthly yet, you don't want to lose them as a donor. Any donation is better than no donation! Give them an out by linking to your one-time giving form. You can work to convert them to a monthly giver at a later time.
Here's an example from Pencils of Promise.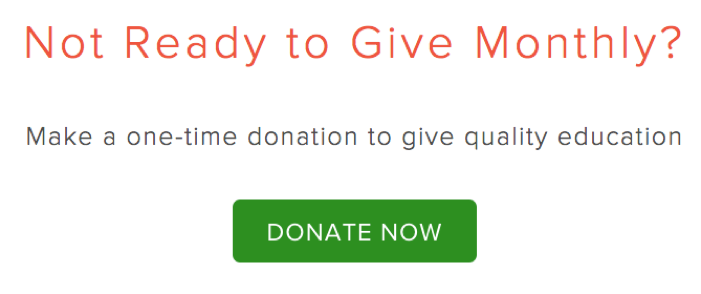 Hello Bar
A hello bar is typically a thin bar at the top of your website that acts as a quick greeting by directing the viewer's attention to a pressing fundraising campaign or, perhaps, a petition you'd like them to sign. The key is to keep it brief and include a link. Feature your MRR program in your hello bar to draw attention to it. You could say something like, "Have you heard about our Courage Club? Check it out."
Here, the orange bar at the top is an example from Action Against Hunger.
Post-Giving Social Share
Once donors have chosen to give monthly, encourage them to share their decision to support your cause on social media. You can do this with an automated email or pop up following the donation.
A/B Testing
The importance of testing can not be understated. If you have the technology to test copy, images, calls to action, and monthly giving levels, do it. Even slight increases in engagement can make a huge difference in donor conversions.
These subtle additions to your MRR page and donation checkout will streamline the giving process for the donor. Keep an eye out for the next blog in this series—we'll share tips on how to effectively grow and manage your MRR program.
Matt Scott is the Chief Development Officer at CauseMic, Classy's first Certified Strategic Partner in the nation. With Matt's leadership, CauseMic has raised more than $6 million for their nonprofit clients on the Classy platform. You can find him on Twitter at @Cause_Mic. For strategic help developing, launching, and managing your monthly recurring revenue program, check out CauseMic's services at CauseMic.com.
Join Us and Learn How to Grow Monthly Donations
Subscribe to the Classy Blog
Get the latest fundraising tips, trends, and ideas in your inbox.
Thank you for subscribing
You signed up for emails from Classy