For those of us living by the beach, it's fair to say surfing means quite a lot to our communities. For some, it's a culture; a way of life. And, for others, it's the intersection of a favorite sport and the pursuit of social good.
SurfAid is a nonprofit dedicated to improving the health, wellbeing, and self-reliance of people living in remote regions. The organization works with local government and community members to deliver clean water and sanitation projects; malaria prevention and treatment support; and local health care services on the islands where they work. And by encouraging local ownership of the projects, SurfAid ensures sustainable, positive change within the communities.
As their name suggests, the organization's programs are mobilized mainly by the surf community's support. The third annual SurfAid Cup Malibu that took place on September 6 – 7, called on socially conscious surfers to help raise money, and have fun doing it.
The surfing competition invited twelve teams to compete and raise funds to build stronger communities in Nias and the Mentawai Islands (off the coast of Sumatra), and Sumbawa and Sumba in Eastern Indonesia.
Developing Strong Relationships with Supporters
To enter the competition, each four-member team was asked to raise a minimum of $5,000 to be eligible for entry. Leading up to the weekend, the organization consistently reached out to fundraisers and encouraged them to reach their goal. They sent personalized, humorous emails, made phone calls, and even sent texts to keep supporters engaged.
According to Operations Manager Emily Taylor, this regular, personal contact was crucial to keeping excitement high. Its importance was reinforced when she finally met many of the fundraisers at the event. She says, "Many told me that those personal (and sometimes quite silly) emails broke up their day of boring work and would remind them to send out some emails of their own to fundraise."
With such positive feedback from supporters, Taylor intends to prioritize effective communication strategies for the organization's upcoming efforts. "For future fundraising events, more of my time will now be allocated to contacting fundraisers and developing that relationship," she says.
An Impressive Lineup of Events
The 2-day event was packed with multiple benefit sessions, the surf competition itself, and lots of participants in charitable spirits! The weekend kicked off with an indoor cycle ride, also attended by the event's celebrity participants. Afterwards, the SurfAid Cup competitors were invited to join the Expression Session. This was an exclusive opportunity to be the only ones in the water in more often than not crowded Malibu break, as well as practice for the competition the next day.
Other weekend events included a silent auction, raffle, and after-party to engage fundraisers and attendees. In addition to raising money, these events provided opportunities for supporters to mingle with pro surfers. That's right, professional athletes were on the roster of SurfAid Cup participants – a huge draw for surfing enthusiasts!
Heroes in the Water
Once fundraisers reached their goal and gained entry into the competition, each team got to choose a fifth team member from a lineup of surfing legends.
Fundraisers were stoked for the chance to surf alongside their heroes, but the pros themselves were extra excited to attend the event. They shared a direct connection to the cause: the money raised would go back to some of the communities of the surf spots they regularly visited on their trips abroad.
In regards to her excitement for the weekend, four-time ASP women's world champion Lisa Andersen said, "This event is special to me because it raises funds to help communities in the Mentawai Islands, where I just visited a couple of weeks ago to surf some of the best waves in the world. The format of this event is so much fun, and that's what surfing is all about."
Rosy Hodge, a former world championship tour surfer and ASP commentator, expressed similar sentiments. "We are so fortunate to be able to travel and enjoy this lifestyle," Hodge said. "And it's good to be aware of what SurfAid does and give back to communities we travel to."
At the end of the day though, every SurfAid Cup supporter became a champion for the cause. The organization ended up smashing its initial goal of $60,000, raising over $127,000!
Catering to the Community
A chief driver of the event's success was SurfAid's clear understanding of its community. From personalizing communications to leveraging industry influencers, the organization catered directly to the surf community's interests. As a result, a healthy mix of surfing, fundraising, and California sun has led to the betterment of people's lives in other communities!
---
Have an Idea for a Fundraising Campaign?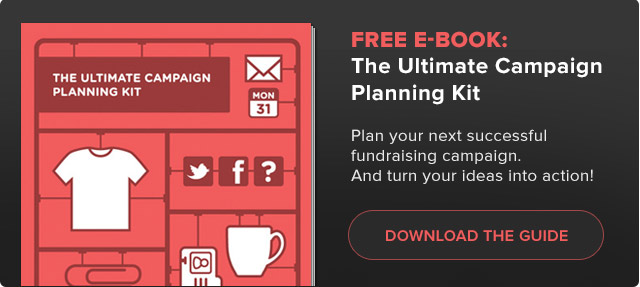 ---