How These 3 Nonprofit Partnerships Are Making An Impact
Reading Time:
4
minutes
Collaboration is a good thing. Whatever the project, combining strengths, resources, and insights can generate results greater than what either party could achieve alone.
The same idea applies to the nonprofit sector. When two organizations with similar missions and values come together, it can amplify the scope and intensity of their efforts. What results is the strength to make a greater difference in the world.
Here are three of our favorite nonprofit partnerships, along with a few insights into how they're advancing social good.
Nonprofit + Nonprofit
A nonprofit partnership can widen your network and, consequently, help you rally support. Such is the case with Possible Health and Watsi. Possible Health is a nonprofit organization that delivers high-quality, low-cost health care to impoverished communities worldwide. Since 2008, the organization has treated over 222,000 patients through its hospital, network of clinics, and community of health workers. Occasionally though, the organization meets patients whose medical needs require resources beyond those immediately available at the hospital. That's where Watsi comes in.
Watsi is a technology-based nonprofit that allows donors to directly fund healthcare for people around the world. Because Watsi crowdfunds every medical procedure, the innovative partnership between Possible Health and Watsi allows a global network of supporters to fund healthcare for individual patients.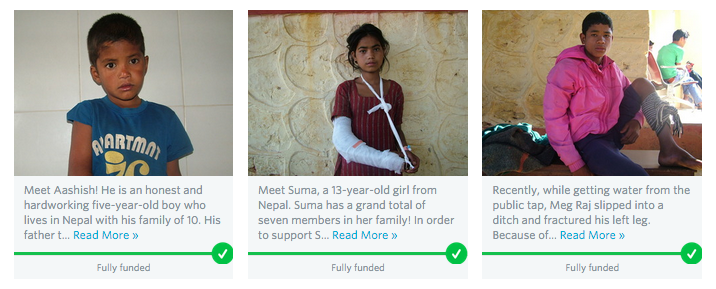 Through Watsi's platform, donors can see every patient's story and see the direct impact they can have on his or her life. The nonprofit partnership also ensures that Possible's patients can be treated cost-free, enabling them to access high-quality healthcare that they couldn't afford otherwise. Together these organizations are making healthcare a reality for underserved communities around the world.
Nonprofit + Data Analysis Company
It's no secret that technology has made it possible for nonprofits to increase their impact tremendously. A great demonstration of this fact is the partnership between Polaris and Palantir Technologies.
Polaris is an organization working to end human trafficking and modern-day slavery, both in the U.S. and abroad. One of its main services is the National Human Trafficking Resource Center hotline, a national 24-hour toll-free hotline that connects survivors to services and support. In addition to fielding calls, the organization tracks the data from incoming tips to garner insights about how and where trafficking occurs.
With the help of Palantir, a software company specializing in data analysis, Polaris is able to take their data collection and analysis to another level. Leveraging Palantir's data analysis tool allows the organization to detect patterns among calls, making it possible to better understand trafficking networks in order to dismantle them. This, in turn, has heightened the organization's ability to combat human trafficking.
Nonprofit + Foundation

Strategic nonprofit partnerships, such as those with other foundations, can give even the smallest nonprofits access to incredibly useful tools and resources. Take, for instance, the partnership between Vs. Cancer and the V Foundation for Cancer Research. Founded by a childhood cancer survivor in 2012, Vs. Cancer is a nonprofit committed to saving children's lives by empowering athletes and communities to support the cause. Half of the funds raised by the organization go toward local pediatric oncology programs, and the rest supports national cancer research efforts.
In a strategic move, the organization partnered with the V Foundation, which funds cancer research at prominent cancer centers across the country. The foundation's Scientific Advisory Committee, comprised of some of the nation's leading physicians and research scientists, assesses incoming grant proposals and recommends the research projects to be funded. As a partner, Vs. Cancer can now fund some of the grants recommended by the elite committee to help find a cure for pediatric cancer.
Though often overlooked, nonprofit partnerships are an excellent strategy to consider. They can help you boost your reach, resources, and ability to make a lasting change. Whether you reach out to a local foundation or another nonprofit with a similar mission, building relationships with potential partners can help your organization increase its impact.
P.S. If you want to learn more about how Vs. Cancer grew from a startup nonprofit into a million dollar organization, download our free webinar with Vs. Cancer CEO and Founder Chase Jones.
Subscribe to the Classy Blog
Get the latest fundraising tips, trends, and ideas in your inbox.
Thank you for subscribing
You signed up for emails from Classy
The email you subscribed is