Despite the connotation that direct mail marketing is a thing of the past, 70 percent of Americans view a letter post marked to their home address as a more personal form of communication than online messaging. While it's tempting to focus on more instantaneous and cost effective communication channels such as email and Facebook, direct mail fundraising letters often see significant returns and increase a donor's lifetime value.
The volume of mail we receive year-over-year has actually increased according to Eleventy Marketing Group, and no, it's not going straight to the recycling bin. The percentage of people who indicated they read their direct mail right away increased, too.
While it looks like direct mail is here to stay, it's true that its purpose has evolved and will likely continue to do so. Today, in the nonprofit space, direct mail can be an effective touch point for donors that prompts them to get more involved and further contribute to your cause.
When written with online integration in mind, direct mail can:
Create multiple touch points
Drive traffic to other channels
Build a personal relationship with donors
Increase the lifetime value of donors
Here's how:
Design and Write Direct Mail With Online Integration in Mind
Direct mail is a great tool to drive donors to connect with your organization through additional channels. According to Pursuant, the more interactions a donor has with your organization across multiple channels, the greater their lifetime value becomes. While mailing a check to your organization may no longer be the preferred method of donation, direct mail can still be highly effective when it's written with the goal of fueling the efforts of your other channels.
Use these common online practices to connect your direct mail to your online communities:
Branding
In order for your direct mail to be effective, recipients need to open it in the first place. A well branded envelope can help with that. Effective direct mail pieces actually have a lot in common with their more advanced alternative: email. Your email communications are an extension of your brand and your direct mail letters are an opportunity for branding as well. Each piece of mail should have a similar look and feel to the design of your website, emails, and social media pages.
Keep in mind that the outside of the email (the subject line) is just as important as the inside, and that the outside of a direct mail letter (the envelope) is no different. Add a short phrase to the outside that calls the reader to open the letter for a specific reason. To further increase open rates, incorporate your logo, an impactful image, and your organization's colors on the envelope itself. According to Pitney Bowes, people are 69 percent more likely to open your direct mail if you use color and graphics on the exterior.
Have a Hook
After they've opened your envelope, you need to grab their attention, and fast before your letter is thrown in the junk pile. Hook the reader into your letter by starting with a startling fact or statistic.
GuideStar writer Jeff Brooks suggests cutting your first sentence to be a more effective letter writer.
Almost everybody, including me, starts with a weak first sentence. Don't warm up. Start with action—whether that's telling a story, asking, or saying something nice about the donor." – Jeff Brooks
Dive right into what your letter is about and don't feel the need to start with background information.
Use Visuals and Digestible Presentation
Beware: many direct mail readers skim letters. Use visual elements, data rich information, and small blocks of text to prevent saturation. By presenting the information in digestible snippets, you'll have a higher chance of getting your message across.
Speaking of snippets, post script messages are the most read part of a direct mail letter after the headline and first sentence, according to CRM Trends. Save part of your message or call to action for your post script to give it prime real estate in your letter.
Follow Through
A great way to connect your direct mail initiative with your online marketing efforts is to start a story in your direct mail that you follow up with online. Continue a story online in your social pages, on your website, or both. Direct readers to these sources to read more and find out what happens next.
This may start with the personal story of someone or something connected to your cause. Let's say your organization works to protect an endangered species. Rather than simply using a photo of an animal in need in your letter, tell that animal's individual story. Introduce the animal, the environment it lives in, and why it needs help. By providing detail, readers will be more apt to connect to your cause. To connect this with your online initiatives, introduce the story you started in your letter and finish it online. Provide updates on the current status of that person, place, or thing that you piqued readers' interest about.
Add Value to Your Relationships With Donors
An exclusive offer is another way to provide recipients with value in your letter, apart from an opportunity to connect with your organization.
Exclusives can be many things in a fundraising letter, but try to offer perks that specifically drive online engagement. Examples include:
Opportunity to become a member through your website
Receive special news and updates via an email newsletter
eCalendar updates for volunteer opportunities
Promotions for upcoming fundraising events (online registration required)
Test, and Track What Works
While A/B testing has more recently become standard practice in the online world, hypothesis testing was born decades before the Internet. The A/B practices you follow for your website, advertisements, and communications can also be applied to the offline world of direct mail.
After you send your direct mail, test and track what works in order to learn from your letters.
Your organization can test the effectiveness of certain copy and headlines with an A/B test. Create two pieces of direct mail that are identical except for the element you are testing. Distribute the two different pieces of mail to your sample populations to test how well the experiment performs compared to the control piece.
In order to assess how effective your mailings are, Nonprofit Easy recommends keeping track of:
Response rate
Returned to sender rate
Average amount of donation
ROI
Ask Readers to Join Your Online Communities With Direct Mail
Thirty-three percent of direct mail readers are going online to respond to pieces of direct mail, according to The World Tech Group. Present readers with a clear way to follow up. Ask readers to "donate online," "follow us on Facebook," or join you on other social media platforms.
By including copy that asks the reader to engage with your organization online, they are reminded of the different ways they can learn more about your organization. Even if they don't read your letter, simply the act of receiving something in the mail from your organization could be enough for them to look you up online and follow you on Facebook.
QR codes can also be a helpful strategy here and save valuable space on a letter or postcard. Readers can scan the square icons with their smart phones. After scanning, they are immediately directed to the intended webpage without having to manually enter a URL.
You can also embed traceable links in your direct mail, so that when a reader visits the specific link, you are able to see that the direct mail is what brought that person to your site. This will help to measure the impact of your direct mail strategies.
Beyond Online Integration
While all of your direct mail efforts should aspire to integrate with your online presence, it's important to note that there is a time and a place for the occasional truly offline message. A personal thank you is still an effective use of direct mail for your nonprofit organization. In this day and age, a handwritten note is an emblem of special care and a person's time and will undoubtedly stand out in the mailbox mix of advertisements and bills.
Sometimes the "little" things are the strategies that make the biggest difference when trying to make a donor feel special.
Though offline in the sense that a personal thank you does not link directly to your online efforts, this personal communication will still feed your online channels by developing the donor's positive impression of your organization as a whole.
Kindred Image Development Director Will Tober, sends a hand written note of thanks to monthly recurring givers who donate $25 and more.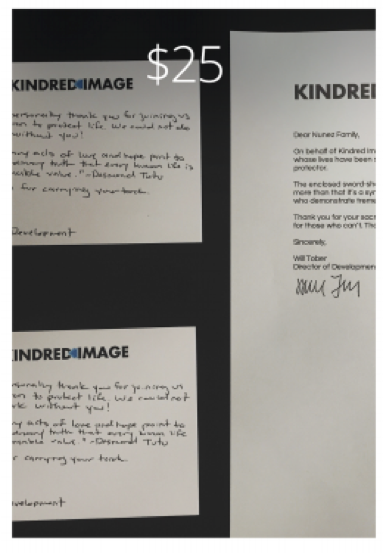 Direct mail is a great way to cut through email inbox clutter and reach donors in a personal way that prompts them to take further action online. When you design your direct mail to supplement your online strategy, you strengthen your entire ecosystem of donor communications and thereby your donor's lifetime value.
Your team's budget and bandwidth will determine how frequent your mailings are. Though, it's safe to think of mailing frequency effectiveness as following a bell curve (with credit card companies at two standard deviations to the right of the mean). Aim to keep your communications relevant and interesting and you will find a natural mailing cadence that makes the most sense to your organization.
---
An Effective Communication Strategy is Key to Fundraising Success
---