Inbound Marketing & Year-Round Fundraising: A Perfect Match?
Reading Time:
3
minutes
People share, read, and generally engage more with any type of content when it's surfaced through friends & people they know and trust.
---
This simple maxim is at the heart of a new(ish) form of marketing called "inbound" marketing.  The best way to understand inbound marketing is to contrast it with traditional "outbound" marketing. Instead of relying on old-school "interruptive" ways of getting your message out like direct mail, cold calling, or tv advertising, inbound marketing focuses on attracting people to your organization through the creation of compelling content.
By creating valuable and interesting content, and then distributing it through different web-based channels, you can attract people that are already interested in some aspect of what you're doing. You can also demonstrate authority, build trust and community, and improve your fundraising (more about that piece in a bit).
The basic insight that "inbound" marketing builds upon is simple; if you're providing something interesting, creative, emotional, impactful, remarkable, or innovative, people will find you.  They will seek you out, join your community, and support your programs because they relate to you and because they want to be part of something they feel is important. Ok, so all of this sounds great…but what does it mean in practice?
Well, the "practice" of inbound marketing really boils down to a few basic activities:
1. Creating remarkable and compelling content
Blog articles
White papers
Videos, podcasts etc.
2. Distributing that content through different web-based channels
Search engines
Social media platforms
E-mail marketing
3. Building larger followings on each channel
More newsletter subscribers
More social media followers
More search traffic
4. Providing calls to action that allow people consuming your content to convert into supporters
Subscribe to a newsletter
Donate
Fundraise
Volunteer, etc.
If that's still too abstract, here's a concrete example of what it might look like to acquire a new supporter through search:
Nonprofit writes blog article "Boston's Homelessness Problem: How You Can Help!"
Visitor searches on Google for "how to help with homelessness in Boston"
Visitor clicks on link to blog article and enjoys reading the content
Visitor subscribes to the nonprofit's online newsletter
Visitor continues reading blogs for several months
Visitor sees calls to action to "pledge birthday" within online newsletter and on blog articles
Visitor eventually converts by pledging to fundraise for his/her birthday
Visitor raises $600 bringing in 5 new donors for organization
---
And that's basically it! You use content to attract, nurture, and then convert website visitors into supporters!
We recently hosted a webinar with our friends at HubSpot (the folks who coined the term inbound marketing) and we explored ways that you can leverage inbound marketing techniques to power a year-round peer-to-peer fundraising program. As it turns out this combination can be extremely powerful. Here's a brief recap of some of the insights from the webinar:
1. The heart of your inbound marketing toolset is your blog.  It allows you to demonstrate authority and impact, and provide compelling content that can easily be distributed through your other marketing channels.
2. Facebook, Twitter, and other Social Networks have fantastic community-building opportunities, and are a great way to promote your blog content, website, and specific programs to even the most casual of observers.
3. Email Marketing.  Newsletters are great tools for keeping people informed, but consider leveraging some "marketing automation" tools to send targeted messages to supporters, and "nurture" them towards taking a larger part in your community.
4. Monetize your inbound channels by providing easy and powerful ways for community members to get involved, by donating, fundraising, volunteering, or attending an upcoming event.
5. Allow people to fundraise on their own terms any time of year by pledging their birthdays, endurance races, community events, etc.  Anything can make a great fundraiser.  All it takes is a little creativity!
Get the Full Webinar & Slides
There is certainly still room for more traditional (time-bound) fundraising campaigns.  In fact, the two styles create their own synergy, working hand-in-hand to make each more effective than either would be on its own.  The beauty of providing the year-round option is that it allows people to fundraise and build community with minimal hands-on support from your organization, freeing you up to be creative, evaluate success factors, and focus your energy on the supporters in your community that reveal themselves to be the most dedicated.

---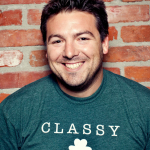 By Mike Spear
Director of Platform Growth
@classy_mike
The Nonprofit Digital Marketing Checklist
Subscribe to the Classy Blog
Get the latest fundraising tips, trends, and ideas in your inbox.
Thank you for subscribing
You signed up for emails from Classy