If a picture is worth a thousand words, then your nonprofit's Instagram account is a storytelling goldmine. Since 2010, Instagram has been one of the fastest-growing and highly engaged social media platforms. According to BrandWatch, the social network boasts:
400 million active users, doubling from 2013 to 2015
Over 40 billion photos posted to date and around 3.5 billion likes daily
60 percent of active users each day, only second to Facebook for the most engaged daily users
90 percent of users who are 35 or younger, making it a millennial-heavy platform
Instagram has made a name for itself—not just as a place to post pictures, but as a crucial platform for businesses to share their product, company culture, and stories. Nonprofits, especially, can leverage Instagram to share their mission, advocate for support, solicit donations, and show impact using one of the most visceral and powerful mediums possible: visual media.
Below are 25 Instagram tips for both beginners and seasoned experts to step up their game.
1. Make Your Profile a "Business Profile"
There are many perks to registering your account as a "business profile" on Instagram, including the ability to add your "type of business category." List yourself as a nonprofit so when someone comes across your profile, they'll know right away that you have a social mission. You have the option to also include your address, contact email, and phone number.
When you make your profile a business page, you gain access to insights like impressions, engagement, and reach on all of your posts. Social Media Examiner lays out great tips for how to set up and analyze your new business profile.
2. Upload Instagram Stories
A recently added feature modeled after Snapchat's "stories," Instagram Stories allows you to upload fun snapshots of your organization without the fear of over-posting.
According to Instagram, "You can share as much as you want throughout the day—with as much creativity as you want. You can bring your story to life in new ways with text and drawing tools. The photos and videos will disappear after 24 hours and won't appear on your profile grid or in feed."
3. Toggle Between Your Personal Account and Business Account
As of 2016, Instagram allows you to switch seamlessly between multiple Instagram handles without having to continually log in and log out all the time. To add another handle into the mix, click the cog wheel in the upper righthand corner of your profile page. Then scroll to the bottom of the dropdown, click the "Add Account" button, and input information.
To toggle between accounts, start on your profile page and click the respective handle at the top of your screen.
4. Always Place a Link in Your Bio
As a top Instagram tip, you should get creative with the links you place in your bio section. If you have blog content or are launching a new fundraising campaign, add a link directing viewers to your site.
You might even consider using a bit.ly tracking link to analyze traffic from your Instagram profile.
In your photo captions, you can also direct readers to click the "link in bio" to donate or support your cause.
5. Follow the Instagram Blog
This is the easiest way to stay up-to-date on all of Instagram's new features and best practices. You can even access the Instagram blog directly from your phone app. Start on your profile page and click the cog wheel in the upper righthand corner. Then scroll to the "About" section and click the subsection "Blog."
6. Invite Facebook Friends to Follow Your Page
Instagram is owned by Facebook so there is a lot of overlap with what's possible between the two platforms. If you are an admin of your nonprofit's Facebook page, you can log into the Instagram app and invite your Facebook friends to follow your Instagram page. This is a great way to generate more Instagram followers.
Start at your profile page and click the cog wheel in the upper righthand corner. Under the "Follow People" section, click the option to "Invite Facebook Friends."
7. Make Sure Your Account Is Public
This one seems obvious, but it can get easily overlooked. Make sure your nonprofit supporters can easily follow your account when they land on your page. To check up on this, start at your profile page and click the cog wheel in the upper right-hand corner, scroll to the section called "Account," and then make sure the "Private Account" option is turned off.
8. Post Both Photo and Video Content
According to Social Times, Instagram's photos get 36 percent more likes than its videos, but videos gain more comments than photos. Back in early April 2016, Instagram changed their rules so that videos can range up to 60 seconds.
9. Turn on Push Notifications on at Least One Phone
If you may have multiple people logging into your nonprofit's Instagram account, it might not be necessary to have everyone turn on push notifications. However, it is a good idea to have at least one person turn them on just in case an important notice comes up and needs to be addressed right away.
10. Minimize Your Cellular Data Use on the App
This Instagram tip can help you or your staffer save some money. The person who's in charge of Instagram at your nonprofit is likely logging into the account multiple times a day to post and engage users, and they may very well be using their own personal cellular data to do so. Tip off your teammate that they can minimize the app's data usage by turning on the "Use Less Data" feature.
To do so, start at your profile page and click the cog wheel in the upper right-hand corner, scroll to the "Settings" section, and turn on the "Cellular Data Use" option.
11. Browse Your Likes
If you want a record of the content you've liked recently, this easy tip will help you find that info. Start at your profile page and click the cog wheel in the upper righthand corner, scroll to the section "Account" and click "Posts You've Liked." Use this information to track interactions with your supporters; just as you want your audience to engage with your content, so must you do the same to build trust and support them back.
12. See What Your Followers Are Liking
Keep tabs on what your followers like so you can inform your ongoing content strategy. Click the heart icon at the bottom right part of your screen, then select the "Following" option at the top left corner.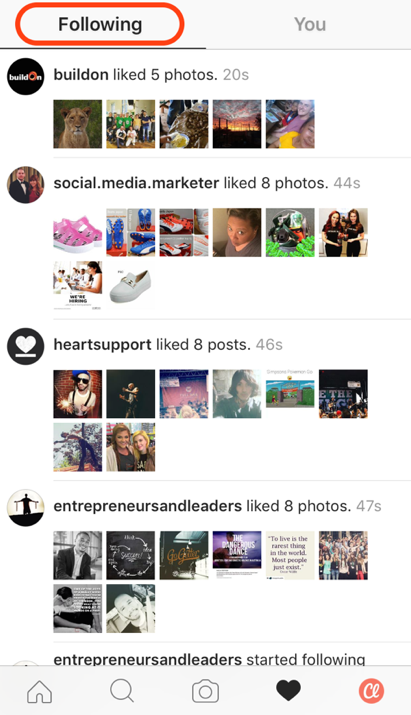 13. Schedule Posts Ahead of Time (As Best You Can)
When you schedule out Instagram posts ahead of time, you can save precious time that you can use to engage with your supporters instead. Instagram's API doesn't allow you to schedule out automated posts, but some products can help make this happen. At Classy, we use Hootsuite to schedule out Instagram posts.
Use Hootsuite's desktop software to write your copy, select your image, and get the post all ready to go. Hootsuite then prompts you to download their phone app. When you schedule your post on the desktop site, you'll get a notification reminder on your phone to post. Hootsuite directly copies the caption you already wrote to your phone clipboard, saves the image into your phone album, and directs you to open up Instagram. From there, you just have to select the image, choose a filter, and then paste in the caption.
14. Use the Ultimate Hashtag Caption Hack
Hashtags are a huge part of the game on Instagram. But if you don't want to display your hashtags in your caption, use the following caption trick to "hide" them:
Open your notepad on your phone
Type out five periods, each on a separate line
On the sixth line, type out all of the hashtags for your photo
Copy all of this text
Paste this text into a comment on your photo and post
Refresh the photo
The comment will have "shrunk," forcing readers to click it in order to see your hashtags.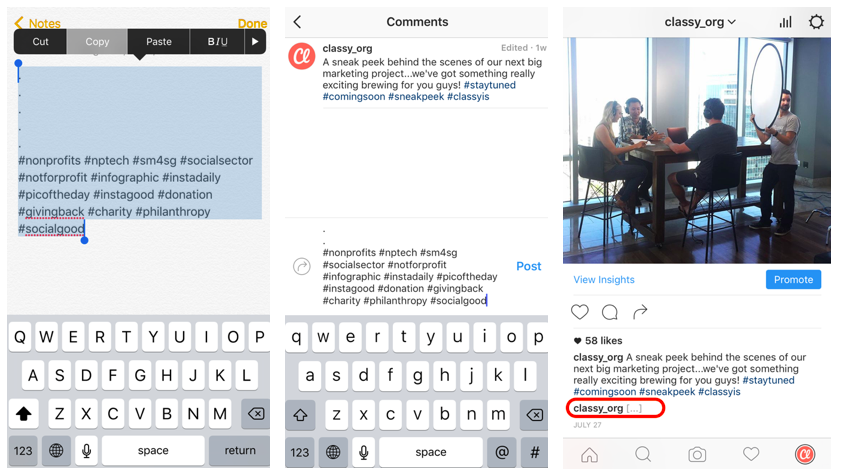 15. Use Tag Handles in the Caption AND the Photo Itself
To boost your posts' exposure, the rule is to over-tag rather than under-tag. If you are posting a picture of other people or organizations, make sure to @tag their handles in the caption and the photo itself. Tagging their handle in the caption will notify the organization, but tagging them in the photo itself will let the photo live on the "tagged photo" section of their profile, enabling all of their photos to see.
Imagine posting a photo of your volunteers: if you tag them in both the caption and photo, then you could add exponentially more views.
16. Use the Most Relevant Hashtags
Use the search feature on Instagram to check which hashtag iterations are the most used. For example, the hashtag #outfitoftheday has 10.2 million uses, but its acronym #OOTD has 87.4 million uses. In this case, if you wanted greater odds of people seeing your post or wanted to use the generally most relevant hashtag, then you should go with #OOTD.
On the flip side, if you wanted to use a hashtag will pull up fewer total posts so you would have a better chance of standing out, then you could use the search feature to determine a hashtag with fewer usage. Doing a little quick research on your hashtags can make a big difference.
17. For Anything Other Than Posting, Use the Desktop Site
Instagram's website now allows you to comment on posts, see overall engagement, and view both your feed and your profile page. The only thing it does not allow you to do is post photos.
If you're at work and simply want to check on your account, use Instagram.com instead of pulling out your phone to log in multiple times a day.
18. Ask Supporters to Turn on Their Post Notifications
If a user turns on a particular account's post notifications, it means that they will receive a direct push notice every time that account posts something. Consider posting a photo that asks followers to turn on notifications for your profile to increase engagement.
Do this only once in a while to avoid barraging your followers, and frame your ask as an invitation to stay updated. For example, you could say, "If you want to stay up-to-date and never miss a single fundraising event, make sure you turn on our post notifications."
You might also want to turn on notifications for other accounts you'd like to keep tabs on, whether it is an influencer you admire or another organization. This would ensure you never miss content from which to draw inspiration.
19. Change Your Tagged Photos to "Add Manually"
When another account tags your handle on their photo, you will get a notification. However, you might miss an important notice like this among other notifications for comment and likes.
To solve for this, turn on the "manual" approval option to approve photos you are tagged in. This will give you a special notification for approval when an account tags you in a photo. To turn this on, begin on your profile page and click the furthest right icon just below your bio and above your photos. Then click the "…" icon in the upper right-hand corner, click "Tagging Options," and click "Add Manually."
20. Reorder and Delete Your Filters
Did you know you can reorder your filters so that your favorite ones appear first? Once you land on the filter page of your post, scroll left through the filter options until you hit and click the "Manage" tile. Uncheck filters you want to delete, and click and drag your remaining filters to reorder them.
21. Add Instagram to Your Website Social Icons
It is a best practice to put social media follow icons on your nonprofit's website. Instagram is a big enough social platform now that it deserves a place alongside the other big three (Facebook, Twitter, LinkedIn) on your website.
Check out how Classy's website highlights these networks, including the new Instagram icon. Instagram recently changed their logo, so make sure to use the correct image.
22. Test Out Squares and Rectangles
The typical Instagram photo is 1080px by 1080px, but as of August 2015, the platform changed its rules so that you can now post a landscape image. Make sure to test out your photos to see which looks better before posting. It might also be worth tracking which shapes garner more engagement.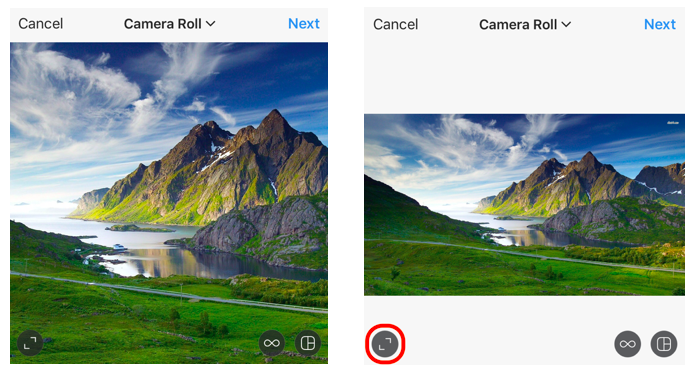 23. Test to Find the Best Time to Post
There is some conflicting data when it comes to general best posting times, from HubSpot claiming Monday to Thursdays at any time except 3 to 4 p.m., to Latergramme claiming it's 5 p.m. on Wednesdays.
Our best advice? Try it out and see which times are most effective for your own audience, referring to the insights Instagram now provides for business profiles. You can see insights on individual posts by clicking on the photo and clicking "View Insights." Or, for more holistic stats about your profile, click the bar graph icon in the upper right corner of your profile page.
When posting, ask yourself, would I see this right now if I followed this account? For example, as a personal Instagram user, I usually don't log on until 7 to 9 PM after work hours. Keep your audience in mind when posting.
24. Instagram Ads
Use Instagram ads to promote your upcoming event or fundraiser. These ads look more like regular photos in a user's feed than on perhaps any other platform, so this Instagram tip is worth trying out if you can put some money behind your social media efforts.
Since Instagram is owned by Facebook, you can run Instagram ads in the same place as your Facebook ads. Go through your Facebook "Ads Manager," create an ad, follow instructions until you hit the the "Ad Set" page, scroll down to "Placement," and make sure to check the Instagram option.
Another way to run Instagram ads is through the phone app itself. Click on the photo you want to use, then click the blue promote button. Note that in order to use the phone app for ads, your account must be changed to business profile (see Instagram tip #1 on this list).
25. Boomerang
This one is fun. A new Instagram trend, Boomerang videos are not quite like normal videos. They are movies played forward and backward on loop. Use this Instagram-created app to mix up the type of content you post.
Fun fact: Classy's most liked Instagram post to-date is a Boomerang.
Instagram may have built itself up through niche industries like food or fashion, but it has become a platform any brand can benefit from. Success on the platform, however, means more than just posting attractive visuals. To make Instagram a beneficial effort for your nonprofit, you need to carve out time dedicated to curating content and must constantly be up-to-date on new features or functions. There is no doubt that images evoke emotion in a unique way compared to words alone, so use the Instagram tips in this article to help tell your story in ways other social media channels cannot.