---
Fact: Holidays are an important time for fundraising.
Fact: Working on a holiday campaign doesn't end on January 1.
Fact: Proper donor appreciation should be on your checklist as an imperative to making 2014 a success.
---
People associate the New Year with self-reflection, and they will expect to hear about your organization's accomplishments over the last year and know exactly how their donation contributed to that success. If a friend helped you achieve a personal goal, you wouldn't forget to thank them. Although donors make your mission their own by donating, thanking donors for their trust and support is nonnegotiable.  Here are a few creative ways to say "thank you," and improve your relationship with donors.
1. Hand Write It
We are hurtling so fast into the online vortex that the pen and paper are quickly becoming a lost art form. But when it comes to making someone feel special, the handwritten note trumps the onscreen email. Hands Across The Sea, a nonprofit that donates books and educational materials to Caribbean schools, sends their donors handwritten letters from students once a year.
In at least one case, a supporter doubled his donation after receiving these adorable cards. Writing a thank-you letter to your donors – or having beneficiaries pen their personal thanks – can go a long way in showing your gratitude and having supporters feel intimately connected to your organization.
2. Film It
There are countless ways you can use video to thank donors, and countless new mobile apps like Vine and Instagram to help you make one. These apps have made it easier than ever to make creative, beautiful videos and share them with others. Also, apps like Flipagram or Statigram allow you to instantly create video slideshows – like one saying thank you and recapping your year – right from your Instagram photo feed. This is a super easy, quick way to tell donors "thank you" and show them all the great work you did throughout the year. Check out this blog post from Statigram on how to create a "year in review" slideshow.
However, if you have a bit more video savvy (and a budget for it…) try incorporating a "behind-the-scenes" approach to a thank you video. The Nature Conservancy filmed clips of staff based in different chapters all over the world, with volunteers saying thank-you in their own languages. They then compiled it into one thank-you video that displays the global impact of supporters' donations.
In another example, The Tilden Community Hospital Foundation created a video of children sharing their experiences and saying thank-you to donors to bring supporters face-to-face with the impact of their gifts.
3. Tweet It
If you've collected Twitter handles or other social network info through donation forms, take the time to shout out individuals for their support. You can even tack on a description of how their gift was used. This public and sharable thank-you will not only make your donors feel special, but it can also increase exposure for your charity. You can also include a link to the donor's peer-2-peer fundraising page as another way of appreciating them and showing your support for them.
4. Snap It
Photos effectively showcase your organization's work, but kick it up a notch by sending them directly to donors instead of just posting them to your blog. Digital photo apps like Postagram, Postino, and Touchnote turn your photos into postcards that can instantly be emailed to your donors or posted to Facebook. Take a snapshot of your on-the-ground efforts, or capture a behind-the-scenes look of your staff at work in the office – then send it in real-time to your supporters.
5. Gift It
While customized swag like t-shirts, mugs, and totes can be fine souvenirs, in the age of the Internet, there are a ton of great ways to give a digital gift and keep your supporters more intimately connected to your mission. Give donors a VIP newsletter subscription, which gives them access to special updates, videos or photos first or an eBook relating to the work you do – something that makes a donor feel special and better informed about your work. Depending on your gift, this can also be a way to keep your thank-you related to your cause and invite donors to expand their part in your mission.
There are a million ways to be creative when saying thank you to donors but letting your organization's personality and values shine through will be the most important way to show your supporters you genuinely appreciate their support!

---
Ready to Raise More Money Online?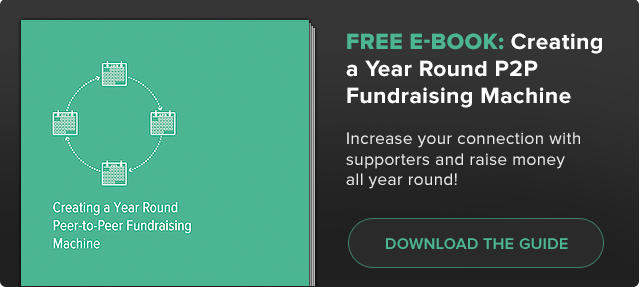 ---
Image Credit: psd