It's Official: Online Fundraising is for Every Nonprofit Organization
Reading Time:
5
minutes
Online fundraising barely needs an introduction as a top nonprofit fundraising trend. Between 2012 and 2013, total online giving grew 13.5%. This year, data shows that online giving rates were 8% higher for the first six months of 2014, compared to last year.
Fundraising leaders, marketing sources, and a ton of blogs are claiming it's more urgent than ever for nonprofits to elevate their digital presence to attract supporters. But is online fundraising really beneficial for all organizations? Some nonprofits question whether the trend is relevant to them, their audience, and their personal fundraising strategy. In this post, we will cover the bases and show how online fundraising is good for all organizations.
For All Sizes
Within the sector, the conventional wisdom has been that bigger organizations have a better chance to thrive online. It's time to lay that theory to rest. According to the 2013 Charitable Giving Report, small, medium, and large organizations all grew their online giving last year, and all surpassed 2012 growth levels.
Small organizations showed the greatest increase in online giving, growing 18.4% compared to 2012. Crowdfunding has leveled the playing field for nonprofits of all sizes and budgets. Organizations with particularly strong digital presence are ripe to leverage their online relationships, communications and storytelling skills to attract both attention and action from supporters.
Peer-to-peer fundraising platforms, in particular, allow nonprofits to draw in exponentially more money and supporters than direct donation appeals, regardless of an organization's size. Unlike direct mail or even direct online donation campaigning, peer-to-peer fundraising taps your supporters' networks, allowing your fundraising potential to expand far beyond your preexisting list of contacts. By turning donors into fundraisers nonprofits can raise more money, in less time and introduce many more people to their cause.
For example, the average active StayClassy fundraiser brings in $568 from 7 donors. 4 of those donors, on average, are new to the organization. Even nonprofits who are young or who have small numbers of active supporters can use peer-to-peer fundraising to exponentially increase donations and bring new supporters into the fold!
For All Ages
Because Millennials have grown up in a world infused with technology and social media, a strong online presence is key to engaging this younger, tech-savvy generation. Nearly half of this generation (47%) have donated online in the last two years. 17% have given online, and 47% anticipate they'll give online in the future. Younger donors want to engage with nonprofit organizations, and they want to go online to do so.
But online fundraising doesn't just connect supporters to a cause; it connects them to each other. A large part of peer-to-peer fundraising's appeal to younger supporters is that it enables them to personalize their stories and passions, while still being a part of a broader, unified community. Nonprofits can show supporters how their personal goals fuel a larger movement.
Barbells for Boobs, an organization raising money for breast cancer, for example, displays the faces and progress of their individual power fundraisers on their website's leadership board to create that sense of broader unity.
But don't assume Millennials are the only ones interested in (or capable of) fundraising online. All generations of supporters are able to fundraise just as effectively, and many are already flocking to the Internet to support the causes they care about.
According to an annual Dunham+Company/Campbell Rinker study, nearly 3 out of 5 donors age 66 and older are now making online donations. The percentage of online donors in this age group has shot up from 29% in 2010, to 59% in 2014. To give some perspective, 60% of donors aged 65 and younger give online.
Simply put, older donors are now just as likely to give online as younger donors.
It's a lot less about age and more about equipping supporters with the right tools. When supporters have the resources to be successful champions of your cause, they won't just give online – they will raise money for your cause too. For example, the organization Sing 4 America launched a successful campaign that activated 90% of their fundraising community, and the average fundraiser age was 56-years-old!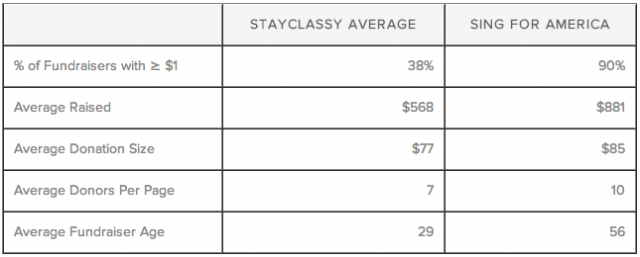 By offering the right encouragement, assistance and tools, you can mobilize supporters of all ages to fundraise for your nonprofit. Reach out to your community and learn what they need to get started. You can provide email templates, social media posts, and even pre-create their fundraising pages so they can hit the ground running. No matter your audience's age range, your supporters are capable of fundraising success; you just need to lend them a hand.
For All Sectors
Whatever your mission or cause, your for-purpose organization can benefit from online fundraising. According to the Giving USA report, all nonprofit subsectors saw year-over-year growth in online giving in 2013.
6 of 9 analyzed subsectors even saw double-digit growth. Most nonprofit subsectors witnessed a greater increase in online fundraising receipts compared with overall giving.
As we mentioned before, online giving rates were also up during the first half of 2014, compared to last year. This boost was caused by double-digit growth in healthcare, higher education, and arts and culture organizations.
These nonprofits have historically seen lower online giving results, but their skyrocketing numbers indicate they've shifted their focus onto this fundraising strategy – and are achieving success. Online fundraising can drive growth for your organization, no matter your industry or mission statement.
For Anytime
If your organization hasn't already ramped up online fundraising, right now would be a great time to start. The holiday season is just around the corner, and donors are exceptionally active during this short time.
More than a third of overall charitable giving happens in the last three months of the year, and around 30% of annual online gifts are made in December. Average gift sizes also increase by as much as 50% in the last few days of the year. Because online giving continues to tick upwards, taking your end-of-year fundraising strategy online will help you to maximize results during this critical window.
However, the cool thing about online fundraising is that you can start reaping its benefits even before the holiday season. In fact, it can help generate sustainable revenue all year long. By adopting a year-round fundraising program, you allow supporters to transform their birthdays, athletic goals, weddings, and any other life event into an occasion to support your cause.
Pencils for Promise, for example, suggests these different fundraiser ideas on their website:
Include a permanent fundraising option on your website to produce revenue month after month and offer supporters a more personalized engagement option. This also allows you to build a vibrant and active community around your cause that support the organization year-round.
Whatever the nature of your organization, you are a prime candidate for online fundraising. Online giving activates your community and keeps them regularly engaged with your cause and mission. Even if you've never tried online or peer-to-peer fundraising before, you can launch fundraising campaigns anytime to strengthen community and build revenue!
---
Have an Idea for a Fundraising Campaign?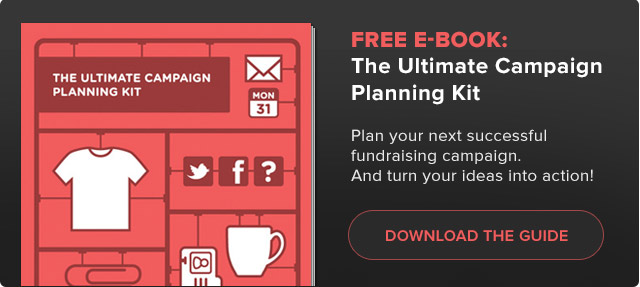 Subscribe to the Classy Blog
Get the latest fundraising tips, trends, and ideas in your inbox.
Thank you for subscribing
You signed up for emails from Classy