Learn How to Build an Unbreakable Circle of Trust with Fundraisers
Reading Time:
5
minutes
We talk a lot about building relationships with donors and fundraisers, and we should never forget that trust is a huge element in every relationship. With nonprofits under increasing scrutiny in regards to efficiency, impact, and transparency, you need a strong relationship with your fundraisers, who will be representing you to their friends and family.
We looked at some nonprofits that have forged strong, trusting relationship with their fundraisers to find some recurring themes you can apply to your own organization. As you read through these examples, think about how they could be emulated within your own organization.
Feature Your Fundraisers
One of the first things we noticed among these nonprofits is how they show off their fundraisers. Most organizations know the importance of emphasizing their impact and the people they help, but nonprofits with robust fundraising communities also need to put their fundraisers in the spotlight. Liberty in North Korea has pictures of some of their 1,500 fundraisers on their website and Movember also displays their fundraisers, supporters, and top Mo's.
These images don't just serve to recognize and thank existing fundraisers but to inspire and encourage potential supporters. In other words, it offers social proof for the organization. Social Proof refers to the fact that people often make choices based on what others are doing. Featuring real pictures of fundraisers shows your audience that people are already doing this successfully, so they can too.
Pencils of Promise even marketed The Next 100 campaign by highlighting the stories of the fundraisers who helped build schools in Asia, Africa, and Latin America. Because their goal was to recruit more fundraisers, PoP shared examples of regular people whose hard work had a huge impact. Featuring the pictures and stories of your existing fundraisers can be a great way to recruit and inspire new ones.
Building Small-Scale Communities
Although the Internet has become more and more important to our personal and professional lives, it is still difficult to build trust solely through long-distance, online exchanges. No matter how much we love our computers and smart phones, they don't replace face-to-face interactions. But how can people have these kinds of experiences with a nonprofit whose headquarters are 30, 100, or 3,000 miles away? How can you cultivate fundraisers when you only have a few staff members in one office?
The solution is to foster local chapters or communities of your organization. Building camaraderie at a smaller scale allows your fundraisers to get the support of their peers and local leaders. Liberty in North Korea doesn't have offices in every state, but they send staff and volunteers to high schools and colleges every year.
From there, students take the reins to form their own Rescue Teams. They receive the training from LiNK so that remote groups can work together even if the organization doesn't have permanent staff there. LiNK's national organization is always there to help, so fundraisers get the expertise of a large nonprofit with the personal connections of a small campus club.
In another example, Movember organizes fundraising campaigns and events by city, with networks all over the world. Fundraisers can meet other Mo Bros and learn about the cause and programs. A big part of Movember's sense of community is built on in-person events, like Gala Partés and 5K runs.
Creating local chapters and clubs is a great way to build trust among your fundraisers because they can interact and share ideas with other like-minded people. New fundraisers can learn from your best people, and local leaders give fundraisers a friendly face to associate with the organization.
Back and Forth
Would you trust someone who never talked to you? Someone who won't answer your phone calls or respond to emails?
Of course not.
Trust is a two-way street and open communication is essential in building a strong relationship with fundraisers.
A great way to create open conversation between a nonprofit and its fundraisers is through social media. Kiva does a great job of acknowledging and engaging with their supporters on Twitter. By simply retweeting and responding to a few people, Kiva shows they appreciate their followers and want their input. They know Kiva is paying attention.
Amazing, Gary! RT @gc00k Gotta love microfinance, have just ticked over the $1,000 mark with @Kiva, great way to help those that need it.

— Kiva (@Kiva) July 3, 2014
Any lenders have some tips for Misty? RT @TheBookRat SOMEONE HELP ME PICK A @Kiva LOAN. I don't even know where to begin. Haaalp!

— Kiva (@Kiva) June 26, 2014
Facebook is one of the most prevalent ways to keep a conversation going between supporters and an organization. Take this cool example from LiNK, who promoted a fundraiser's page to support his efforts.
These kinds of posts demonstrate that LiNK wants to help the donors and fundraisers that make their championing their cause possible. Raising money can be intimidating for new fundraisers, so make an effort to listen to them and respond in ways that show you care.
If you're going for something bigger, you could expand the give-and-take of conversation by offering fundraising rewards and incentives. buildOn, a nonprofit supporting education in the United States and abroad, uses a give-and-get model to motivate American students to raise tens of thousands of dollars.
If a group of students reaches their fundraising goal of $30,000, they can travel overseas to build a school in Nicaragua, Haiti, or other locations. This opportunity allows students to see for themselves the impact their work creates and also demonstrates that buildOn values its fundraisers and wants them to succeed.
Celebrate Excellence
Many nonprofits use a leaderboard to motivate and celebrate their fundraisers, like this one on the Barbells for Boobs home page.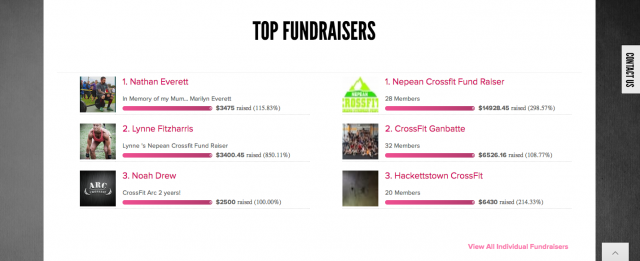 A leaderboard isn't just about bragging rights, though. By making your best fundraisers visible, you encourage new fundraisers to work toward this standard. If you can, interview these all-star supporters and find out how they went above and beyond. Then, write up a blog post that tells their story and incorporates helpful fundraising tips for other supporters.
Trust in Each Other
Establishing trust is a requirement to garner meaningful, long-lasting support from donors and fundraisers. You are trusting supporters to reach out to a wider audience and represent your cause and they are trusting that the money they raised will be put to good use.
Whether you are trying to launch your first peer-to-peer fundraising campaign or trying to grow an existing one, use these best practices to foster trust with supporters:
• Make your fundraisers visible on your website and social media. This shows you value them and provides social proof for your cause.
• Build community on a smaller scale with local chapters and clubs. This allows for more face-to-face interaction and builds stronger bonds between supporters, as well as with your organization's overall cause.
• Keep your lines of communication open, especially on social media. Answer questions, retweet compliments, and promotes individual fundraising pages.
• Use a leaderboard to encourage fundraisers to go the extra mile.
---
Image Credit:
Kristina Alexanderson
The Pocket Guide to Fundraising Psychology
Subscribe to the Classy Blog
Get the latest fundraising tips, trends, and ideas in your inbox.
Thank you for subscribing
You signed up for emails from Classy
The email you subscribed is