3 Steps to Making Social Fundraising More Social
In the age when social networking has become the number one activity on the web, social fundraising has also sustained a meteoric rise. It makes sense: the online fundraising trend allows users to reach wide networks of people through popular online channels, and the return is high. In 2013 alone, the number of acquired charitable donations by peer-to-peer fundraisers grew 50 percent.
Because social fundraising leverages your network and your network's networks, it enables you to quickly increase donations and expand your reach. But rather than simply enlarging your fundraising community, it's equally as important to strengthen it.
Make your social fundraising community more social by…
1. Integrating fundraisers into your vision
In order to rally fundraisers for your cause, first connect them to the heart of your organization. After all, fundraisers need to trust your organization and its vision before they choose to adopt its mission as their own. It's critical to be clear about where donations are going and how they are moving the needle for the organization. This transparency will help supporters feel more confident about the work their donations help fuel.
Clarity in both program spending and brand messaging also helps set the stage for your fundraiser's personal success. Resources from your organization on everything from program reporting to Facebook banners, equip fundraisers with the necessary knowledge to speak effectively about your organization's story, work and impact and maintain a consistent message on behalf of your cause.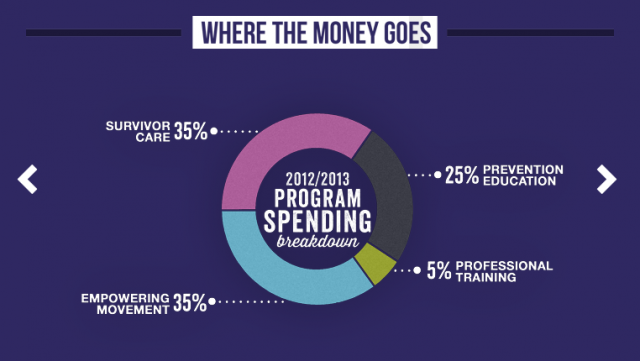 Your fundraisers are the ones reaching out to their network on your organization's behalf, so it's important they know how to express the main tenets of your mission and work. Empower them with the right resources and messaging that will inspire others to take up the cause. To further support them in communicating your organization's vision, you can:
Help them appropriately state your mission in their own words
Offer additional information about your programs and operations
Assist them in framing the ask
Help them communicate the next step friends and family can take
Provide resources for personal fundraising pages that align with your branding and story

Not only will these actions equip your fundraisers for success, but they will also deepen the personal connection and trust between your organization and its supporters.

2. Communalizing social fundraising efforts

While social fundraising enables people share their connection with your organization on public platforms, it's equally as important to help them share a connection with each other. People want to feel like they're part of a greater movement, especially one with a likelihood of success. It's up to your organization to create this sense of belonging for your fundraisers.

Show that you've built a larger peer-to-peer fundraising community that has rallied around shared core values. You can do this through real-time feeds of both your campaign's progress and top fundraisers. A progress feed for your campaign allows fundraisers to see how their individual goals actually impact the overarching goal of a larger community.

Displaying the fundraising community also provides social reinforcement of your organization and its mission. People are often more willing to get involved when they see others have already validated your cause – social proof can help move the needle on recruiting more supporters.

Barbells for Boobs lists top fundraisers on their website.

You can also build a sense of community by spotlighting your fundraisers on social media. Broadcasting individuals' personal fundraising efforts on a public forum will make the feeling of others' involvement more palpable to the rest of your community. More importantly, it creates an avenue for community members to applaud, support, and motivate each other as they move toward one goal.

You can tag fundraisers in a Facebok post, or if you've collected donors' Twitter handles through donation forms, you can tweet at them or retweet their fundraising asks. These simple social shares can go a long way in strengthening the feeling of community around your organization.

Let's help Carolyn & her friend! RT & help get @bubbawatson to their #StBaldricks event: http://t.co/VJboQBcO83 pic.twitter.com/a1g8iMSiPd

— St. Baldrick's (@StBaldricks) April 22, 2014

3. Providing Year-Round Opportunities for Personalization

Peer-to-peer fundraising lets supporters individualize the causes they support. On top of getting to choose how they want to connect their own values and stories to your organization, they have the ability to link the act of fundraising with events in their personal lives. These personalized fundraising options, in turn, give your organization an opportunity to build a successful year-round fundraising community.

Empowering supporters with year-round fundraising options not only evens out your revenue, but it also keeps fundraisers engaged outside of your own campaigns and events. And because supporters reach out to their own network, you can reach new donors each time and grow your fundraising community. Direct supporters to fundraising options they can act on independently, such as pledging a birthday or milestone. It's also important to highlight or remind supporters of these opportunities in a timely manner.

Take this example from LiNK. They send an early birthday email to donors and suggest they start a birthday campaign.

Approaching your supporters with these opportunities will not only empower them to choose how they help, but it will also make them feel valued as an integral part of your fundraising community.

Building a robust social fundraising community can dramatically impact your organization's growth and mission. Connect your supporters to the heart of your organization, and let them know they are part of a bigger movement that is making significant strides toward your cause. By having a dedicated group of people support your cause year-round, you can continuously reach new donors and create a diverse and regular revenue stream.

---

Ready to Raise More Money Online?




---


Image Credit: SumAll


---