The Stages of Disaster Relief in Nepal
Reading Time:
4
minutes
Did you donate to an organization in the wake of the Nepal earthquake and assume your work was done? Organizations need a quick infusion of capital to get people and supplies on the ground immediately after a natural disaster, but the heaviest lifting begins when the media attention wanes and donors move on.
Organizations, governments, and locals need to address damages quickly, with a plan for rebuilding, or else problems can worsen (see Haiti). And, in many cases, the places where natural events strike most disastrously are already riddled with tough social problems that we know require ongoing work. Although all and any on-the-ground organizations need cash in a disaster's immediate aftermath, grassroots organizations and those that work in the country more permanently need continued support to revitalize damaged areas and maintain fragile social services infrastructures.
Relief
Emergency response, all-qualified-boots-on-the-ground
Although organizations that operate in a region year-round have the connections and know-how to deal with an emergency there, some specialize in immediate relief around the globe. It's critical these organizations have the support they need in the first days and weeks after a disaster, so there's no break in the assistance they're well equipped to provide.
For example, Team Rubicon, an organization that deploys groups of veterans to assist in the wake of natural disasters, runs a recurring revenue program to ensure their teams always have everything they need when disaster strikes.
Alternatively, an organization might also look for partner organizations on the ground to provide their products or services to a population they don't normally serve. Watts of Love, a nonprofit that builds solar lamps for communities in need, hadn't worked in Nepal previous to the earthquakes, but they knew their product would be desperately needed. They identified a local partner in Nepal that could distribute the lamps. They then ran a fundraising campaign specifically for getting solar lamps to Nepal.
Another organization that has long track record of responding to crises abroad is Operation USA. Like Watts of Love, they don't have development programs in Nepal, but their experience with disaster relief allowed them to spur donors and partners into action quickly. Other organizations, like Oxfam and the World Food Program operate in Nepal year-round and are also well-known disaster relief organizations versed in responding to crises.
Rebuilding
Restoring damaged infrastructure, building back better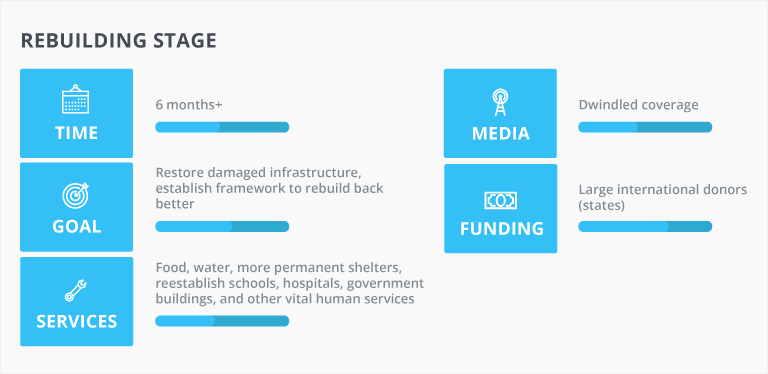 Even three months after the earthquakes, the people of Nepal still face a scarcity of goods and services and a lack of infrastructure and homes. Oxfam notes thousands remain in temporary shelters.
The rebuilding phase is critical to secure normalcy in affected communities. Likely, organizations with more permanent programs or facilities in the region, like Samahope, IDEX, and Heifer work with grassroots partners and local community leaders to resume services. However, organizations focus on stabilization and plan for the future even before the relief phase is completed.
In the months after the Nepal earthquakes, there was a tremendous push by thought leaders and experts to "build back better." Possible, an organization that works in partnership with the Nepalese government to deliver high-quality healthcare to the country's poorest citizens, has put a tremendous emphasis on this. In fact, they've made it part of their mission to rebuild Nepal's health care system.
Duncan Maru, cofounder of Possible and an instructor of medicine at Harvard Medical School, wrote in the Washington Post in May, "The idea is to use an acute crisis to address chronic problems and injustices. As tragic as the catastrophe in Nepal has been, we must not forget the preventable death and disability, housing instability and food insecurity that are rampant in the country."
Oxfam echoed this sentiment when donor states met at the International Conference on Nepal's reconstruction, calling it a "golden opportunity."
Although Nepal is still in the relief phase, leaders, organizations, and communities are preparing to take on the challenge to not only restore daily life, but improve it too.
Development
Ongoing programs that include disaster preparedness.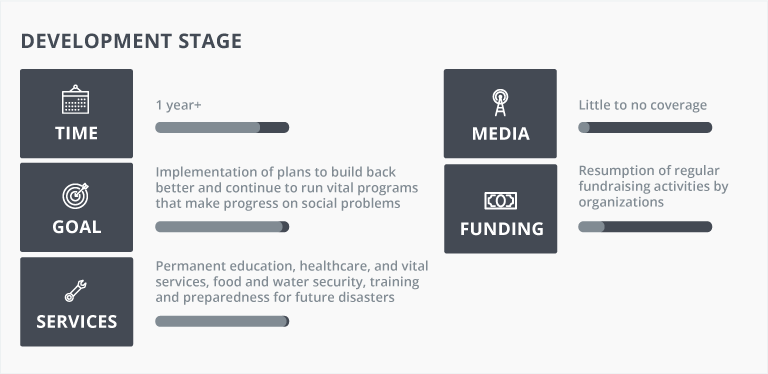 The work is never completely finished, even after the rebuilding phase. Organizations that operate in an affected country need to ensure their permanent programs continue operating. If infrastructure and vital services remain delicate, progress in an organization's focus areas is easily eroded and people's lives or livelihoods could be at risk. Organizations like Heifer and Oxfam need consistent support to ensure no one will be put in jeopardy.
If you've donated to a cause that assisted, or is assisting, in Nepal relief or rebuilding efforts, check back on the organization's progress or look out for updates. Have they indicated they need continued support? (For example, Oxfam ran a recent matching campaign and Possible has a dedicated Rebuilding Nepal webpage.) Can you become a sustaining member of an organization with a long-running program region? Look for an organization that articulates a purpose and need well, so you can assess how to maximize your impact in the days, months, and years after a disaster.
Stages of disaster response adapted from Fidelity Charitable.
---
Build a Strong Online Presence
---
Image from
All Hands Volunteers
Subscribe to the Classy Blog
Get the latest fundraising tips, trends, and ideas in your inbox.
Thank you for subscribing
You signed up for emails from Classy
The email you subscribed is