MYTH: Online Fundraising is Only for the Young
Reading Time:
4
minutes
One of the most pervasive myths in the nonprofit world is that online peer-to-peer fundraising is only for the young. However, just because younger people are the ones known for their use of technology, you shouldn't assume that older supporters can't be successful online fundraisers too. As we'll show you in this article, if you ignore older supporters not only will you leave significant money on the table, you'll also miss a potentially huge opportunity to engage and include them as active members of your online community.
The fact is, email and social media users are getting older. The first social networks began appearing in the early 2000s, and modern email began gaining popularity in 1993. That's 20 years ago! People who adopted these tools during high school and college are now getting married and having kids. Likewise, that generation's parents and grandparents are also rapidly adopting email and social media as effective ways to communicate with friends and family members, and connect and reconnect with long-lost friends they made when they were children.
Case in point: My mother. Born in 1942, and a self-described technophobe (she still uses pen and paper to keep track of her contacts and won't use ATMs – sorry mom) That said, I'm proud to say my mom is a veteran user of email, and keeps up with family and friends regularly via Facebook. Not only that, but now she uses Facebook to promote her new business as a real estate agent, and to plan meetups with high school friends she reconnected with at their last reunion.
My mother's experience is hardly unique. According to a recent study by British marketing firm Pingdom, 27% of all users of social media networks are over 45, and the fastest growing demographic on Facebook is men and women aged 55-65.
As it happens, the newfound social networking skills of the older generations translate extremely well to the world of online peer-to-peer fundraising.
Take, for example, the most recent campaign from Sing for America, a nonprofit dedicated to helping choruses raise money. The group has raised close to $40,000 in a matter of only 4 months, and they are rapidly closing in on their overall goal of $150,000. Not only that, but their fundraising efficiency is significantly better than average, with an incredible 90% of their fundraisers actively raising money.
Perhaps most amazing of all, the bulk of their fundraising success has come from 75 and 80 year olds, and they're rapidly outpacing their younger members!
They share on Facebook and all the sudden they have $300-400 and they say, 'Wow!'
-Erich Stratmann
Founder, Director, and President
Sing for America
Digging into the Numbers
| | StayClassy Average | Sing for America |
| --- | --- | --- |
| % of Fundraisers with ≥ $1 | 38% | 90% |
| Average Raised | $568 | $881 |
| Average Donation Size | $77 | $85 |
| Average Donors Per Page | 7 | 10 |
| Average Fundraiser Age | 29 | 56 |
Surely, the Sing for America example must be an anomaly, right? Well, the fact that this particular group meets in person once a week for choir rehearsals and fundraising support certainly doesn't hurt. However, after examining the demographic information from a random sample of more than 50,000 fundraisers on StayClassy, we found some interesting trends that show that Sing for America isn't quite the exception it may seem to be on the surface.
First thing's first, there are a lot of fundraisers out there who are 20 years old and younger:
But even though younger supporters seem to flock to online fundraising in higher numbers, they are only marginally more effective fundraisers on an individual level. As you can see below, fundraisers younger than 20 years old do very well, but not much better than the 40+ generations.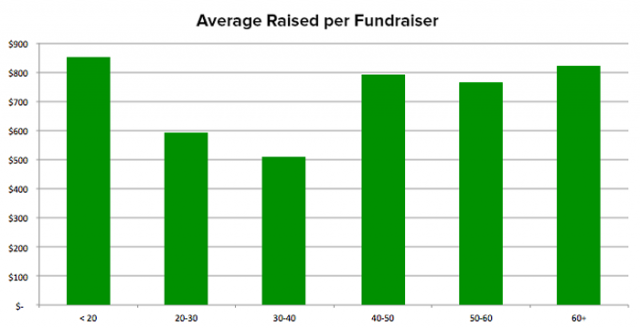 Maybe older supporters run in higher-net-worth circles, or maybe they're just more comfortable making "the ask," but the average size of gifts made through their fundraising pages are often quite a bit higher as well – especially compared with the Gen Xers.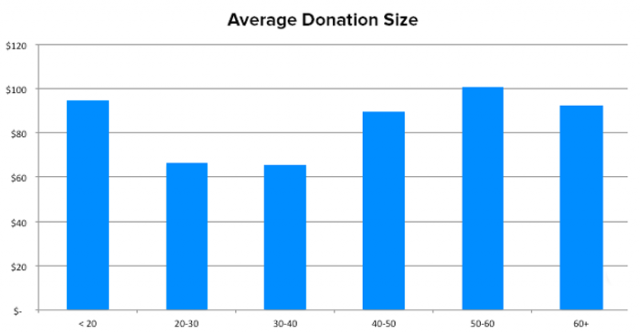 What's this all add up to? Well for one thing, if you've been ignoring your older supporters when it comes to online fundraising, stop! While younger supporters might be more inclined to create a page in the first place, older donors are more likely to actually start fundraising once their pages are created. Bottom line: Your older supporters have the potential to be every bit as effective as their younger counterparts in raising money online.
As with all fundraisers, older generations won't necessarily be successful on their own. Make sure you provide ample opportunity and encouragement along the way. Here are a couple of ideas that may help you be successful in reaching this group of supporters:
1) Cater to their needs. Some older supporters will enjoy fundraising with and in competition against younger donors. Some may prefer a special campaign tailored just for them. Experiment with both styles. The more proactive you can be to about targeting your campaigns to specific demographics, and finding ways of appealing to different segments of fundraisers, the more successful your campaigns will be.
2) Help them out. While extremely capable, many older donors may not be quite as tech savvy as their younger counterpart. Make sure you provide additional resources and suggestions for ways they can be successful. Offer to help them set up their pages and provide the page URL and instructions for logging back in and checking their progress. Learn More >>
3) Provide opportunities. With age comes experience, and with it, the likelihood of a deep personal connection with your cause increases. Provide year-round opportunities for them to pledge their birthdays, life events, or create tribute pages outside of your time-based campaigns. Letting them fundraise on their own terms through a year-round fundraising community can be a gift unto itself. Learn More >>
Subscribe to the Classy Blog
Get the latest fundraising tips, trends, and ideas in your inbox.
Thank you for subscribing
You signed up for emails from Classy
The email you subscribed is