Reveal Your Nonprofit Power: 3 Ways to Build Donor Confidence
Reading Time:
4
minutes
Social impact organizations exist to make the world a better place, but to succeed, they need buy-in from donors or grant makers. While the public views nonprofit organizations as warmer than for-profit organizations, they also see them as less competent. Furthermore, many of the problems social impact organizations face are thought of as constant and even unsolvable. Nonprofits must work against these notions to convince donors that their work makes a difference and they are uniquely qualified to solve social problems.
When you present your organization as active and powerful you can help shape the way the public sees you. With the right imagery and messaging, you can even influence their decision to support you. Here are three ways to position your organization as one that can make a real difference.
Focus on Solutions
Everyone has problems, what sets you apart is having a solution. Donors want you to show them that a solution is possible and that you have a plan to get there. Explaining the basic elements of your strategic plan shows confidence both in your ability to execute it and your audience's ability to understand and help.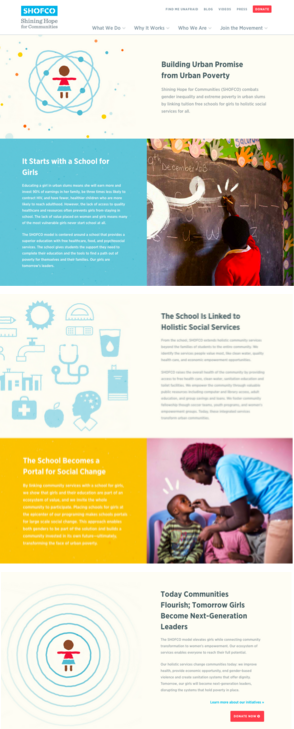 Shining Hope for Communities (SHOFCO) lays out their step-by-step model for lifting Kenyan slums out of extreme poverty. They shape the complex navigation of gender inequality, social services, and poverty into a coherent narrative. By outlining the reason and vision behind their action, SHOFCO shows they are a smart and powerful change-maker.
While many organizations take pains to explain the problems they are working to solve, nonprofits shouldn't forget to highlight the path to change. Review your website and communications to see whether you just present a problem or if you actually propose a solution for donors to rally behind.
Show the Action
Nonprofits rely on mostly written communications with their supporters. Because of this, it's important to adopt one of the cardinal rules of writing: use active voice whenever possible. This means phrasing sentences to put action first.
For example:
The ball was kicked by Joe. (Passive Voice)
Joe kicked the ball. (Active Voice)
Over 600 dogs and cats have been spayed or neutered by Little River Animal Shelter this year. (Passive Voice)
Little River Animal Shelter spayed or neutered over 600 dogs and cats this year. (Active Voice)
By switching up the language, you can put the focus on your nonprofit and its impact.
While you should strive for this in your communications with donors, the principle should also be applied on a larger scale. When you speak about your organization or your work, think about how you can structure your words to position your nonprofit as active.

Action Against Hunger's language is crystal clear.
Explaining your work with active language is an important step, but pictures should also focus on the action. People say, "I'll believe it when I see it," so you'd better show them your solutions in action with pictures and video that reveal the gritty details of your work.
Team Rubicon's website shows tons of pictures of volunteers and their disaster response work.
The Community Food Bank of Southern Arizona features this video on its homepage. It let's site visitors see several of the organization's programs in action.
The human brain processes visuals 60,000 times faster than text, so the right picture will show donors so much more than a description of your programs can. Before and after pictures and individual stories can be especially persuasive. These examples make your impact apparent.
The Bowery Mission shows the difference it makes by highlighting the personal stories of those they have helped.
Using active language and imagery shows the action you're taking right now, but the most powerful organizations have a vision for the future. Planning for a better future shows forethought and innovative thinking. It makes your organization more trustworthy and authoritative because it shows you are in it for the long haul.
Blood: Water explains both the short-term and long-term goals of their programs.
Explain to your audience that you have a vision for the future and are committed to manifesting it. Your most audacious goals can also be the most inspiring to donors.
It's easy to get bogged down in the day-to-day tasks that keep your organization going, but when it comes to convincing the public to support you, you have to look further. What world do you want to create? Show your audience and invite them to help.
Fundraising is ultimately about making people believe in your cause and your ability to make an impact. To prove your organization is worth investing in, you must offer a solution, show the action you're taking now, and share your vision for a better future. If possible, invite supporters to see your work first-hand. This can be an extremely effective way to show the change you're making. But even if the action is a thousand miles away, your organization can and should present itself as a powerful agent of progress.
Turn New Donors Into Lifelong Supporters
Subscribe to the Classy Blog
Get the latest fundraising tips, trends, and ideas in your inbox.
Thank you for subscribing
You signed up for emails from Classy