12 Nonprofits That Address the Global Water Crisis
Reading Time:
10
minutes
Consider these three statistics:
Clean water is a basic necessity for life, but it is not a reality for much of our global population. In response, many social impact organizations work tirelessly to eliminate this threat, save lives, and transform societies for the better. In honor of World Water Day, we've highlighted 12 Classy clients that currently address the global water crisis. While they work toward the common goal of providing clean water, each focus on a specific angle of the overarching issue.
Partnerships With Local Leaders
1. Blood:Water
Blood:Water partners with African communities to end the HIV/AIDS and water crises. In an effort to fit every community's varying needs, the organization provides a wide range of solutions. From toilets and hand washing stations, to services preventing mother-to-child HIV/AIDS transmission, local partners are empowered to choose the solutions that would best serve their communities. These leaders then activate and educate the people around them through meetings, local support groups, and training sessions.
Since their launch in 2004, Blood:Water has worked with more than a dozen African grassroots organizations and brought clean water to one million people in 11 different countries.
Learn more about Blood:Water's initiatives and how they've grown with Classy in this new video.
2. Generosity.org
Generosity.org currently brings safe water to Haiti, Ghana, Uganda, and India. Through collaboration, they leverage the knowledge and expertise of their local partners to select the appropriate water solution for each region, which can include different types of wells, rain-water harvesting systems, and spring protection systems.
To see the effort through for years to come, a local water committee is appointed to supervise each water project and its construction, as well as maintain the project throughout the years. Local partners also allow Generosity.org to build relationships with each community and provide sanitation and hygiene training.
Generosity.org has launched 727 projects in 19 countries, serving more than 415,000 individuals to date. Learn more about their efforts and discover how you can get involved.
3. Splash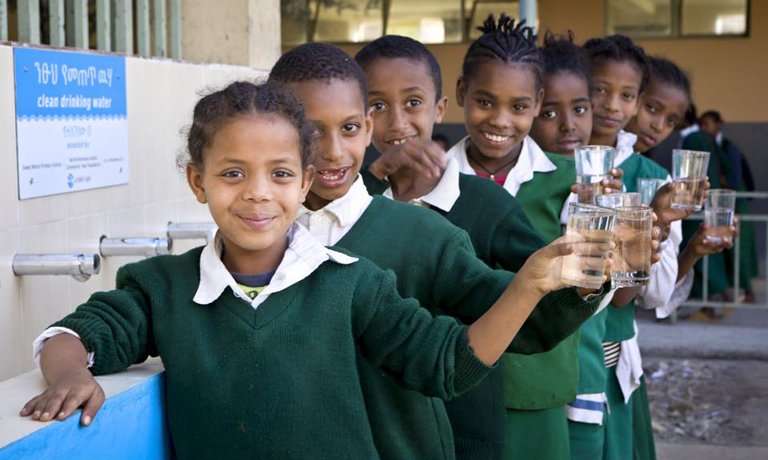 In order to build sustainable projects, Splash serves disadvantaged cities by working with local governments and businesses. In addition to providing filtration systems, Splash educates children about effective hygiene practices and trains local organizations and businesses to properly maintain toilets.
Splash creates these safe water projects though strategic partnerships with local entities to solidify long-lasting solutions. The existing technology and supply chains used by commercial markets—such as those of topnotch restaurants and hotels—inform the strategies that then bring the same, high-quality care to families in need.
We partner with local governments and business precisely because they are local, and there to stay. Government has the primary responsibility to provide basic services like water and sanitation to their citizens and will be the body most capable of ensuring that these services last. But quite often, they are underfunded or incapable of meeting the needs, and there exists a very important role for charities and local businesses to play. Local businesses are part of ensuring that products and services can be self sustaining.

We collaborate with government bodies to make sure we are in alignment on the target populations, the quality of services to be provided, and to make sure there is no duplication of efforts. We work with local businesses to ensure that products related to water filtration, hand washing, or sanitation are easily accessible locally and available over the long term."

– Aaron Walling, Senior Programs Manager
Splash has impacted 339,984 children to date. Learn more about Splash's model.
Education at the Household Level
4. Lifewater International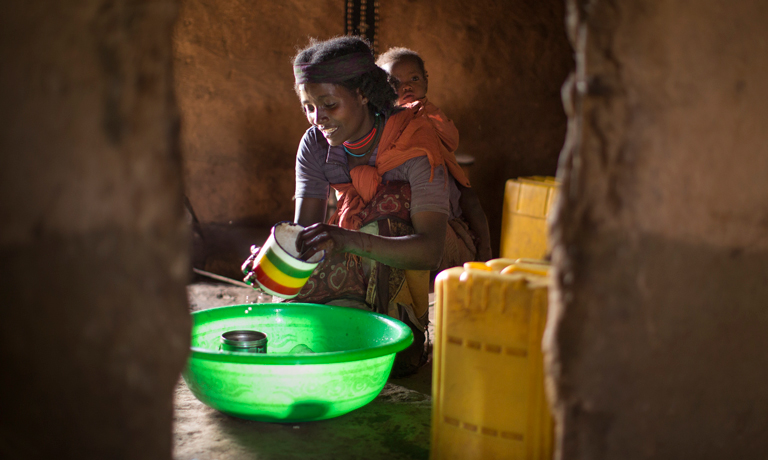 Lifewater International is a Christian water development organization that serves vulnerable children and families by partnering with underserved communities in remote and rural areas of East Africa and Southeast Asia. National staff on the ground also live in the areas they serve. Community members drive change from household to household by actively participating in the development process, constructing their own home latrines, drying racks, and handwashing stations.
What we've learned over our 40 years of experience of doing rural water development is that providing safe water is not enough. We walk alongside families, leaders, and churches in overcoming all forms of water poverty as communities themselves take steps toward better health through practicing good hygiene and sanitation. When combined with a safe water source (that the community locally maintains and manages through a water committee), the health changes taking place at the household and community level have a lasting impact."

– Christine Zurbach, Vice President of Philanthropy
In 2015, Lifewater provided over 50,000 people with safe drinking water, sanitation, and hygiene, as well as completed 107 water projects. Learn how you can get involved today.
Filtration Systems
5. Planet Water Foundation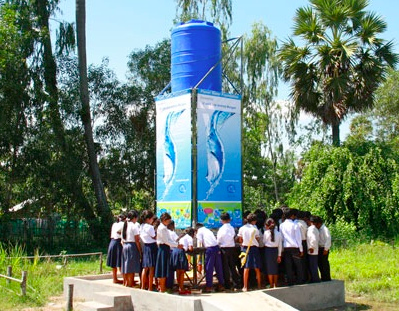 Planet Water Foundation serves schools, children, and rural communities around the world by installing water filtration systems and launching health education programs. Their filtration systems, called "AquaTowers," trap bacteria, viruses, and other harmful matter and provide 1,000 people with 10,000 liters of clean water per day. Children can also wash their hands in the soap dishes mounted around the structure.
Planet Water Foundation can install these systems in one day, and rather than having to replace them, the community members just need to clean these AquaTowers over time. Its easy maintenance procedures and affordable initial cost help make this a sustainable solution.
The organization aims to serve 5 million people by 2020. Learn more about Planet Water Foundation and how their AquaTowers are changing the world.
6. Ride4Water
Ride4Water rides bikes to raise money for water solutions. After Founder and Executive Director Ryan Delameter participated in a 10,000-mile bike ride through 10 countries to fundraise and raise awareness for the global water crisis, he founded Ride4Water and continued the tradition through their annual, long-distance "Ride4water" rides. With the capital they've raised, they have installed Hollow Fiber Membrane Filtration systems in homes for communities in Oaxaca, Fiji, and El Salvador. These filters essentially act like a "coffee filter" that traps harmful bacteria and microorganisms found in water.
Ride4Water's long term vision is to turn the ocean into a viable source of drinking water. They are currently developing their Decentralized Desalination Device (D3), a tool that will use sunlight, clay, and aluminum to enable those living on the coast to gain access to an unlimited water supply.
In 2015, a Ride4Water team traveled to three different regions in El Salvador to install filters in 60 homes, impacting 200 people. Learn more about their work and plans for the future.
Grant Support for Local Partner Organizations
7. Water 1st International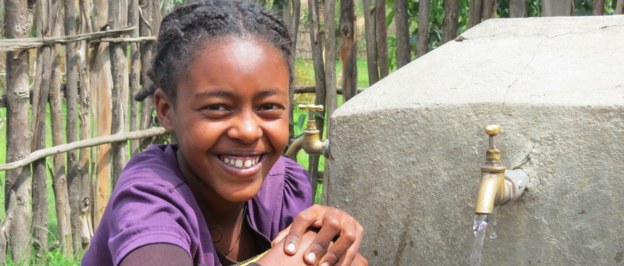 Since 2005, Water 1st International has empowered vulnerable communities in Bangladesh, Ethiopia, Honduras, and India to build and sustain solutions that provide clean water access and toilets.
Through a loan, community members using the systems pay the initial costs to build the system. Water 1st International then continues to provide grant support to their local partner organization to implement water and sanitation solutions and help them retain staff. On average, communities in the Bangladesh program repay their loans 98 percent of the time. These funds are then circulated to launch new projects. The success of these repayments, however, extends far beyond just the monetary value.
Small loans are quite common in Bangladesh, so most of our project participants are familiar with how they work. They understand the cycle of repayment, and how that has benefited them and will benefit the next loan recipient.

The revolving loan model catalyzes unity in the slums by building compassion in an environment where, in order to survive, it's easy to adopt a "look out for number one" attitude. In these projects, people have a choice. They can scrimp and save and repay the loan. That would help their neighbor. Or they could default and use the money on their own needs. Faced with this choice, the poorest people in the world are overwhelmingly, almost unanimously, choosing to help one another."

– Marla Smith-Nilson, Executive Director
To date, the organization has raised $14 million and provided 140,570 people with clean water. Find out how their loan program continues to expand their impact.
Business Models out of Water
8. Safe Water Network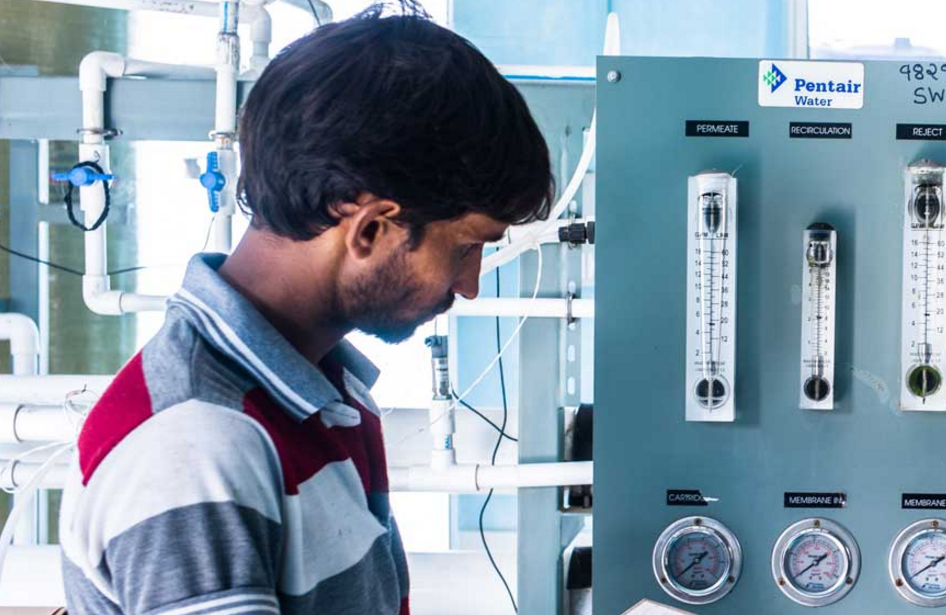 Safe Water Network's mission is to build affordable, locally-owned water systems for communities in Ghana and India. While their organization provides the tools to use these systems, or "Safe Water Stations," community members eventually take ownership of them and operate them as small businesses. Instead of being perceived as beneficiaries, individuals are seen as consumers and business owners.
To ensure financial stability, the stations sell water to help cover operating and maintenance costs. Safe Water Network provides the education and equipment to manage these stations, as well as the technical services and monitoring necessary to keep them in top condition. They also continue to improve this model by partnering with experts in academia and the public and private sectors for new insights.
Safe Water Network has installed 65 stations in Ghana, giving 203,000 people access to water. Their India program has installed 118 stations in the country to serve 413,477 individuals. Find out how Safe Water Network continues to innovate their programs.
Student Education
9. Thirst Project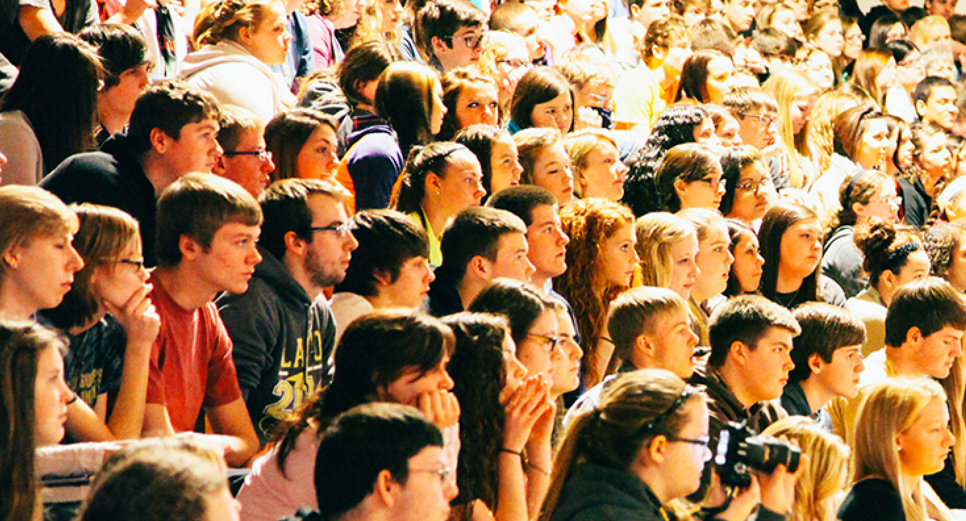 Thirst Project educates students about the clean water crisis and mobilizes them to take action. They travel to secondary schools and universities across the United States to activate who they believe are the real game changers: young supporters. Thirst Project also encourages students to start their own Thirst Project Clubs to raise awareness about the cause within their schools.
In addition to raising awareness, Thirst Project also has boots on the ground in India, Uganda, Ethiopia, El Salvador, Kenya, and Colombia. There, they focus primarily on building hand pump wells that typically last over 40 years.
Since 2008, they have spoken to over 300,000 students and provided water to over 280,000 people. Learn more about Thirst Project and how they're mobilizing young supporters.
A Focus on One Region
10. Water for Good
Water for Good is a faith-based organization that focuses on impacting the Central African Republic. They build long-term relationships with communities in order to create sustainable clean water solutions. Before the organization drills a well, they employ village trainers to help facilitate the appointment of a well committee by the community.
Women are often more successful at managing their family's budget, so we always recommend that there be at least one woman on the committee. They are also much more likely than men to be the ones responsible for fetching water for the family, another reason why it's critical to have them represented on the committee. We also recommend that someone involved in village leadership (the chief, the pastor, etc.) be on the committee to provide input, but not as the president of the committee.

We usually ask the village to consider hiring a "pompiste," a person who sits by the pump to collect payments and make sure that the water collection occurs in an orderly fashion. This is perfect for a respected older man, who might not have the energy to be out working in the fields, but would be great at providing a stable presence at the well, and trustworthy to collect the payment. His own salary comes out of the water payments collected. Our village trainers have helped hundreds of committees manage their wells, and are able to answer questions and point out potential problems that they've run into before."

– Jay Hocking, Director of Communications
In 10 years, the organization has built over 590 wells, and their maintenance service monitors over nine hundred. Learn more about their programs.
11. The Last Well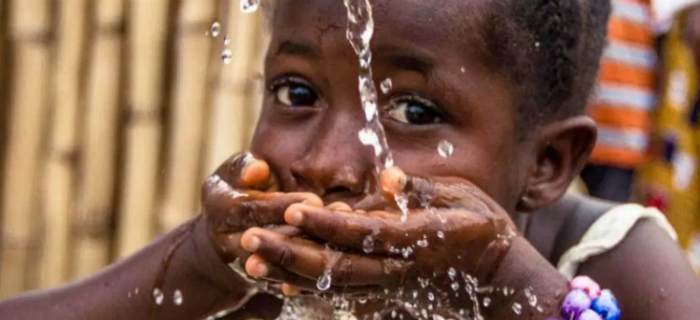 The Last Well is also a faith-based organization. Their mission is to bring safe water to all Liberians by 2020. While no country has historically been able to provide clean water to all of its citizens—nor eliminate water-borne diseases or sickness—The Last Well aims to change that narrative for the entire nation of Liberia.
Since 2009, the organization has served over 750,000 individuals through over 1,000 water projects, mainly wells. Equipped with a missional strategy, The Last Well is dedicated to transforming villages and hopes to reach 900,000 more individuals through 2,500 water systems.
Learn more about The Last Well and their vision for Liberia.
12. Let Them LOL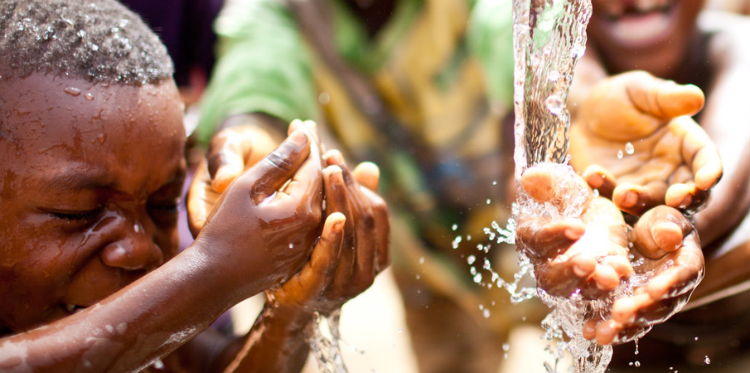 The story behind Let Them LOL's name starts with their founder's laugh. Her laugh was so unique, the team decided to turn it into a ringtone and charge for every download to fundraise for clean water. Alongside this founding initiative, Let Them LOL has continued to develop their vision and story of giving others a voice and serving those in need.
Let Them LOL focuses on one country, Sierra Leone. They build wells to provide poverty-stricken communities with access to safe water. While many pumps tend to deteriorate after just a few years, Let Them LOL is determined to break this pattern through the identification of locally-appropriate solutions and the maintenance of their water projects for years to come.
Prior to installing a water system, we conduct an assessment to best understand the needs of the community and the resources they have. We meet with their leaders to discuss together the best solutions for them. Water systems included drilled borehole wells, hand dug wells, well repairs, and water filter systems. We chose this strategy because each community is unique and our goal is to find the best system that works for them.

What makes us very unique is that we have a Well Maintenance program. Our Sierra Leone maintenance team travels around to all of our communities where we have wells, servicing them and making repairs. This ensures that the clean water continues to flow for many years."

– Kate Vacanti, Director
To date, Let Them LOL has served 30,000 people through their clean water wells. Learn more about their initiatives.
These organizations all play a part in bringing safe water to every individual, everywhere. But they are only pieces of the ongoing narrative. Play your part in solving the global water crisis, today. Check out these organizations and their initiatives and learn how you can help bring clean, safe water to people around the world.
Learn How Blood:Water Used Responsible Storytelling to Build a Community
Subscribe to the Classy Blog
Get the latest fundraising tips, trends, and ideas in your inbox.
Thank you for subscribing
You signed up for emails from Classy