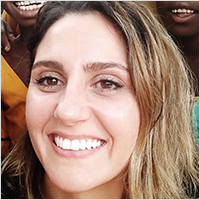 Each leader in the social sector has their own winding (and sometimes surprising) path to their present influence. For Jackie Roshan, the director of transparency and data innovation at
Pencils of Promise
(PoP), this journey has included childhood adversity; studies in South Africa, Peru, and Thailand; and a life-changing move to New York City. This path has brought Jackie to Pencils of Promise, where she now leads the vital effort to maximize impact and transparency at the high-profile organization.
Pioneers of peer-to-peer fundraising, Pencils of Promise partners with local governments and education ministries in Ghana, Guatemala, and Laos to change public education systems. They work within communities to build schools, train and support teachers, and implement water sanitation and health programs.
Jackie and PoP are also leading the way toward new heights of impact evaluation and transparency in the sector. Intent on identifying and optimizing programs that change lives, she and her team are using the power of data and accountability to unlock the potential of more than 33,000 students.
In this episode of the Classy Podcast, Jackie shares…
What PoP has learned about the interplay of e-readers and teacher support programs
How her upbringing in a low-income family instilled in her the transformative power of education
How PoP's focus on impact and transparency grabs the attention of both donors and foundations
The tough choice to leave her job and dive into the world of social impact
Why influence is a responsibility, not just a privilege
Listen Now: Jackie Roshan, Pencils of Promise