Impact Blocks in the Classy platform are designed to help you convey the specific impact of a donation to your donors. It's one of the ways we empower you to communicate directly to your supporters about where their dollars are going and who or what they'll be benefitting.
When a donor understands the impact of their gift, they're more likely to donate again. This is especially the case for millennials.
However, not all organizations have such a clear and tangible level of impact they can easily show to donors. That's why we sat down with three account managers here at Classy—Colleen Ennis, Robert King Novara, and Justin Prugh—to discuss alternative, creative uses of Impact Blocks that also demonstrate value and keep donors engaged.
Setting the Standard
It's not enough to simply put an Impact Block on your campaign page and expect it to hit home. There are general best practices to follow when designing your Impact Blocks.
For example, Justin recommends using 3 to 4 Impact Blocks on your page. It's not to say that more than four won't work, but if you use too many, you run the risk of giving your supporters too many options to choose from.
"More than 3 to 4 brings in what's called analysis paralysis. You have too many choices, and so, don't end up making any choices."
You also have to ensure the copy doesn't fall flat on its face. According to Colleen, this is an area where people can be too verbose sometimes—she tells people that less is more.
"What's going to capture people's attention as they scroll down the page? You have one, maybe two sentences to grab them. What would you want to read scrolling through an organization's page that you support?"
You should also consider your nonprofit's audience and cater your Impact Blocks to appeal to them. Say, for example, millennials—who give around $481 annually—are your main demographic. Impact Blocks that don't offer donations under $500 may discourage them from giving.
Once you have the basics locked down though, you can dive into the creative side of the Impact Block. While there are many ways to use them, Robert groups them into three main categories: traditional impact, incentives, and membership levels.
1. Traditional Impact
Some organizations can more clearly define how dollars translate into their work than other nonprofits. For example, a food bank might be able to demonstrate that a $250 donation buys a week's worth of groceries.
People donate, and they know their money is directly supplying groceries. For organizations that have a harder time demonstrating this, you can instead use more general language.
"There's a lot of language that builds flexibility into your Impact Blocks. Consider using 'may be used for,' 'could be used for,' and 'equivalent to.' That way, it's not limiting your organization to use the funds in only one way."
Instead of saying that $250 buys groceries for one week, try framing it as: $250 is equivalent to one week's worth of groceries. The funds could then be used to buy a week's worth of groceries, or they could also be used to fuel your overall grocery buying program in any capacity.
Pro Tip
Colleen Ennis: Put the highest dollar amount Impact Block on the left and decrease as you move right. When visitors see the highest dollar amount first they'll be more likely to click on it.
2. Incentives
Perhaps your organization might want to leverage Impact Blocks to show something other than traditional impact. This is when our account managers suggest you use them to showcase incentives.
Keep in mind the type of campaign you're running will affect the block design. On a crowdfunding campaign, the Impact Block is a donation amount. On a peer-to-peer campaign, the Impact Block is the fundraising goal.
When the Lucile Packard Foundation for Children's Health hosted a crowdfunding campaign, they used the Impact Blocks to show off two Bay Area sports team incentives.
Alternatively, if you're hosting a peer-to-peer campaign, you can set your Impact Blocks to showcase incentives for certain fundraising milestones. The ALS Association Wisconsin Chapter did this during their 2017 Birkebeiner campaign.
Each person who raised $500 got the chance to participate in the event as part of Team ALS. The same held true for those who raised $1,000, except they also got a team ALS ski suit as well.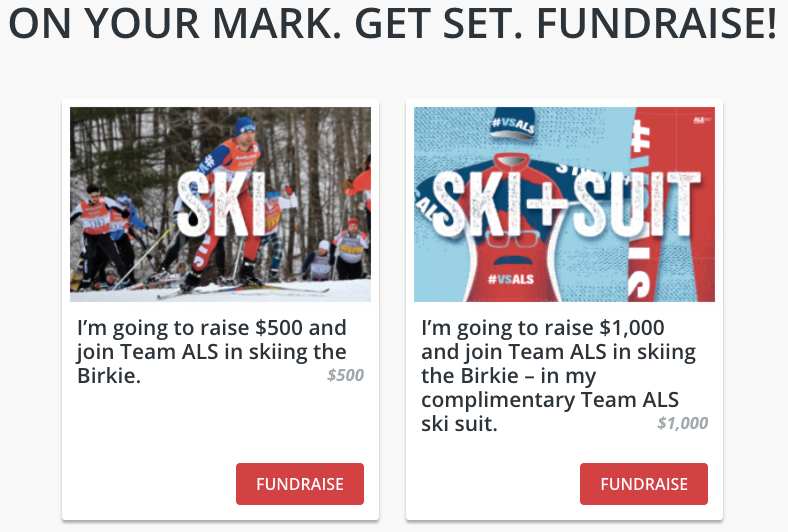 Pro Tip
Robert King Novara: If you're hosting a peer-to-peer campaign, you can pre-populate the dollar amount fundraising goal to correspond with what shows on the Impact Block. That way, there's no disconnect between clicking the Impact Block and signing up to fundraise for the goal you wanted.
Sometimes nonprofits will offer membership levels as an incentive, which can also be prominently displayed on the Impact Blocks.
3. Membership Levels
You don't necessarily need a dollar amount in your Impact Block. Don't be afraid to get creative and put other things in there, like non-quantified amounts that are more membership-oriented.
Perhaps you set up your membership levels on a bronze, silver, and gold tier. In this case, each could have different member benefits tied to it, like we see with Allies Against Slavery's  campaign.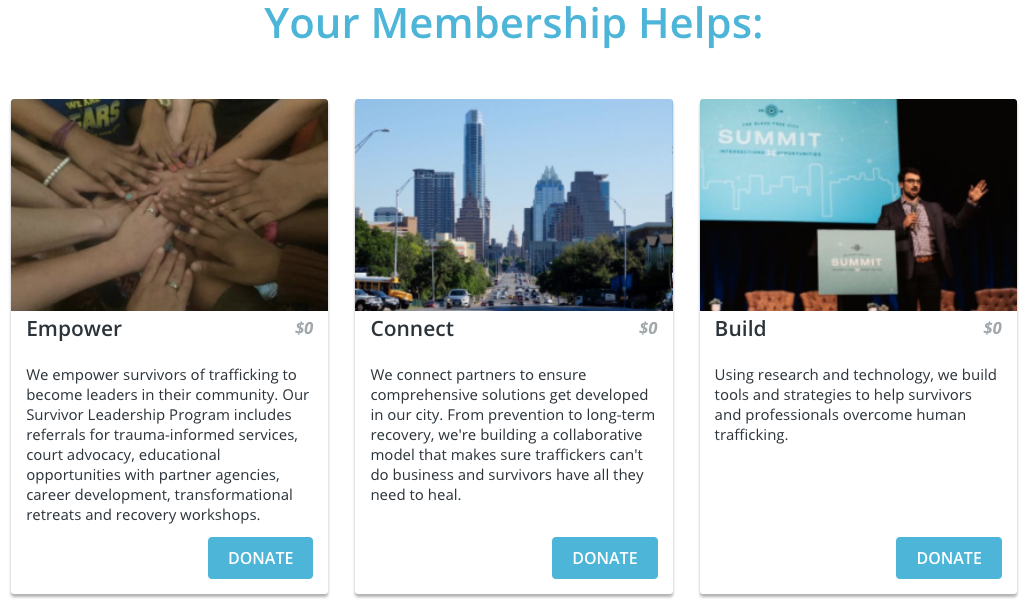 Notice here how Allies Against Slavery has put power words on the Impact Blocks to denote different levels of membership.
Other organizations take it and personalize it to their cause as well, like Downtown Inc…
…and Hack the Hood.
Pro Tip
Justin Prugh: The most creativity comes into play here, with intangible levels of impact. Use power words and strategic language to communicate what you want supporters to feel with these Impact Blocks.
4. BONUS: Move Your Impact Blocks
Another creative us for Impact Blocks is to strategically place them in your campaign page layout. You can move them in the design tab when working on your landing page in Classy.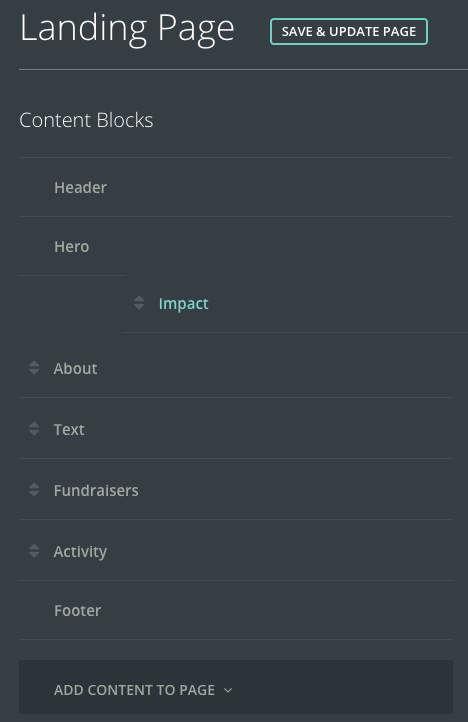 Some organizations choose to put Impact Blocks as close to the top of the page as they can, while others prefer the middle or bottom of the page. The location can fit in with your overall goal for the campaign page.
Pro Tip
Justin Prugh: Placing Impact Blocks at the top of your page can be a good move if you've already sent emails to your supporters informing them about your campaign, and you want them to be the first thing they see.
Don't be afraid to get creative and play around with the layout of your Impact Blocks. Where you position them on your campaign and where visitors interact with them can have an impact all on its own.
There's more than one way to make use of the Impact Blocks on your campaign page. Regardless of what you choose to use them for though, they're still united by the common thread of demonstrating impact.
This is an opportunity for you to show your donors precisely what their money is supporting, but you only have a small bit of text to convey that meaning. Use the advice from our account managers here to help stay on the right track and successfully draw your donations in.
If you have any other creative ways you like to use the Impact Blocks, share with our readers in the comments below.
---