Reflections on Face-to-Face Fundraising
Reading Time:
6
minutes
Face-to-face fundraising truly is a thankless job. I know this because I actually did it for a summer when I was in college. I went door-to-door on behalf of an environmental organization and I had all the typical negative experiences. Doors slammed in face (check), attacked by a dog (check), failing to hit the nightly fundraising quota (check). It's tough work. You have to grind it out, and there are very few high fives or pats on the back waiting for you at the end of the day.
Knowing this first-hand, I like to think that I have a higher than average degree of empathy for the folks I see out on the streets raising money for causes…I like to think that, but I still avoid them just like most other people do.
Interruptive Marketing
So why do we take such pains to avoid in-person fundraisers?
Well, I don't think it's a great mystery that no one likes having the flow of his or her day interrupted. And when someone is out on the street fundraising, they are literally inserting themselves into your path to try and win your attention. All of this probably makes face-to-face fundraising the ultimate form of interruptive marketing.
Interruptive marketing is the traditional way of letting people know about your product, service, or cause. You basically thrust yourself in front of people and give them your pitch. TV ads, radio ads, website pop-ups, direct mail, and telemarketing are all forms of interruptive marketing. They all depend upon you reaching out and fighting for your audience's attention. Obviously, face-to-face fundraising fits squarely within this paradigm.
I'm not pointing this out to take a swipe at face-to-face fundraising or traditional marketing, they are both highly productive for nonprofits and no doubt will continue to be used productively for a very long time. I point this out because I think it really throws into sharp relief an emerging style of marketing that more organizations are using to attract and engage new prospects called inbound marketing.
How Does Inbound Marketing Work?
As a follow up to a webinar we recently hosted with Hubspot (the people who coined the phrase "inbound marketing") my colleague Mike Spear recently wrote a post about how inbound marketing makes a great compliment to a year round peer-to-peer fundraising program. In case you missed it, the basics of inbound marketing are pretty straightforward. Instead of reaching out and interrupting someone's day with your message like you do with more traditional forms of marketing, you use compelling content to attract new prospects to your organization.
So what does this actually look like in practice?
1. A nonprofit produces compelling content, usually for its nonprofit blog, which serves as the backbone of its inbound marketing efforts.
2. These blog articles are then regularly distributed through different web-based channels like social media accounts, email marketing opt-in lists, and search engines.
3. Over time as more and more content is distributed, the nonprofit grows the visitors and subscribers coming in through each channel (more social media followers, more email list subscribers, and more visitors being pulled in through search engines)
4. When these visitors hit the blog content they are presented with different calls to action to increase their level of support (sign up for newsletters, make a donation, make a recurring gift, become a fundraiser, volunteer, come to an event etc.)
Of course, it can get more complicated than this, but those are the basics. A good way to think about the inbound approach is as the exact opposite of face-to-face fundraising. Instead of jumping into someone's path and spouting off your message, you are attracting people with content that they find interesting and valuable. Once you've given them something of value, you allow them to decide to increase their level engagement on their own timetable.
With inbound marketing, the party controlling the interaction largely gets flipped on its head. The nonprofit doesn't have ultimate control of the message volume, the individual does. Members of your "audience" have to do something affirmative before they even receive your marketing message (e.g. clicking on a search result, clicking through a social media post that surfaces through an existing social contact, or opting into an email newsletter). Then, at any point, if people don't want your emails anymore, or get sick of your social media posts, they can just unsubscribe. That's just not the case with more traditional media like TV ads or direct mail.
This inversion of control is in keeping with larger changes in how people are accessing information and making purchasing decisions in the age of the Internet. Staying on top of these changes is important for nonprofits, especially as they look to engage members of the 80 million strong Millennial generation (those born between 1980-1995).
Millennials, the Internet, and Changes in Decision-Making Styles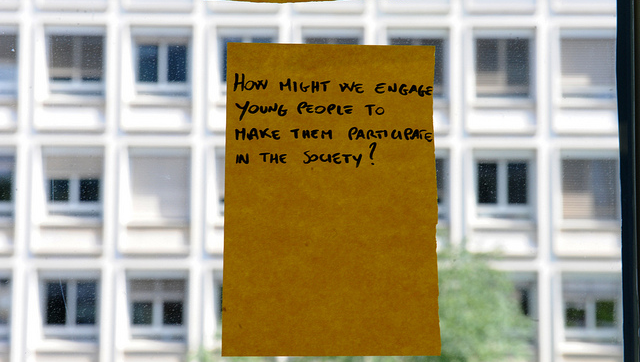 It used to be the case that people would largely make purchasing decisions in response to traditional marketing appeals. If I was interested in a product advertised on TV I'd think about it, go to the store, and (maybe) buy it. With the arrival of the Internet this generally linear progression became more complicated—and a lot more consumer-centric. Now it's routine for consumers of all age groups to hop online to check out any product or service they are considering buying. And, as it turns out, people do the same thing for nonprofits they are considering supporting.
The number one way that Millennials prefer to learn about nonprofits is through their websites. In fact, in a recent study 65% of surveyed Millennials indicated that they preferred to learn about nonprofits through websites while only 17% said they liked learning about nonprofits face-to-face.[1] Similarly 55% of those surveyed indicated that they preferred learning about nonprofits through social media and 47% said the same for e-mail newsletters.[2] And when it comes to actually making donations, the affinity for online channels doesn't abate. The most recent version of the same study (the 2013 Millennial Impact Report) indicated that 84% of Millennials that had made a gift to a nonprofit favored doing so online, while only 48% liked giving directly to a person (whether at an event or otherwise).
The heavy bias for online media is probably a function of Millennials' love of technology, but it's also consistent with the idea that in today's day and age consumers expect to have more control over the evaluation process of their financial decisions. Websites, social media posts, and email newsletters all provide easy avenues to learn more about an organization before deciding to give money. They are all also easy for the individual to control. It takes less than a second to delete an email, click off a website, or move on from a social media post and you can always unsubscribe if you lose interest.
Inbound marketing is particularly apropos for Millennialls (who spend the most time online) and for a world where people expect be able to try before they buy (so to speak). That's because at a very basic level, inbound marketing is about giving away valuable information for free. Instead of "pitching" your organization to a prospect, you are giving them content that is interesting and engaging. Prospects are able to learn about your organization while enjoying content that is relevant to them. As a marketer, this approach forces you to be thinking about delivering value to prospects from the very beginning. You're not just trying to come up with a a clever pitch to broadcast out to people; you are creating content that will genuinely attract people because it's valuable, informative, and engaging.
Why Year-Round P2P Fits So Well With the Inbound Method
The whole inbound marketing approach really aligns nicely with the idea of maintaining a year-round peer-to-peer fundraising program. Inbound marketing is premised on the idea that the consumer has more control over the interaction with your organization than ever before. There's nothing forcing an individual to interact with your content, it's up to you to deliver something compelling and interesting. Once you've caught someone's interest, it's up to you to sustain and nurture that budding relationship with more great content. The marketing focus is on communicating your value through engaging content and you accept that visitors will become financially involved when they feel ready.
A year round p2p program fits perfectly with this vision of a more consumer-centric approach. It's not a centralized campaign that you are blasting out for a discrete period of time. You aren't even really determining the "messaging" for the campaign. Instead, you're providing a free form option that allows supporters to become involved when and how they want to. People can start fundraising around the events in their lives that are important to them (like birthdays, anniversaries, sporting events, etc.). They create their own mini-campaigns around personal milestones, integrating their individual stories into the broader story of your organization. To a large extent you are ceding the control that's exercised in a more centralized campaign or event. Putting the reigns in the hands of your supporters in this way is very much in keeping with the inbound philosophy.
Of course, all of this is not to suggest that traditional forms of marketing are a thing of the past. They aren't. It's just meant to highlight an emerging trend and a style of reaching people that promises to become even more prominent as the Millennial generation continues forward towards its peak earning years. If you're not already integrating inbound methods into your larger marketing strategy, now would be a great time to start exploring this approach. By telling your story through interesting content you can deliver value to new prospects right off the bat, begin building relationships with them, and ultimately convert them into fundraisers who are fully ready to get behind your cause financially!
Photo Credit: Flickr User meddygarnet, Flickr User itupictures
Creating a Year-Round P2P Fundraising Machine
Subscribe to the Classy Blog
Get the latest fundraising tips, trends, and ideas in your inbox.
Thank you for subscribing
You signed up for emails from Classy